You are here
Syrian opposition decries US-backed border force plan
Under plan, SDF to establish Border Security Force
By AFP - Jan 17,2018 - Last updated at Jan 17,2018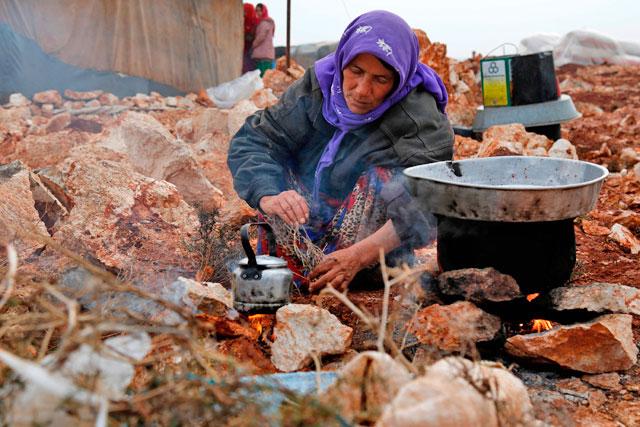 A Syrian woman, who fled from the outskirts of southern Idlib due to conflict between government forces and opposition fighters, cooks over a fire at the makeshift camp of Kalbeed near Bab Al Hawa crossing on the Syria-Turkey border on Wednesday (AFP photo)
BEIRUT — Syria's main opposition group on Wednesday condemned the US-led coalition's plan to create a 30,000-strong border force on the war-torn country's northern frontier with Turkey.
The alliance fighting the Daesh terror group announced on Sunday that it was working with Arab and Kurdish fighters from the Syrian Democratic Forces (SDF) to establish a Border Security Force.
The proposed force has been denounced by Damascus, while Turkey — which considers the Kurdish People's Protection Units (YPG) "terrorists" — has vowed to nip it "in the bud".
The exiled Syrian National Council opposition group, in a statement, condemned the "US plan for a border force" and said "it was unacceptable" for areas liberated from Daesh to fall under Kurdish control.
The Kurds have sought to remain neutral in Syria's nearly seven-year-old war between rebels and the government.
With US backing, the YPG, the main element of the SDF, has seized swathes of territory in northern and eastern Syria from Daesh and established semi-autonomous rule in those areas.
The US-led coalition insists the border force would be responsible for stopping a resurgence of Daesh.
The YPG head on Tuesday hit out at threats by Turkish President Recep Tayyip Erdogan to attack his forces.
Ankara accuses the YPG of being a branch of the outlawed Kurdistan Workers' Party (PKK) that has waged an insurgency in Turkey since 1984.
Related Articles
Jan 20,2018
HASAKEH, Syria — Around 500 Syrian fighters graduated on Saturday from a US-led training course aimed at establishing a controversial "borde
Jan 16,2018
TEHRAN — Iran on Tuesday denounced a plan by the US-led coalition to create a 30,000-strong border force in northeastern Syria, saying it wo
Dec 04,2017
BEIRUT — The Syrian Kurdish YPG militia said on Sunday it had fully captured Deir Ezzor's eastern countryside from the Daesh terror group wi
Newsletter
Get top stories and blog posts emailed to you each day.