You are here
Syrian rebel delegation in Washington seeking revival of CIA aid
FSA seeks 'serious' US action against Iranians in Syria
By Reuters - Jan 15,2018 - Last updated at Jan 15,2018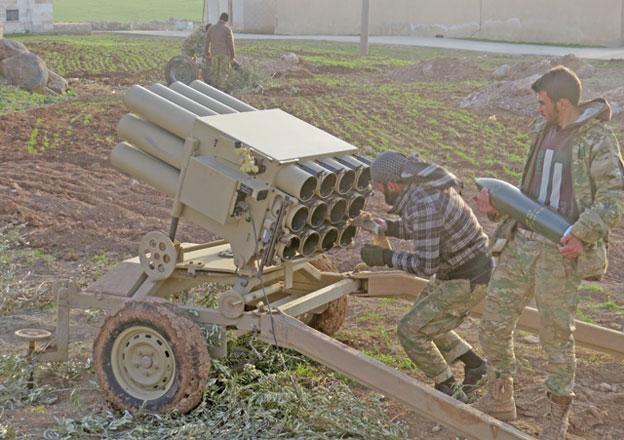 Two men prepare a multibarrel rocket launcher during clashes between armed opposition group Tahrir Al Sham and syrian regime forces around the Abu Al Duhur military airbase in rebel-held Idlib, Syria, on Saturday (Anadolu Agency photo)
AMMAN — Free Syrian Army (FSA) envoys have urged US officials at talks in Washington to resume a suspended CIA programme of military aid if it is serious about challenging growing Iranian influence in Syria, according to Syrian opposition figures.
Mustafa Sejari, a senior official in Syria's mainstream rebel group, said the envoys described to US officials the damaging impact of President Donald Trump's decision last year to stop equipping and training certain rebel groups.
Trump's move was driven by a wish to focus on fighting the Daesh extremist group militants and to improve relations with Russia, as well as a lack of results from the CIA's support of the FSA, US officials suggested.
"We endorse President Trump's statements about the need to confront Iranian hegemony in the region. It is time to turn words into action. Until now on the ground it's the Iranian militias that are expanding without serious resistance," Sejari told Reuters by telephone from Washington.
"With every US statement about the need to confront Iran's influence, Iran has been expanding in Syria while moderate forces that are backed by Washington see aid being dried up and are weakened," Sejari said.
"We asked for the resumption of aid and explained the dangers of leaving moderate FSA forces without support."
Sejari said the delegation's meetings had included members of the US Congress and officials from the White House, and they hoped for sessions with Defence Department and State Department officials as well.
The White House and Defence Department did not immediately respond to requests for comment.
The FSA delegation, Sejari said, included recipients of the CIA-led programme, which began in 2013 and funnelled, via Jordan and Turkey, weapons, cash and trainers to vetted FSA groups fighting Syrian President Bashar Assad.
Sejari said his delegation had briefed US officials on Iran's "destructive" role in Syria, where Shiite Muslim militias led by Lebanon's Hizbollah have, along with Russian air power, have turned the tide of the conflict in Assad's favour.
The FSA also says that Iranian Shiite militia fighting in Syria have stoked wider sectarian conflict in which mainly Sunni Muslims have been driven out of former opposition strongholds.
"In all our talks with US officials there was common ground, and on top of the matters discussed was the war on terrorism, [and] expelling Hizbollah and Iranian militias from Syria," Sejari said.
Another delegation member who requested anonymity told Reuters they told officials US inaction in Syria would only allow Iran and its regional allies to recreate a land corridor linking Tehran, Baghdad, Damascus and Beirut — often termed the "Shiite crescent" by Iran's regional enemies.
The Syrian opposition said the previous US administration of President Barack Obama had given "Iran a free ride" in Syria.
FSA rebels have long complained that US support has fallen well short of what they needed to make a decisive difference in the war against Assad's army and the Iran-backed militias helping it, including Lebanon's Hizbollah.
While cutting support to Syrian rebel groups that have fought Assad, the United States has deepened ties with a Kurdish-led militia alliance, the Syrian Democratic Forces (SDF), with which it partnered against Daesh.
The SDF is spearheaded by the Kurdish YPG militia, and has mostly avoided conflict with the Syrian government while seeking to entrench Kurdish autonomy over regions of northern Syria.
Related Articles
Feb 21,2017
BEIRUT/AMMAN/WASHINGTON — CIA-coordinated military aid for rebels in northwest Syria has been frozen since they came under major extremist a
Nov 09,2017
AMMAN — The top adviser to Iran's supreme leader said he expects the Syrian army to soon recapture rebel-held Idlib province, as well as eas
Apr 19,2017
RIYADH — US Defence Secretary Jim Mattis warned on Wednesday of Iranian efforts to create a Yemeni militia "in the image" of Lebanon's Hizbo
Newsletter
Get top stories and blog posts emailed to you each day.