You are here
Syrians begin returning home, two weeks into Turkish offensive
By Reuters - Sep 08,2016 - Last updated at Sep 08,2016
ISTANBUL — A group of 292 Syrians went back to the Syrian town of Jarablus from Turkey on Wednesday, marking the first formal return of civilians since Ankara launched a military incursion two weeks ago to try to secure the border region, a Turkish official said.
Jarablus, which had been held by Daesh, was the first town captured by Turkey's army and its Syrian rebel allies in an offensive launched on August 24 that aims to sweep away extremists and Syrian Kurdish militias from the frontier.
Turkey has said it cleared militants from a 90km stretch of Syrian territory and has pushed south. It has also said it would support any US initiative to strike Daesh's stronghold of Raqqa, further to the southeast.
But Turkey's tactics have drawn criticism from its NATO ally the United States and also from Russia, with which it recently patched up ties.
Washington says Turkish attacks on Kurdish-aligned militias damage a US-backed coalition that is fighting Daesh. Russia, which backs the government in Damascus, said on Wednesday Ankara's push south threatened Syria's sovereignty.
"We call on Ankara to refrain from any steps which can further destabilise the situation in Syria," Russia's foreign ministry said in a statement.
Turkey, which hosts 3 million Syrian refugees, has urged world powers to back plans for a "safe zone" in north Syria to stem the flow of migrants and to allow Syrians to return home.
Although it has failed to win support for the idea, Ankara has pressed on with its offensive to carve out a swathe of territory under the control of the Turkish army and its allies, the Free Syrian Army, allowing some civilians to return home.
"The formal returns have begun today," said a spokesman at the governor's office for the southern Turkish province of Gaziantep, which lies across the border from Jarablus.
He said there were 292 people in the first group of registered returnees, including women, children and the elderly. More would be allowed to return but only gradually, he added.
To encourage returnees, Deputy Prime Minister Nurettin Canikli said Turkey would supply mains power to Jarablus on Saturday, followed by water supplies two days later. Power supplies across Syria have been severely disrupted by the war.
'Too insecure'
"Turkey has supported us in every way until now, and has now saved our homeland," said Fatima Mahmud, a mother who was among the group, told the Turkish newspaper Milliyet.
The United Nations has said an area can only be declared a "safe zone" if the protection of civilians can be guaranteed. It has previously cautioned against encouraging returns too soon.
"Currently, conflict lines are too insecure for many of the town's displaced to return safely," the UN humanitarian agency OCHA said in a report last week, referring to Jarablus which had a pre-war population of about 27,500 people.
South and west of Jarablus, Turkish forces have continued fighting. The deputy prime minister said four Turkish soldiers had been killed and 19 wounded in the two-week offensive.
Turkey has repeatedly demanded that the Kurdish YPG militia withdraw to the eastern side of the Euphrates, where there is a Kurdish-controlled canton. Ankara sees the YPG as an extension of the PKK which is fighting an insurgency on Turkish soil.
The YPG says its troops have long since withdrawn from areas being targeted by Turkish-backed forces. Canikli told a news conference on Wednesday that the YPG had not yet completely pulled back east.
The army said Turkey's rebel allies had taken six more villages, located in Daesh-held areas, adding to dozens of settlements now under the control of Turkish-backed forces.
Turkish President Recep Tayyip Erdogan had told US President Barack Obama that Turkey would support a joint operation to capture Raqqa, the Syrian city that is Daesh's de facto capital, Canikli said.
Erdogan earlier said Obama had floated the idea of such cooperation during meetings at a summit of G-20 leaders in China this week, the daily Hurriyet reported. The president had said a specific Turkish role would depend on further talks.
US officials have welcomed Turkish efforts to dislodge Daesh but voiced concern when Turkish troops engaged fighters aligned with the Kurdish YPG militia, a force Washington sees as a valuable ally in battling extremists.
Related Articles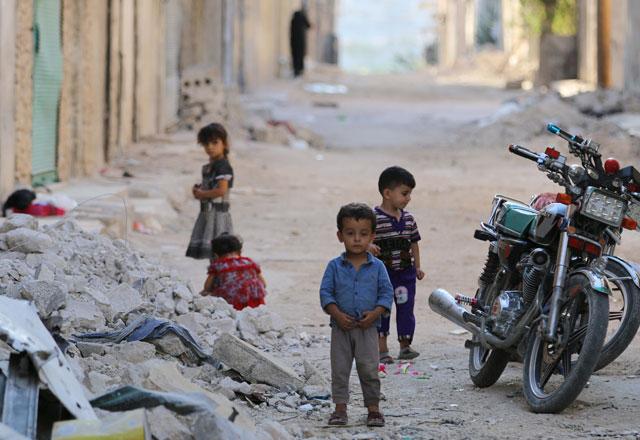 Sep 04,2016
ELBEYLI, Turkey/BEIRUT — Turkey and its rebel allies opened up a new line of attack in northern Syria on Saturday as Turkish tanks crossed t
Sep 01,2016
JARABLUS — Flashing victory signs and firing in the air, the young rebels who took this Syrian town from Daesh a week ago may be jubilant, b
Aug 28,2016
KARKAMIS, Turkey — Turkey's army and its allies thrust deeper into Syria on Sunday, seizing territory controlled by Kurdish-aligned forces o
Newsletter
Get top stories and blog posts emailed to you each day.