You are here
Syrians fleeing Daesh face 'terrible' camp conditions — ICRC
By AFP - Aug 14,2017 - Last updated at Aug 14,2017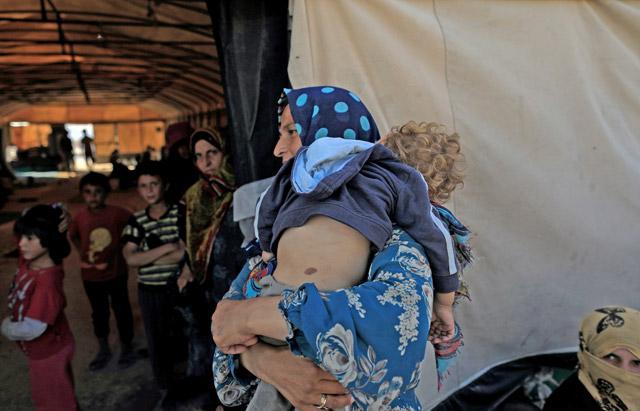 An internally displaced woman who fled Raqqa holds her child as she stands beside a tent at a camp in Ain Issa, north of Raqqa, Syria, Saturday (Reuters photo)
BEIRUT — Civilians fleeing the Daesh terror group's two remaining Syrian strongholds face "terrible, terrible conditions" in dozens of poorly-equipped informal camps, the International Committee of the Red Cross (ICRC) said on Monday.
Daesh is under pressure in the remaining areas it holds in Syria, with a US-backed force battling to oust the extremists from its bastion Raqqa, and regime troops closing in on extremist-held parts of Deir Ezzor.
But the fighting has displaced tens of thousands of people, with many taking refuge in camps in the provinces of Raqqa and neighbouring Hasakeh.
Ingy Sedky, a Damascus-based spokeswoman for the ICRC, said more than 40 camps each hosting anywhere between 2,000 and 10,000 people had been set up in often-remote areas in the two provinces.
"These tents are literally in the middle of the desert. You have snakes and scorpions that are a daily threat for people," she told AFP after visiting the camps in an ICRC team to assess conditions.
"Fifty per cent of the people inside these camps are children. They are living in terrible, terrible conditions because of the heat. It can be 50 degrees during the day."
She said many camps lacked even the most basic items, including tents, with new arrivals sleeping in the open for up to 10 days while waiting for shelter.
"There is one camp called Arisha in Hasakeh governorate. The camp itself used to be a petroleum refinery, so you see children playing in toxic waste, drinking and bathing in contaminated water," she said.
"Most of the camps don't have doctors on site... They don't even have bandages, even the simplest things are not available."
She said an estimated 70,000 people were living in such camps, which are often in hard-to-reach locations, complicating aid provision.
The US-backed Syrian Democratic Forces, an alliance of Kurdish and Arab fighters, began an operation to capture Raqqa from Daesh last year, and now holds much of the province and over half of Raqqa city.
Government forces, meanwhile, are approaching Daesh-held territory in the eastern province of Deir Ezzor from two axes, and are expected to launch an operation to break the extremist group's years-long siege of regime-held parts of the provincial capital.
Sedky said there has been an uptick in people fleeing Deir Ezzor.
"Every day and night there are people, tens at least, who arrive," she said.
Sedky said ICRC would be working to improve water access and medical support in the camps.
"The first priority is water. It is essential that people have clean water, because you can see already this is creating a lot of diseases" including chronic diarrhoea, she said.
"The basic medicines even are not available, let alone what you would need for people with chronic diseases."
Related Articles
Aug 16,2017
ARISHA, Syria — The Daesh group order that prompted Mahmud Al Ali to flee his town was simple: "All young men aged 20 to 30 years old must e
Jan 18,2016
BEIRUT — The Daesh terror group captured ground from Syrian government forces near the eastern city of Deir Ezzor on Monday, a group monitor
Sep 26,2017
NEAR DEIR EZZOR, Syria — The line extends to the horizon, as hundreds of men, women and children flee into Syria's desert in eastern Deir Ez
Newsletter
Get top stories and blog posts emailed to you each day.