You are here
Thousands protest against Houthi rule in Yemen after embassies close
By Reuters - Feb 11,2015 - Last updated at Feb 11,2015
SANAA — Yemenis in the capital Sanaa and the central city of Taiz held the largest protests yet against a takeover by a Shiite Muslim militia group on Wednesday after the United States, Britain and France shut their embassies over security fears.
Hundreds massed in the capital against the Houthi fighters, who manned checkpoints and guarded government buildings they control. The militants, bedecked in tribal robes and automatic rifles, shot in the air and thrust daggers at the crowds opposing their rule.
Tens of thousands of people also carried banners and chanted anti-Houthi slogans in Taiz, which the militants have not taken.
The Iranian-backed Houthi movement has called its seizure of power a revolution and says it wants to rid the country of corruption and economic peril — though Yemen's rich Sunni Muslim Gulf Arab neighbours say it is a coup.
Yemen had long been at the forefront of the US-led war against Al Qaeda, but the long-standing alliance between Washington and Sanaa appears to have ended for now.
The US ambassador and diplomatic staff left the embassy on Wednesday, local workers said, a day after Washington announced it was closing the mission. Embassy workers had already destroyed weapons, computers and documents, they added.
"Recent unilateral actions disrupted the political transition process in Yemen, creating the risk that renewed violence would threaten Yemenis and the diplomatic community in Sanaa," US State Department spokesperson Jen Psaki said.
France and Britain announced the closure of their embassies on Wednesday, and German Embassy employees said the mission was getting rid of sensitive documents and would close soon.
The Houthis, who overran Sanaa in September and formally took power last week, are stridently anti-American, and chant "death to America" at rallies.
Abdel Malik Al Ijri, a member of the Houthi movement's political bureau, said on Facebook the decision to close the embassies was "not justified at all and comes in the context of pressure on our people".
"Governments of brotherly and friendly countries in the near future will realise that it is in their interest to deal with the will of our people with due respect," Al Ijri wrote.
He also dismissed a report from US embassy workers that the militants had seized more than 20 of their vehicles, saying they had been taken by airport authorities.
Houthi advance
Houthi forces advanced far into the south on Tuesday night, according to local officials, continuing their expansion of recent months which is raising fears of an all-out civil war.
Leaders and Sunni tribesmen in the southern and eastern regions, which the group has so far not seized, are arming themselves against their push and are in some cases making common cause with Yemeni Al Qaeda militants.
Al Qaeda in the Arabian Peninsula (AQAP), one of the global militant group's most powerful arms, has repeatedly bombed and attacked Houthi targets.
Other tribes from Yemen's formerly independent south, which has clamoured for secession for almost a decade, vowed on Wednesday to repel any Houthi attack.
The Houthi forces are bolstered by army units widely believed to maintain loyalty to ex-president Ali Abdullah Saleh — though he denies any link.
Saleh ruled the country for thirty-three years, balancing the competing interests for Yemen's kaleidoscope of armed tribes, political bosses and militants — a feat he called "dancing on the heads of snakes".
But he was eased out of power after "Arab Spring" protests against his rule in 2011 under a delicate transition plan drawn up by Yemen's rich Sunni Gulf Arab neighbours — all of them opponents of the Houthis.
Those neighbours have called the Houthi takeover a coup. Saleh and his former ruling party have denied an attempt to settle old scores and reassert its control over the country through the Houthis.
The tenure of Saleh's successor, Abed-Rabbo Mansour Hadi, was defined by gridlock among Yemen's array of feuding parties. Hadi resigned last month along with his whole government after Houthi gunmen attacked his home.
Related Articles
Feb 07,2015
The Gulf Cooperation Council (GCC) has accused Shiite Houthi rebels of staging a coup in Yemen after they announced they were dissolving parliament and forming a new government, Kuwait's official news agency said on Saturday.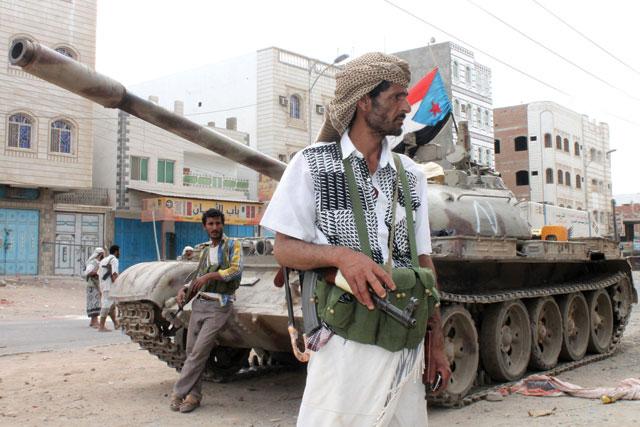 Apr 15,2015
Three weeks of Saudi-led air strikes in Yemen have led to defections of army units loyal to former president Ali Abdullah Saleh, military sources said, dealing a blow to his efforts to stage a comeback.
Mar 25,2015
Houthi militia forces in Yemen backed by allied army units seized an air base on Wednesday and appeared close to capturing the southern port of Aden from defenders loyal to President Abed Rabbo Mansour Hadi, residents said.
Newsletter
Get top stories and blog posts emailed to you each day.