You are here
Trump's key moves in regards to occupied Jerusalem, two-state solution
By AFP - Oct 23,2018 - Last updated at Oct 23,2018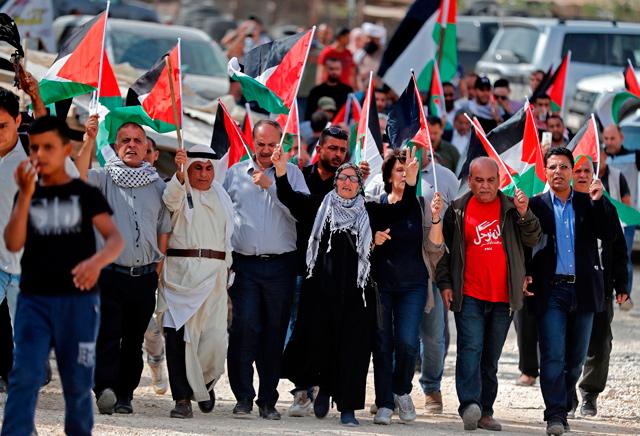 Palestinian protesters march with Palestinian flags during a demonstration at the Palestinian Bedouin village of Khan Al Ahmar, east of Jerusalem in the occupied West Bank and which Israel plans to demolish, on Friday (AFP photo)
PARIS — The US government has outraged the Palestinians with several highly controversial moves since they suspended diplomatic contact with Washington following President Donald Trump's 2017 recognition of the occupied city of Jerusalem as capital of Israel.
At the Western Wall
On May 16, 2017, the new US ambassador to Israel, David Friedman, presents his credentials to the Israeli President Reuven Rivlin at a ceremony in Jerusalem.
Friedman, a strong supporter of Israeli settlement building in the occupied West Bank, had in the past advocated moving the American embassy in Tel Aviv to occupied Jerusalem — a departure from decades of international consensus that the city's status should be settled through negotiations.
On May 22 and 23, Trump calls on Israelis and Palestinians to take difficult decisions for peace, after meeting with Israeli Prime Minister Benjamin Netanyahu in Jerusalem and Palestinian President Mahmoud Abbas in the occupied West Bank.
Trump becomes the first sitting US president to visit the Western Wall in Jerusalem's Old City.
Jerusalem
In December Trump says "it is time to officially recognise Jerusalem as the capital of Israel", effectively ignoring Palestinian claims on the Holy City and breaking with the policies of his predecessors.
Outraged, the Palestinians cut all contact with the American administration. Abbas says the US can no longer play its historic role as mediator of peace talks with the Israelis.
Embassy moves
to Jerusalem
The US embassy is officially transferred from Tel Aviv to Jerusalem on May 14, 2018, a day marked by clashes in the Gaza Strip, where about 60 Palestinian protestors are killed by Israeli fire.
On June 1, Washington vetoes a UN draft resolution calling for measures to protect Palestinians.
Halt to US aid
On August 31, the US says it will end all funding for the UN agency for Palestine refugees, UNRWA, a week after it axes more than $200 million in bilateral aid for Gaza and the West Bank.
On September 8, Washington says it plans to cut $25 million in aid to hospitals primarily serving Palestinians in Jerusalem.
Palestinian mission to close
In September, the Trump administration announces it is closing the Palestine Liberation Organisation's (PLO) mission in Washington, accusing the Palestinians of refusing to negotiate peace with Israel.
"This is yet another affirmation of the Trump administration's policy to collectively punish the Palestinian people," PLO Secretary General Saeb Erekat says.
A new humiliation
On October 18, US Secretary of State Mike Pompeo announces the US consulate in Jerusalem dealing with Palestinians is being merged into the new US embassy in the city.
The move, quickly condemned by the PLO, could effectively leave the US as the only major power without a specific representative office to the Palestinians.
Newsletter
Get top stories and blog posts emailed to you each day.