You are here
Tunisia tourism will rebound despite museum attack — UN
By AFP - Mar 30,2015 - Last updated at Mar 30,2015
TUNIS — The UN World Tourism Organisation said Monday it was "confident" in Tunisia's ability to rebound as the Bardo National Museum reopened to the public after the massacre of 21 tourists.
"We have total confidence in Tunisia. We are confident that it will overcome the past and that it will move forward," UNWTO Secretary General Taleb Rifai told reporters in Tunis.
"Tunisia must begin to say [to tourists] 'we are ready to welcome you'. There should be no looking back," he added.
His comments came as the Bardo reopened to the public for the first time since the March 18 attack claimed by the Islamic State group that killed 21 foreign tourists and a policeman.
Bardo curator Moncef Ben Moussa told AFP security at the museum had been reinforced.
It had been due to reopen fully last Tuesday, six days after the massacre, but this was delayed over security concerns.
A symbolic ceremony for invited guests and the media still went ahead that day.
Officials have said there were security failures on the day of the attack on the Bardo, which is next to the Tunisian parliament.
Prime Minister Habib Essid subsequently sacked the heads of police for Tunis and the museum area.
The attack raised major concerns about the future of Tunisia's vital tourism industry.
Rifai, who after the attack called tourism "a lifeline for the economy of Tunisia", told Monday's news conference it was "very premature" to evaluate the impact of the massacre on the industry.
"The real test will be in the coming months," he said, flanked by Tourism Minister Selma Elloumi Rekik who stressed there was a "real political will" to help get tourism back on its feet.
On Monday, the French National Union of Travel Agencies told AFP that since the attack bookings for Tunisia had dropped by 60 per cent compared with the same period last year.
The North African nation's tourism industry provides a living for a tenth of the population, employing 400,000 people directly and accounting for 7 per cent of the gross domestic product.
Rifai said Tunisia must diversify and offer visitors more than just seaside resorts, and suggested that it try to develop cultural and medical tourism as well.
Related Articles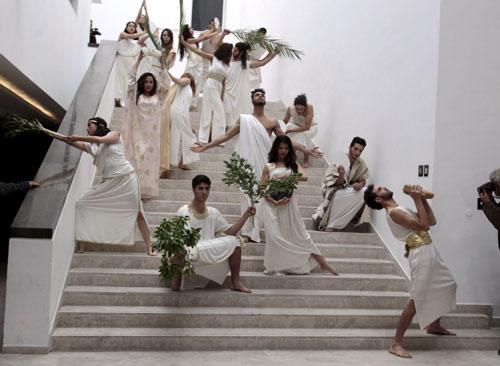 Mar 24,2015
Tunisia's Bardo museum held a ceremonial reopening on Tuesday, a week after gunmen claiming alliance with Daesh terror group killed 20 foreign tourists in an attack aimed at wrecking the country's vital tourism industry.
Oct 04,2015
TUNIS — Tunisia lifted a state of emergency on Friday imposed nearly three months ago following a massacre at a luxury beach hotel that kill
Mar 22,2015
Tunisia is hunting a third suspect in the massacre of tourists at its national museum, President Beji Caid Essebsi said on Sunday, after admitting security failures at the Bardo.
Newsletter
Get top stories and blog posts emailed to you each day.