You are here
Turkey's Erdogan says to raise Gaza violence at UN General Assembly
By Reuters - May 20,2018 - Last updated at May 20,2018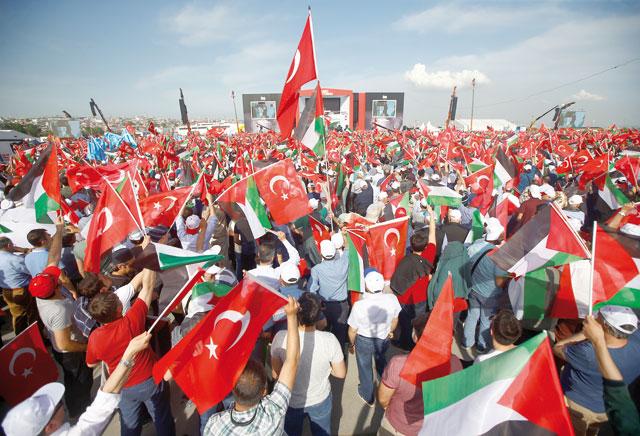 Demonstrators wave flags during a protest against the recent killings of Palestinian protesters on the Gaza-Israel border and the US embassy move to Jerusalem, in Istanbul, Turkey, on Friday (Reuters photo)
ISTANBUL, Turkey — Turkish President Recep Tayyip Erdogan said on Friday he would raise the violence in Gaza at the United Nations General Assembly, after dozens of Palestinian protesters were killed by Israeli occupation forces this week.
A vocal critic of US President Donald Trump's decision to move the US Embassy in Israel to Jerusalem, Erdogan castigated both Washington and the United Nations for the violence that followed the embassy's opening.
A populist with roots in political Islam, Erdogan has described Israel as a "terrorist state" and accused it of using authoritarian methods. Turkey declared three days of mourning following the Gaza events and Erdogan called for an extraordinary summit of the 57-member Organisation of Islamic Cooperation (OIC).
"Israel must certainly be held accountable for the innocent people it has massacred in front of international law. We will follow this issue in the United Nations General Assembly as well," he said in his opening speech at the summit in Istanbul.
"Unfortunately, any step taken towards justice is being blocked by the US leadership in the Security Council."
Escalating his criticism of Israel's actions, he likened treatment of Palestinians to the suffering endured by Jews in Nazi concentration camps.
"The children of those being subject to all sorts of torture in concentration camps during World War II are now attacking Palestinians with methods that would put Nazis to shame."
The violence in Gaza has sparked a diplomatic row between Turkey and Israel, with the two countries expelling each other's senior diplomats this week.
The plight of Palestinians resonates with many Turks, particularly the nationalist and religious voters who form the base of support for Erdogan, running for reelection next month.
Muslim solidarity
Earlier, he addressed thousands of supporters waving Turkish and Palestinian flags in Istanbul's Yenikapi neighbourhood, calling for Muslim solidarity and accusing the United Nations of failing to stand up to Washington.
"If the Muslim world stands against cruelty in Gaza together, Israel's recklessness will not last," he said.
"The United Nations, which has failed to take effective steps against the United States, has taken another blow to its already worn-out legitimacy."
Palestinian Prime Minister Rami Hamdallah told the rally that the world must act.
Despite the difficult political ties between Israel and Turkey in recent years, Israel was the 10th-largest market for Turkish exports in 2017, buying some $3.4 billion of goods, according to IMF statistics.
"We have excellent economic ties with Turkey. And these relations are very important for both sides," Israeli Finance Minister Moshe Kahlon told Israeli Radio on Friday when asked if Israel should break ties with Turkey.
Trump's decision to move the embassy reversed decades of US policy, upsetting the Arab world and Western allies.
Turkey has said that other countries should be prevented from following the United States and moving their embassies to Jerusalem. Guatemala this week became the second country to move its embassy to the holy city, and Paraguay said it would follow suit this month.
Iranian President Hassan Rouhani, speaking at the Istanbul summit, called on Muslim countries "to totally cut their relations with the Zionist regime [Israel] and also to revise their trade and economic ties with America".
UN human rights chief HH Zeid Raad Al Hussein said Israel had systematically deprived Palestinians of their human rights, with 1.9 million people in Gaza "caged in a toxic slum from birth to death".
Related Articles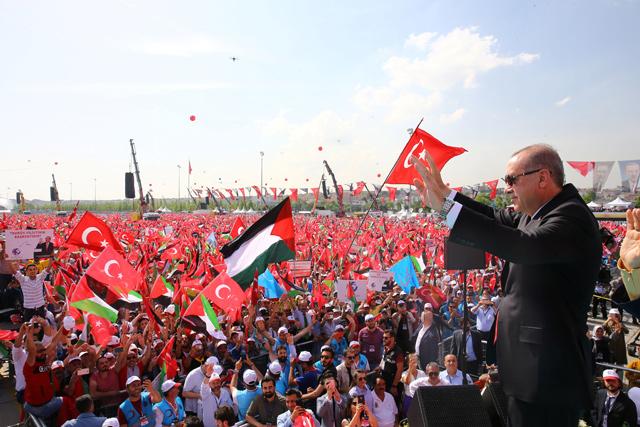 May 22,2018
ISTANBUL, Turkey — President Recep Tayyip Erdogan has hinted that Turkey might consider imposing a ban on imports of some Israeli goods over
May 17,2018
AMMAN — His Majesty King Abdullah is scheduled on Friday to head the Jordanian delegation participating in the extraordinary summit of the O
May 16,2018
ISTANBUL, Turkey — Israel's ambassador to Turkey on Wednesday left the country after being ordered out by Ankara in a growing crisis over th
Newsletter
Get top stories and blog posts emailed to you each day.