You are here
UN adjourns Syria talks, asks big powers for help
By Reuters - Feb 03,2016 - Last updated at Feb 03,2016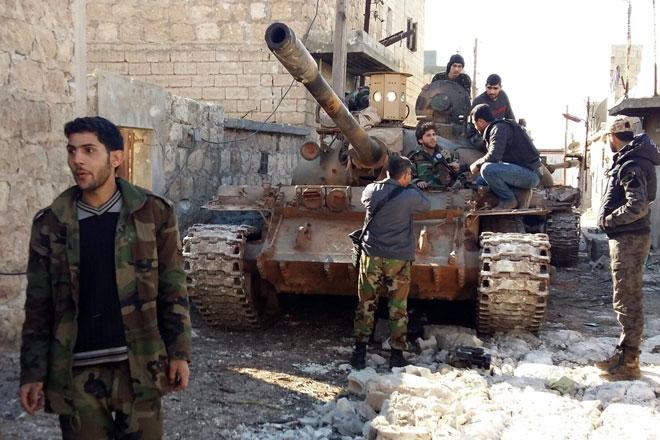 Government forces chat near a tank 3km from the Shiite villages of Nubul and Zahraa in Syria's northern Aleppo province, which have been under siege by the Daesh terror group for three years, on Tuesday (AFP photo)
GENEVA — UN-mediated talks to end the war in Syria are on pause until February 25, UN envoy Staffan de Mistura said on Wednesday, saying the talks had not failed but needed immediate help from international backers led by the United States and Russia.
"I have concluded frankly that after the first week of preparatory talks there is more work to be done, not only by us but by the stakeholders," he said.
"I have indicated from the first day that I won't talk for the sake of talking."
He was speaking after meeting opposition coordinator Riad Hijab, who had just arrived in Geneva.
De Mistura had overseen several days of stuttering progress and postponed meetings, without ever getting the two sides in a dialogue.
After meeting Hijab, De Mistura raced across town to meet the government delegation, whose leader Bashar Ja'afari told reporters he had known for "hours" that the opposition wanted to withdraw and accused De Mistura of pausing the talks to avert a walk-out.
"We consider that the style used by the special envoy to justify the withdrawal of Riyadh delegation under instructions from Saudi Arabia, Qatar and Turkey was not subjective. It didn't say the truth as it was," Ja'afari said.
Those regional powers, along with the United States, Russia, Iran and others, comprise the "International Syria Support Group" (ISSG), which has thrown its weight behind De Mistura's initiative, without always agreeing on how he should go about it.
US Secretary of State John Kerry and Russian Foreign Minister Sergey Lavrov and other top ISSG diplomats are expected to meet at the annual Munich security conference on
February 11.
"I will be asking for the ISSG to convene as soon as possible, hopefully in Munich, and for the UN Security Council to meet and reconvene on February 25," De Mistura said.
German Foreign Minister Frank-Walter Steinmeier also said he saw an opportunity for negotiations at the Munich conference.
De Mistura said he planned to go to London for a Syria humanitarian pledging conference on Thursday, since the plight of Syria's 5 million refugees would be an additional incentive to reconvene the talks.
The Swedish-Italian diplomat apologised to reporters who had waited in sleet and hail while he spent 2 1/2 hours meeting the opposition delegation. He said he was neither frustrated nor disappointed by having to pause the talks.
"I have been long enough at the UN to know that when you have a five-year war that has had so many difficult moments you have to be determined but also realistic."
Related Articles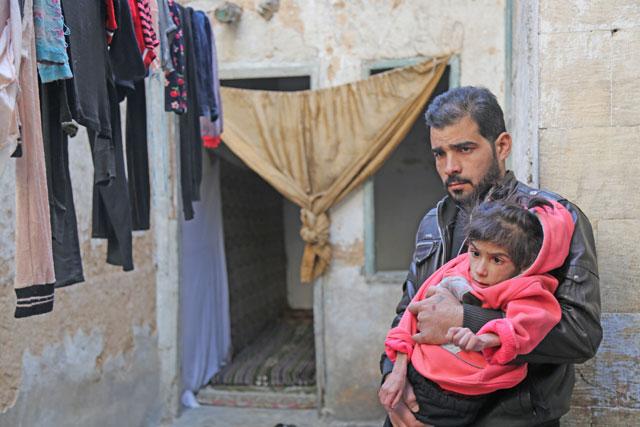 Dec 07,2017
GENEVA — The mediator of UN-led Syrian peace talks in Geneva will assess next week whether either side is trying to sabotage the process, he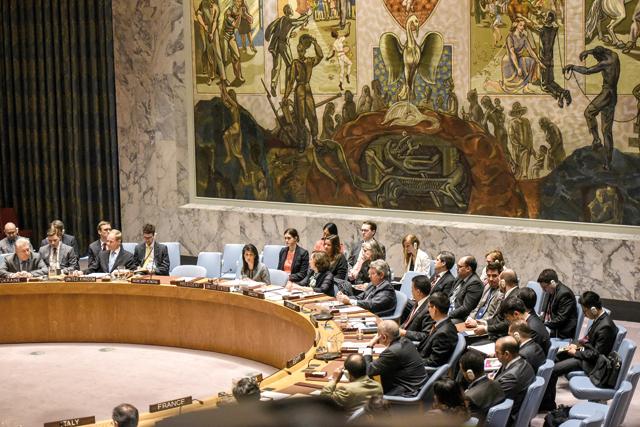 Apr 12,2017
UNITED NATIONS — The United States told Russia at the United Nations on Wednesday that is it isolating itself by continuing to support Syria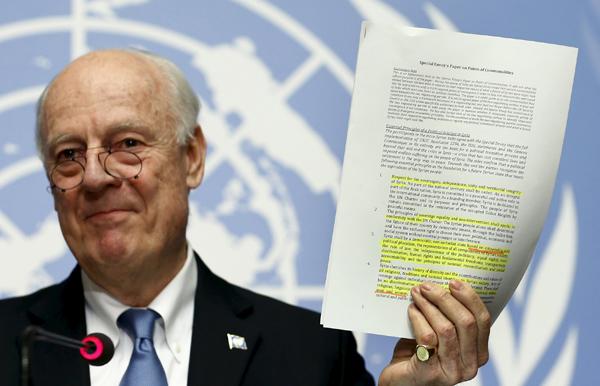 Mar 24,2016
GENEVA — The United Nations said on Thursday it would tackle the divisive issue of a transition in Syria when warring parties meet again nex
Newsletter
Get top stories and blog posts emailed to you each day.