You are here
UN, EU, Russia back Iran nuclear deal as Trump meets Macron
By Reuters - Apr 23,2018 - Last updated at Apr 23,2018
In this file photo taken on July 14, 2017 French President Emmanuel Macron (left) bids farewell to his US counterpart Donald Trump after the annual Bastille Day military parade on the Champs-Elysees avenue in Paris (AFP photo)
GENEVA/MOSCOW — US allies and rivals spoke out in support of the Iran nuclear deal on Monday, bolstering French President Emmanuel Macron's pitch to US President Donald Trump that there was no "Plan B" for keeping a lid on Tehran's atomic ambitions.
Macron is on something of a rescue mission for the 2015 Joint Comprehensive Plan of Action (JCPOA), which Trump has vowed to scrap unless European allies strengthen it by mid-May.
Iranian Foreign Minister Mohammad Javad Zarif called on European leaders to support it.
"It is either all or nothing. European leaders should encourage Trump not just to stay in the nuclear deal, but more important to begin implementing his part of the bargain in good faith," Zarif wrote on his Twitter account.
The deal reached between six powers — all of whom but Germany are nuclear-armed — and Tehran put curbs on Iran's nuclear programme in exchange for sanctions relief.
Macron said on Fox News on Sunday that it would be better to protect the deal instead of to get rid of it as there was no other plan.
"Is this agreement perfect and this JCPOA a perfect thing for our relationship with Iran? No. But for nuclear — what do you have? As a better option? I don't see it," he said.
A nuclear non-proliferation conference in Geneva heard repeated calls for parties to the deal — the United States, China, Russia, Britain, France and Germany — to ensure its implementation and preservation.
"The Joint Comprehensive Plan of Action continues to be the best way to ensure the exclusively peaceful nature of Iran's nuclear programme and to realise the promised tangible economic benefits for the Iranian people," UN High representative for Disarmament Affairs Izumi Nakamitsu said.
Macron's visit is the first time Trump has hosted a state visit since he took power in January 2017. While the French leader has tried to develop a close relationship with Trump since he took office in May, he has so far seen little tangible results on issues from Iran to climate politics.
The two men will get a sense of their two countries' shared history during an evening meal on Monday night at Mount Vernon, the home of George Washington, the first US president and Revolutionary War commander whose alliance with France was critical to victory over the British.
Working meetings will be held at the White House on Tuesday before Macron addresses Congress the following day, the anniversary of the day that French General Charles de Gaulle addressed a Joint Session of Congress in 1960.
Trump and the 40-year-old French leader began their friendship a year ago in Belgium with a jaw-clenching handshake. While some other European leaders have kept a certain distance from Trump, Macron has worked hard to remain close to the US president and the two leaders speak frequently by phone.
Highlighting the difficulties Macron will face reversing Trump's mind on Iran, US non-proliferation envoy Christopher Ford said Tehran presented a very real long-term challenge.
"Iran [is] a country that for years illegally and secretly sought to develop nuclear weapons, suspended its weaponisation work only when confronted by the potentially direst of consequences without ever coming clean about its illicit endeavours," he said.
"For several more years [it] continued its efforts to enrich uranium in violation of legally-binding UN Security Council requirements, and retains the ability to position itself, several years hence, dangerously close to rapid weaponisation."
On a visit to Beijing, Russian Foreign Minister Sergei Lavrov said he had agreed with his Chinese counterpart to block any US attempt to sabotage the deal.
"We are against revising these agreements, we consider it very counter productive to try to reduce to zero years of international work carried out via talks between the six major powers and Iran," Lavrov said after talks with the Chinese government's top diplomat, State Councillor Wang Yi.
"We will obstruct attempts to sabotage these agreements which were enshrined in a UN Security Council resolution," Lavrov said.
EU disarmament envoy Jacek Bylica said the deal strengthened the international non-proliferation regime, contributed to regional and international security and ensured the exclusively peaceful nature of Iran's nuclear programme.
Cornel Feruta, a senior official at the International Atomic Energy Agency, said the deal had significantly improved access to Iran.
"In short, Iran is now subject to the most robust nuclear verification regime and Iran is implementing its nuclear related commitments under the JCPOA," he said. "It is essential that Iran continues to fully implement those commitments."
Related Articles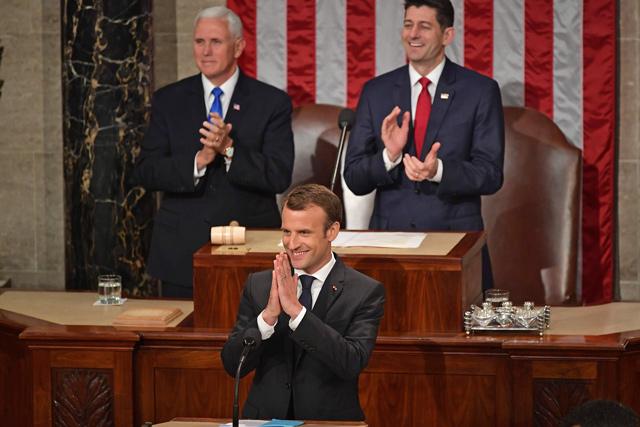 Apr 26,2018
WASHINGTON — France's President Emmanuel Macron urged the United States to embrace multilateralism and warned of the perils of trade war and
Apr 25,2018
BEIRUT/BRUSSELS — Western envoys said on Wednesday that Britain, Germany and France were nearing a package to put to President Donald Trump
Apr 21,2018
WASHINGTON, United States — US President Donald Trump and French President Emmanuel Macron will discuss the Iran nuclear agreement at the Wh
Newsletter
Get top stories and blog posts emailed to you each day.