You are here
UN warns Syria's Raqqa still 'too dangerous' for returnees
By AFP - Apr 24,2018 - Last updated at Apr 24,2018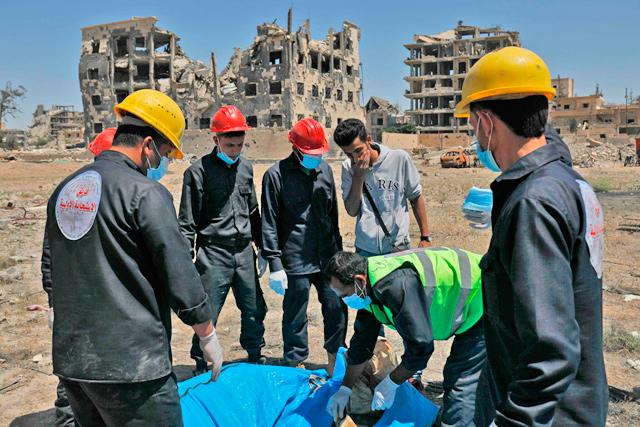 This photo shows Syrians recovering bodies that have been found in a mass grave in the former Daesh group stronghold of Raqqa in Syria on Monday (AFP photo)
GENEVA, Switzerland — The UN is intentionally providing only barebones aid in the former Daesh stronghold of Raqqa in Syria to avoid attracting more civilians to the still highly dangerous city, an official said on Tuesday.
"We don't want to start too vigorous programmes... because we don't want to make the impression that Raqqa city is safe," said Jakob Kern, head of the World Food Programme's (WFP) operations in Syria.
"Because it is not safe. Nobody should actually live there," he told journalists in Geneva.
His comments came after the UN earlier this month conducted its first humanitarian mission to Raqqa since it was liberated from Daesh last October.
The city, which Daesh proclaimed part of its "caliphate" in 2014, remains littered with mines, said Kern, who himself visited Raqqa a few weeks ago.
He said on average two people are killed each day by stepping on mines or other unexploded devices.
"You have a city that was completely destroyed... completely mined," he said, "and yet 100,000 people are living there".
The WFP is for now providing food aid to some 50,000 people in Raqqa through local partners on the ground.
But Kern said the organisation would not be sending in its own staff for the time being.
"We decided that it is way too dangerous for us to work there," he said, stressing "we are not exposing our own staff to that type of risk."
Kern said that when he and other WFP staff entered Raqqa they had had one security officer for two staff members to keep them safe.
Kern, who only has a month left heading WFP's Syria operations, also addressed the situation elsewhere in Syria.
In Deir Ezzor, where 100,000 people were besieged by Daesh for three years, he said WFP's high-altitude airdrops of food aid had helped "avert famine".
When a WFP team went in two months ago, "people were overwhelmingly saying the same thing: without that food, we would not have survived," he said.
Related Articles
Apr 17,2018
RAQQA, Syria — The stench of rotting corpses rises from piles of rubble and destroyed buildings that line the streets of Syria's Raqqa, serv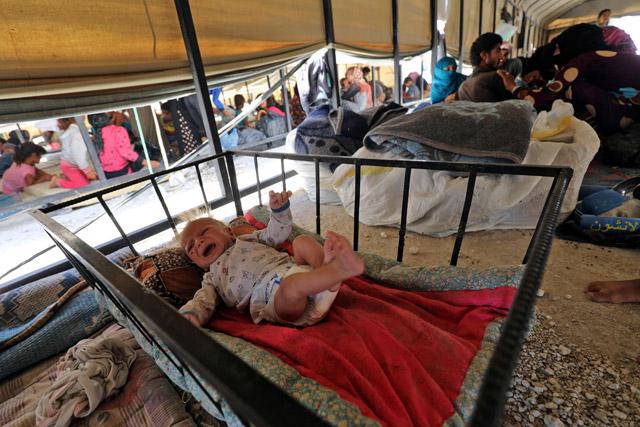 Jul 12,2017
DAMASCUS — The UN's World Food Programme (WFP) announced Wednesday it has resumed aid deliveries in parts of Syria's Raqqa province for the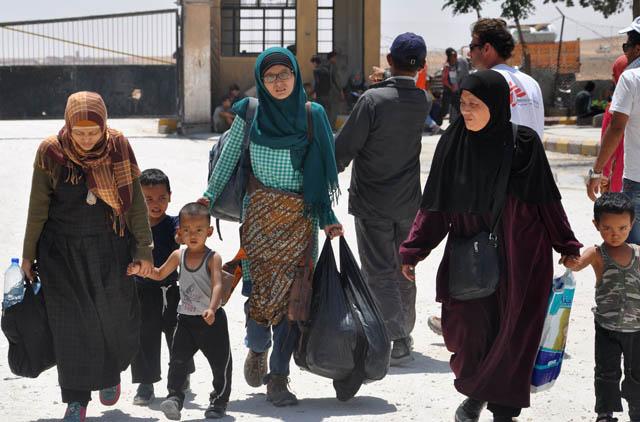 Jun 15,2017
BEIRUT — The battle to oust the Daesh terror group from its stronghold of Raqqa is creating daunting challenges for aid groups responding to
Newsletter
Get top stories and blog posts emailed to you each day.