You are here
Understanding Syria: London museum invites visitors to ask refugees
By Thomson Reuters Foundation - Apr 29,2017 - Last updated at Apr 29,2017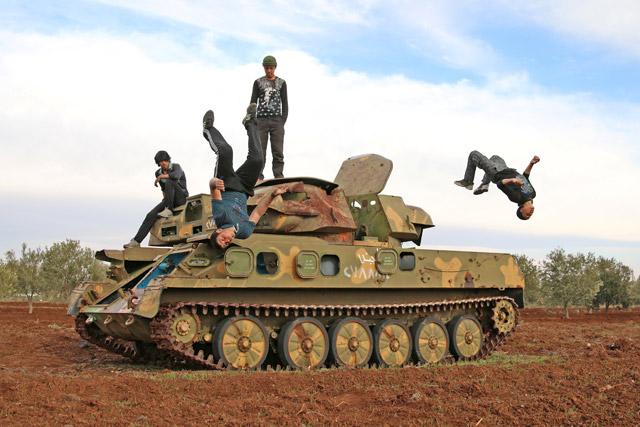 Muhannad Al Kadiri (right),18, and Ibrahim Eid, 16, demonstrate their Parkour skills over a military vehicle in the rebel-held city of Inkhil, west of Deraa, Syria, February 4 (Reuters photo)
LONDON — "How did you leave Syria?", "Is your family still in Aleppo?", "How do you move forward after fleeing Syria?"
At a museum in the heart of London, visitors from across the globe were invited to sit down with Syrian refugees and aid workers to ask any questions in a bid to convey the complexity of the Syrian conflict, now in its seventh year.
The pop-up Conflict Cafe at the Imperial War museum kickstarted a string of exhibitions on the conflict, weeks after a chemical attack brought renewed international attention to the plight of civilians in the country.
Ammar Al Saker, a 21-year-old refugee from Damascus, told a small crowd of museum visitors gathered around a table about his journey from Syria through Lebanon, Macedonia and Spain until he was recently granted asylum in Britain.
"For the first time, it feels like I'm an important person," he told the Thomson Reuters Foundation.
Saker and other Syrians now living in London shared stories of surviving without electricity during the war, military conscription at home and leaving their families behind.
Two exhibitions will be on display at the museum until September, including a photography display showing daily life in Syria and the journeys undertaken by Syrians to Europe as well as a film installation explaining the conflict.
"The main idea was to try and give the public a basic introduction to what is a very complicated conflict," Christopher Phillips, a curator for one of the exhibitions told the Thomson Reuters Foundation.
"A lot of the time people use simplistic explanations and stereotypes: a religious war between Sunnis and Shias or a proxy war between the United States and Russia. That doesn't do the reality of the conflict justice," he added.
Syria's war began in 2011 after a popular uprising against the Assad family's more than four-decade rule, inspired by the Arab Spring revolts.
The war, pitting rebels mostly from Syria's Sunni majority against a minority rule rooted in President Bashar Al Assad's Alawite community, has killed more than 400,000 people and created the world's worst refugee crisis since World War II.
Related Articles
Jul 17,2016
RIO DE JANEIRO — When Hanan Dacka fled the civil war in Syria with her family to start a new life in Brazil, the idea that she might one day
Apr 22,2017
NEW DELHI — The United Nations must prioritise millions of children caught up in conflict and protect refugee children from being trafficked
Mar 06,2018
LONDON — The competing demands of numerous global crises mean some 2.7 million people in Somalia who need food are at risk of being ignored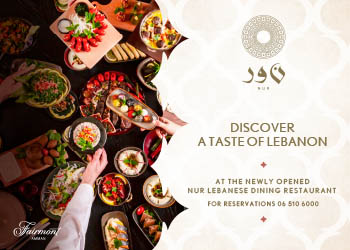 Newsletter
Get top stories and blog posts emailed to you each day.