You are here
US denies pressuring Guatemala to move embassy to Jerusalem
By AFP - Dec 28,2017 - Last updated at Dec 28,2017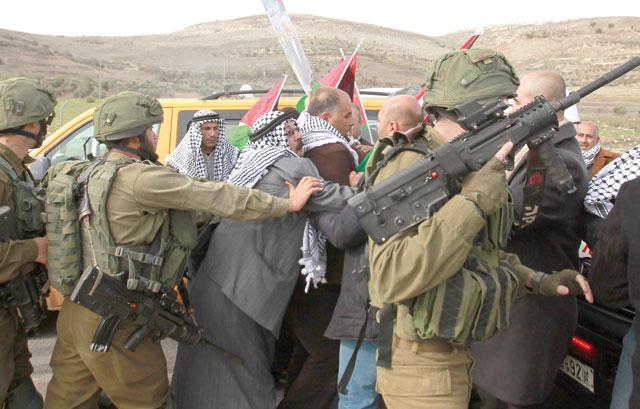 Israeli forces confront with Palestinians near Hawara checkpoint, south of the West Bank city of Nablus, following a demonstration against US President Donald Trump's recognition of Jerusalem as Israel's capital on Wednesady (Anadolu Agency photo)
GUATEMALA CITY — The United States did not pressure Guatemala into announcing it will move its embassy in Israel to occupied Jerusalem, the Central American state's foreign minister said on Wednesday.
"There wasn't any pressure. There wasn't any overture from the United States to make this happen. This was a decision by the government, the state and the foreign policy of Guatemala," the minister, Sandra Jovel, told a news conference in Guatemala City.
Her affirmation follows Guatemalan President Jimmy Morales's announcement on Sunday that his country was to move its embassy in Israel from Tel Aviv to Jerusalem.
The declaration made Guatemala the first — and so far, only — country to follow US President Donald Trump's lead in saying its embassy would be relocated to the holy city.
Guatemala, like the United States, has not said when its embassy move would happen.
But the step is highly controversial, and flies in the face of an international consensus that Jerusalem's status can only be decided through peace negotiations between Israelis and Palestinians.
'Historical allies'
Last week, two-thirds of UN members states — 128 in all — rejected Trump's recognition of Jerusalem as Israel's capital.
Just nine countries voted against the UN General Assembly resolution: the United States, Israel, Guatemala, Honduras, the Marshall Islands, Micronesia, Nauru, Palau and Togo.
Other countries abstained or did not enter a vote.
There were varying reports of how many people had been evacuated.
Syria's state-run Ikhbariya television reported on Thursday that 35 medical cases had been evacuated by the Syrian Arab Red Crescent (SARC) and 34 detainees held by the rebels released.
The ICRC said it and SARC had started evacuating 29 serious medical cases late on Tuesday and the ICRC's Petitpierre said on Thursday that 16 had been evacuated so far.
The Syrian American Medical Society (SAMS) said on Twitter that 12 children were evacuated from the area overnight to receive medical care in hospitals in Damascus. It earlier said four had been evacuated on Tuesday.
Yasser Delwan, a Jaish Al Islam political official in Ghouta, said on Wednesday that SARC had mediated between Damascus and the rebels for the swap.
"We worked to get them out through the Red Crescent, and we are working on evacuating the rest of the nearly 500 cases out," he said. "But there was no indication of whether more evacuations would be allowed," he added.
On Sunday, Turkish President Recep Tayyip Erdogan said Turkey was working with Russia, Assad's ally, on the evacuations. Ankara has backed some rebel factions in the Syrian war.
Related Articles
Dec 28,2017
BEIRUT — The International Committee of the Red Cross (ICRC) said it hoped to resume evacuations of critically ill people from Syria's bigge
Dec 17,2016
ALEPPO/BEIRUT — A new deal is being negotiated to complete the evacuation of rebel-held areas of Syria's east Aleppo which ground to a halt
May 17,2018
AMMAN — The government on Wednesday condemned Guatemala's decision to move its embassy in Israel to the occupied city of Jerusalem, the Jord
Newsletter
Get top stories and blog posts emailed to you each day.