You are here
US offers $1 million reward to locate journalist missing in Syria
By AFP - Apr 21,2018 - Last updated at Apr 21,2018
(FILES) In this file photo taken on July 20, 2017 Marc (L) and Debra Tice, parents of US journalist Austin Tice who was kidnapped in Syria five years prior, hold respective dated portraits of him during a press conference in the Lebanese capital Beirut (AFP Photo)
Washington - The United States is offering a reward of $1 million for information about Austin Tice, an American journalist missing in Syria since 2012.

The FBI announced the reward this week, without any explanation on the timing.

"The timing of this reward is unrelated to any specific event," an FBI spokeswoman said.

Tice, 36, is believed to the only American journalist currently held in Syria, one of the most dangerous countries for the news media in recent years.

A freelance journalist working for McClatchy News, The Washington Post, CBS, AFP and other news organizations, Tice was abducted in August 2012 near Damascus.

Tice's family has launched several appeals for information about his whereabouts, saying they believe he is still alive.

In 2016, a #FreeAustinTice banner was attached to the facade of the Newseum, a museum focused on news media and located on the street linking the US Capitol and the White House. The banner is still there.

An FBI statement on its website said it would offer the reward "for information leading directly to the safe location, recovery, and return" of Tice.

The agency created an email address [email protected] and said anyone with information could also use the website tips.fbi.gov or contact any US consulate.

Reporters Without Borders, a media rights group which has worked with Tice's family, welcomed the US move.

"We're thrilled the US government is putting out this reward," said Margaux Ewen, head of the US office for the organization.

"We hope it will encourage anyone with information on Austin Tice to come forward."
Related Articles
May 19,2015
The mother of an American journalist missing in Syria for nearly three years pleaded on Tuesday for information about him, saying she believes that he is still alive.
Apr 19,2014
Four French journalists taken hostage in Syria last year were freed on Saturday after a 10-month ordeal in the world's most dangerous country for the media.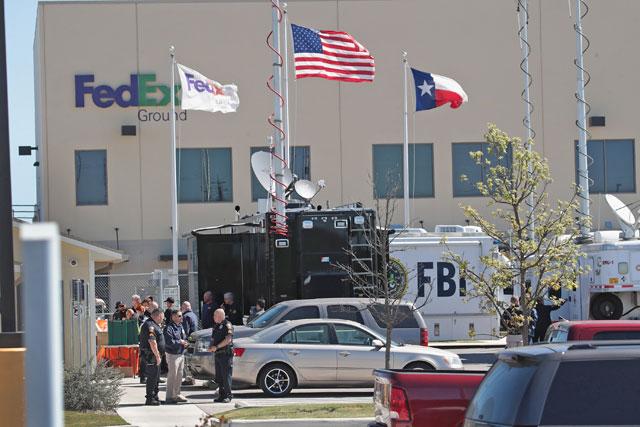 Mar 20,2018
AUSTIN/SCHERTZ, Texas — A package bomb blew up at a FedEx distribution centre near San Antonio on Tuesday, hastening investigators to seek t
Newsletter
Get top stories and blog posts emailed to you each day.