You are here
US says Daesh chief of oil operations killed in US raid in Syria
By AP - May 16,2015 - Last updated at May 16,2015
BEIRUT — In a rare ground attack deep into Syria, US Army commandos killed a man described as the Daesh's head of oil operations, captured his wife and rescued a woman whom American officials said was enslaved.
A team of Delta Force commandos slipped across the border from Iraq under cover of darkness Saturday aboard Black Hawk helicopters and V-22 Osprey aircraft, according to a US defence official knowledgeable about details of the raid. The official was not authorised to discuss the operation publicly and spoke on condition of anonymity.
The Americans intended to capture a militant identified by US officials as Abu Sayyaf. When they arrived at his location, a multi-storey building, they met stiff resistance, the US official said, and a firefight ensued, resulting in bullet-hole damage to the US aircraft.
Abu Sayyaf was killed, along with an estimated dozen of Daesh fighters, US officials said. No American was killed or wounded.
Before the sun had risen, the commandos flew back to Iraq where Abu Sayyaf's wife, Umm Sayyaf, was being questioned in US custody, officials said.
Abu Sayyaf was described by one official as the Daesh "emir of oil and gas", although he also was targeted for his known association with the group's leader, Abu Bakr Al Baghdadi.
US officials said it was likely, given Abu Sayyaf's position, that he knew about more than just the financial side of the group's operations.
The US official said his removal probably has temporarily halted Daesh oil-revenue operations, critical to the group's ability to carry out military operations in Syria and Iraq and to govern the population centers it controls.
But US Rep. Adam Schiff, the top Democrat on the House Intelligence Committee, cautioned against exaggerating the long-term gain from killing Abu Sayyaf.
He said Daesh, like Al Qaeda, "has proven adept at replacing its commanders and we will need to keep up the pressure on its leadership and financing".
A US Treasury official told Congress in October that Daesh militants were earning about $1 million a day from black market oil sales alone, and getting several million dollars a month from wealthy donors, extortion rackets and other criminal activities, such as robbing banks. Kidnappings were another large source of cash.
US air strikes in Syria since September have frequently targeted Daesh oil-collection facilities in an effort to undermine the group's finances.
Daesh controls much of northern and eastern Syria as well as northern and western Iraq, despite months of US and coalition airstrikes and efforts by the US-backed Iraqi army to retake territory. Daesh holds most of the oil fields in Syria and has declared a caliphate governed by a harsh version of Islamic law.
Also Saturday, activists said Daesh fighters pushed into the Syrian town of Palmyra, home to famed 2,000-year-old ruins.
The US Army raid occurred one day after the US-led campaign to roll back Daesh's gains in Iraq suffered a significant setback in Ramadi, the capital of Anbar province. Daesh fighters are reported to have captured a key government building in Ramadi and have established control over a substantial portion of the city, officials have said.
US House Speaker John Boehner, in a written statement Saturday praising the raid into Syria, said he was "gravely concerned" by the Daesh assault on Ramadi and that it threatened the stability and sovereignty of Iraq.
Daesh has made major inroads at Iraq's Beiji oil refinery complex in recent days. Reports vary, but US officials have said Daesh is largely in control of the refinery, as well as the nearby town of Beiji. It's on the main route from Baghdad to Mosul, the main Daesh stronghold in northern Iraq.
US Defence Secretary Ash Carter in Washington announced the raid, followed soon after by word from the White House.
Bernadette Meehan, spokeswoman for the US National Security Council, said in a statement that the woman who was freed, a Yazidi, "appears to have been held as a slave" by Abu Sayyaf and his wife. She said the US intends to return her to her family.
Daesh militants captured hundreds of members of the Yazidi religious minority in northern Iraq during their rampage across the country last summer.
A senior Obama administration official said Umm Sayyaf was being debriefed at an undisclosed location in Iraq to obtain intelligence about Daesh operations. The official was not authorised to discuss details of the operation by name and spoke on condition of anonymity.
The raid was the first known US ground operation targeting Daesh militants in Syria. A US-led coalition has been striking the extremists from the air for months, but the only previous time American troops set foot on the ground in Syria was in an unsuccessful commando mission to recover hostages last summer.
Syrian state TV earlier reported that Syrian government forces killed at least 40 Daesh fighters, including a senior commander in charge of oil fields, in an attack Saturday on the Omar field — where the US raid was said to have taken place. The Syrian report, which appeared as an urgent news bar on state TV, was not repeated by the state news agency. State TV didn't repeat the urgent news or elaborate on it.
US officials said they had no knowledge of a Syrian raid and that the US did not coordinate its operation with the Syrian government. Meehan said the Syrian government was not informed in advance of the raid. The US has said it is not cooperating with President Bashar Assad's government in the battle against Daesh.
"We have warned the Assad regime not to interfere with our ongoing efforts against ISIL inside of Syria," Meehan said, using another acronym for Daesh. "As we have said before, the Assad regime is not and cannot be a partner in the fight against ISIL. In fact, the brutal actions of the regime have aided and abetted the rise of ISIL and other extremists in Syria."
An NSC statement said President Barack Obama authorised the raid upon the "unanimous recommendation" of his national security team.
The administration clearly is concerned by the resilience of Daesh even as officials publicly express confidence that the extremists cannot sustain their territorial gains and ultimately will be defeated.
Saturday's raid came as Daesh fighters have advanced in central and northeastern Syria. Activists said Daesh fighters pushed into Palmyra, home to famed 2,000-year-old ruins, after seizing an oil field and taking control of the water company on the outskirts.
Daesh said fighters took full control of Saker Island in the Euphrates River near Deir Al Zour, a provincial capital in eastern Syria split between Daesh and government forces.
Related Articles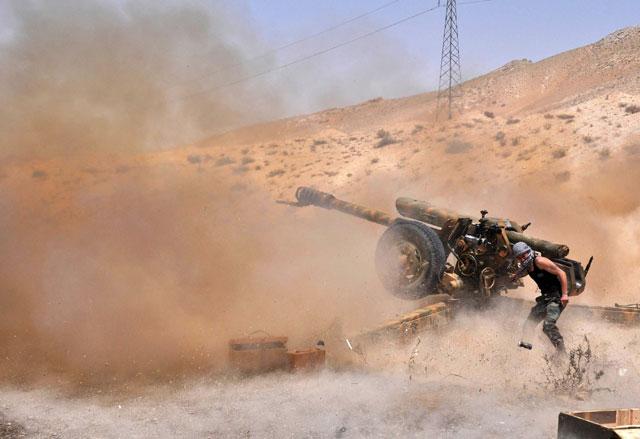 May 17,2015
Syrian troops pushed Daesh group jihadists back from the ancient city of Palmyra on Sunday, easing fears over the world heritage site, after fighting that left hundreds dead.
Jun 09,2015
WASHINGTON — A US commando raid in Syria last month that killed a senior figure from the Daesh terror group produced a wealth of information
Oct 22,2015
WASHINGTON/ERBIL, Iraq — One member of a US special operations team was killed during an operation to rescue hostages held by Daesh militant
Newsletter
Get top stories and blog posts emailed to you each day.