You are here
US urges Americans to leave Gaza 'as soon as possible'
By AFP - Aug 24,2016 - Last updated at Aug 24,2016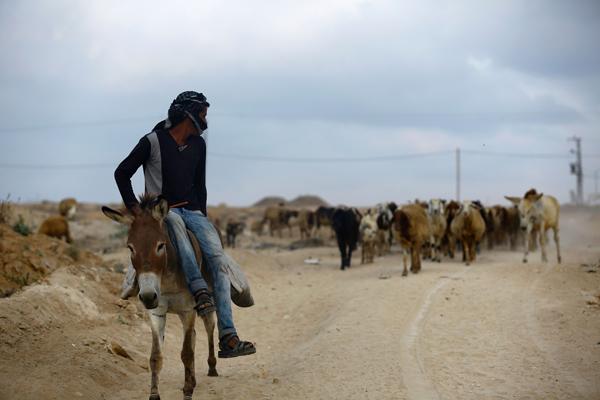 A Palestinian bedouin shepherd herds his sheep in Beit Hanoun, near the Erez border crossing with Israel, in the northern Gaza Strip, on Wednesday (AFP photo)
WASHINGTON — The United States on Tuesday reiterated its recommendation that Americans in Gaza leave the territory controlled by Hamas, which Washington calls a terrorist group, "as soon as possible". The warning came after the Israeli army said it bombed dozens of targets in Gaza from Sunday to Monday, in response to rocket fire from the strip. Palestinian medical officials said four people were wounded.
Washington regularly updates warning notices to Americans travelling to and living in countries around the world.
In the case of Gaza, the State Department warned against "all travel" to the territory and "urges those present to depart as soon as possible when border crossings are open".
It had issued a similar warning in December 2015.
Since January, 14 rockets fired from Gaza have hit Israeli territory, the military said.
The border area has remained tense since the July-August 2014 war between Israel and Gaza militants that killed more than 2,200 Palestinians.
"Gaza is under the control of Hamas, a foreign terrorist organisation. The security environment within Gaza and on its borders is dangerous and volatile," the State Department said in its warning on Tuesday.
As for Israel and the occupied West Bank, a wave of violence there since October 2015 has left Americans dead and wounded, the department said.
However, "there is no indication that US citizens were specifically targeted based on nationality."
The State Department on Tuesday also condemned plans, reported by Israeli media, to expand a Jewish military compound in the West Bank city of Hebron by building homes for settlers.
"If these reports are true... that would represent a deeply concerning step of settlement expansion on land that is at least partially owned by Palestinians," department spokesman Mark Toner said at a press briefing.
"We strongly oppose all settlement activity, which is corrosive to the cause of peace. And we've said repeatedly such moves are not consistent with Israel's stated desire to achieve a two-state solution," Toner added.
Washington regularly condemns its ally Israel for "illegitimate" settlements in the Palestinian territories.
Related Articles
Mar 22,2018
AMMAN — Members of the Ministerial Committee on Decentralisation (MCD) on Thursday said they would provide buildings to governorate councils
Jan 02,2017
RUSEIFA, Zarqa – Violet Mustafa Hosheh's 45 years of life have led her on an often-arduous and painful journey, but from hardship she has fo
Jan 25,2017
WASHINGTON — The US State Department is reviewing a decision made in the final hours of former president Barack Obama's administration to re
Newsletter
Get top stories and blog posts emailed to you each day.