You are here
WHO says Gaza's Al Shifa hospital a 'death zone', urges full evacuation
Gaza health official says 31 premature babies evacuated from Al Shifa hospital
By AFP - Nov 20,2023 - Last updated at Nov 20,2023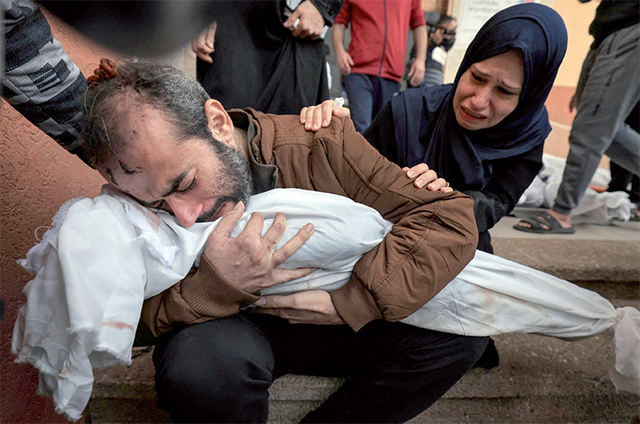 Jamil Al Agha and his wife react as the injured man holds the body of one of the couple's 2 children killed in Israeli bombardment, in Khan Yunis in the southern Gaza Strip on Sunday, amid ongoing Israeli bombardment (AFP photo)
GENEVA — The World Health Organisation (WHO) said on Sunday it had led an assessment mission to Al Shifa hospital in Gaza City and determined it was a "death zone", urging a full evacuation.
"WHO and partners are urgently developing plans for the immediate evacuation of the remaining patients, staff and their families," the United Nations health agency said in a statement, adding that 291 patients and 25 health workers remained inside the hospital.
A top health official in Gaza Strip all 31 premature babies at Al Shifa hospital had been evacuated on Sunday from the facility.
Mohammed Zaqut, director general of hospitals in Gaza, told AFP "all 31 premature babies in Al Shifa hospital... have been evacuated" along with three doctors and two nurses.
"Preparations are under way" for them to enter Egypt, he added.
WHO said it had headed a joint UN team, including public health experts, logistics officers and security staff from a range of agencies on a short and "very high-risk" mission into the hospital on Saturday.
The assessment team had gone into Al Shifa after the Israeli military had earlier ordered the evacuation of some 2,500 displaced people sheltering on the hospital grounds, WHO said.
"They, along with a number of mobile patients and hospital staff, had already vacated the facility by the time of the team's arrival," the statement said.
Columns of sick and injured, some of them amputees, were seen making their way out of Al Shifa hospital Saturday towards the seafront without ambulances along with displaced people, doctors and nurses, as loud explosions were heard around the complex.
The UN assessment team was meanwhile only able to spend an hour inside the hospital due to the security situation.
The team, WHO said, described the hospital as a "death zone" and the situation as "desperate".
'Mass grave'
"Signs of shelling and gunfire were evident. The team saw a mass grave at the entrance of the hospital and were told more than 80 people were buried there," the statement said.
A lack of clean water, fuel, medicines, food and other essential aid over six weeks had caused the largest and most advanced hospital in Gaza to basically stop functioning as a medical facility, WHO said.
"Corridors and the hospital grounds were filled with medical and solid waste, increasing the risk of infection."
Among the patients remaining in the hospital were 32 babies "in extremely critical condition", WHO said.
There were also two people in intensive care without ventilation, 22 dialysis patients whose access to life-saving treatment was severely compromised, and many trauma victims.
Several patients had died in the past two to three days "due to the shutting down of medical services", WHO said.
The UN health agency said that given the state of the hospital, the team was asked to evacuate health workers and patients to other facilities.
'Unbearable'
"We are working with partners to develop an urgent evacuation plan and ask for full facilitation of this plan," WHO chief Tedros Adhanom Ghebreyesus said on X, former Twitter.
"We continue to call for protection of health and of civilians," he said, lamenting that "the current situation is unbearable and unjustifiable. Ceasefire. NOW".
WHO said additional missions would go in "over the next 24-72 hours, pending guarantees of safe passage" to help transport patients to the Nasser Medical Complex and European Gaza Hospital in southern Gaza.
It stressed though that those hospitals were already working beyond capacity and the new referrals would "further strain overburdened health staff and resources".
Israeli army's relentless air and ground campaign on Gaza has killed 12,300 people, most of them civilians, including more than 5,000 children, according to the health ministry in Gaza.
Related Articles
Nov 26,2023
GENEVA — The World Health Organisation(WHO) voiced concern over the fate of the head of Gaza City's Al Shifa hospital, whom Israeli forces d
Nov 19,2023
GAZA STRIP, Palestine — Health ministry in Gaza said more than 80 people were killed Saturday in twin strikes on a northern refugee camp in
Nov 17,2023
GAZA STRIP, Occupied Palestine — Israel renewed its attack on Thursday on Gaza's largest hospital, targeting what it claimed was a Hamas com