You are here
World will soon know if Iran serious on nuclear deal — US
By AFP - Feb 25,2015 - Last updated at Feb 25,2015
WASHINGTON — US Secretary of State John Kerry said Tuesday it would soon become clear if Iran is serious about ending suspicions over its nuclear ambitions, as world powers appeared to inch towards a historic deal with Tehran.
But under heated questioning from lawmakers, America's top diplomat insisted the US administration was clear-eyed about Iran's global influence, blasting Iranian leaders for seeking to foment regional unrest.
Fresh from talks in Geneva with his Iranian counterpart, Kerry sounded a note of caution, saying he was unsure whether a comprehensive agreement would be reached as a March 31 deadline for a political framework looms.
World powers grouped under the so-called P5+1 "had made inroads" since reaching an interim deal with Iran in November 2013 on reining in its suspect nuclear programme, Kerry said.
"We've gained unprecedented insight into it," Kerry told the Senate appropriations committee at the start of two days of intense congressional hearings.
"And we expect to know soon whether or not Iran is willing to put together an acceptable, verifiable plan," he said, adding bluntly: "I don't know yet."
As the talks gather pace with the Iranian and US teams due to meet again in Switzerland on Monday, possibly with Kerry, EU foreign policy chief Federica Mogherini insisted a deal was "at hand".
"We cannot miss this opportunity," Mogherini told Chatham House, a London think tank.
"A good deal is at hand if the parties will keep cooperating as they did so far and if we have enough political will from all sides to agree on a good deal and sell it domestically," Mogherini said.
Kerry announced he would soon travel to London to meet with leaders from the Gulf Cooperation Council, and said he also planned to have talks with Saudi King Salman.
Kerry again stressed that US policy was that Tehran would not acquire a nuclear weapon. And he cautioned critics to wait and see the deal before rushing to condemn it.
The so-called P5+1 group of Britain, China, France, Russia, the United States and Germany are trying to strike an accord that would prevent Tehran from developing a nuclear bomb.
In return, the West would ease punishing sanctions imposed on Tehran over its nuclear programme, which Iran insists is purely civilian.
Opposition to a deal
But many US allies, including Israel and Saudi Arabia, remain wary of the new US outreach to Iran and its Shiite Muslim leaders. Republican lawmakers have voiced opposition to the deal.
Israeli Prime Minister Benjamin Netanyahu said Tuesday he would do "everything I can" to prevent a nuclear deal.
"This agreement, if indeed it is signed, will allow Iran to become a nuclear threshold state," he said in a statement.
Netanyahu's government has always opposed a deal with Tehran over its nuclear programme, and he is to address the US Congress on March 3, in a move that has angered the White House.
Kerry insisted that Iran, still the US number one state sponsor of terrorism, was not fooling America, acknowledging "the Iranians are reaching into, and having an impact, and influencing a number of countries in the region".
Iraq, Lebanon and Syria and Yemen were all countries where Iran was seeking to wield its sway, Kerry said.
Asked whether the Yemeni government collapsed because of Iran's support for the Houthi, Kerry replied: "I think it contributed to it... without any question whatsoever."
Hawkish Republican Senator Lindsey Graham, chairman of the appropriations committee, said: "From my point of view, we're dealing with people who are hellbent on expanding their influence in the Mideast in a destructive fashion."
But Kerry shot back: "The most destabilising thing would be if, in fact, you had a nuclear-armed Iran that projected even more power and influence than it has today."
Meanwhile, an exiled Iranian group accused the country of running a "secret" uranium enrichment site close to Tehran, which it said violated ongoing negotiations.
"Despite the Iranian regime's claims that all of its enrichment activities are transparent ... it has in fact been engaged in research and development with advanced centrifuges at a secret nuclear site called Lavizan-3," said Alireza Jafarzade, deputy director of the National Council of Resistance of Iran.
Related Articles
Nov 08,2014
A failure by Iran and world powers to reach a comprehensive agreement over Tehran's nuclear programme would be dangerous "for the entire world", a senior Iranian negotiator said on Saturday.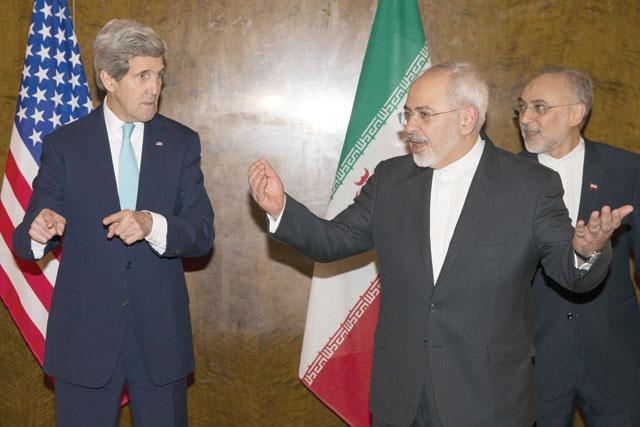 Mar 04,2015
Simply demanding Iran's capitulation is no way to get a nuclear deal with the Islamic Republic, US Secretary of State John Kerry said on Wednesday as he wrapped up three days of talks with a veiled dig at Israeli Prime Minister Benjamin Netanyahu.
Apr 02,2015
After marathon negotiations, the United States, Iran and five other world powers announced a deal Thursday outlining limits on Iran's nuclear programme so it cannot lead to atomic weapons, directing negotiators toward a comprehensive agreement within three months.
Newsletter
Get top stories and blog posts emailed to you each day.