You are here
A year on, Yazidis so close yet so far from Iraq hub
By AFP - Aug 31,2015 - Last updated at Aug 31,2015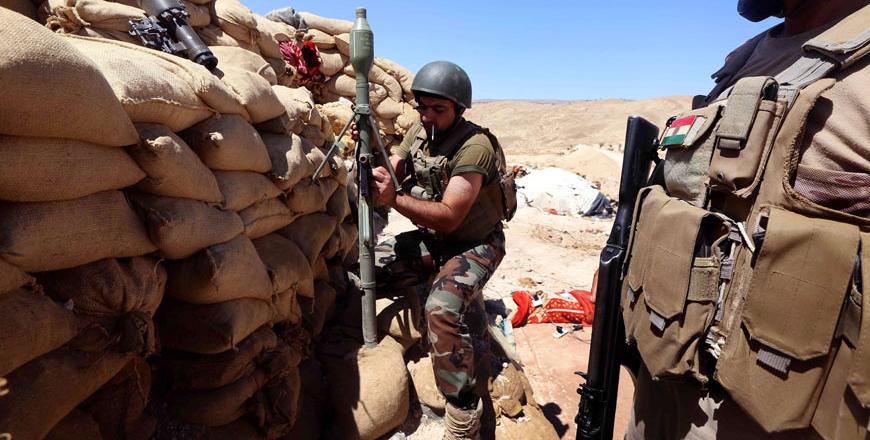 Iraqi Kurdish peshmerga fighters prepare a mortar shell as they guard a position at the front line of fighting against Daesh militants near the northern Iraqi town of Sinjar, west of the city of Mosul, on August 17 (AFP photo)
SINJAR, Iraq — Militants occupying the Iraqi town of Sinjar are so close that Kurdish fighters can watch them without binoculars and battles are often fought with hand grenades.
Yet eight months after Kurdish forces retook Mount Sinjar from the Daesh terror group, the recapture of the nearby town — the ancestral hub of the Yazidi minority, which has been brutally targeted by Daesh — remains a distant prospect.
"Sometimes they talk to us on the radio," said Colonel Hashem Seetayi, the commanding officer of Iraq's Kurdish peshmerga forces in the northwestern town.
"They tell us that we are Sunnis and should therefore make allegiance and join them because they will eventually take over the area," he said.
One of the peshmerga's forward positions is protected by a cleft in the mountain, but the water tank towering above it has so many holes that it is possible to see through it.
"The Sinjar front line is the closest with IS [Daesh] in the whole Kurdistan region. The distance between us, especially at night, is barely 50 metres," said Musleh Saleh Yusef, a captain in peshmerga intelligence.
But the Sinjar front line has barely moved since mid-December 2014. Daesh controls much of the town and most areas bordering it, while Iraqi and Syrian Kurdish fighters only hold positions on its edge.
Perched on hills overlooking the town, protected by sandbags and daily air strikes by a US-led coalition, the peshmerga have only recorded six injuries in their ranks since the start of July.
'They don't think like us'
Seetayi was incredulous at the relentlessness of Daesh attacks and estimated the number of jihadist fighters killed since August 2014 in the town of Sinjar alone at around 1,000.
"They have clever tactics, they dig holes for their mortars and uncover them only when they fire to make sure they are not visible to coalition aircraft," he said.
"But they keep coming at us with suicide car bombs and other weapons. It makes no military sense, we are well positioned, we can stop them," he said. "They don't think like us."
With thousands of determined Yazidi fighters raring to take back their capital, Sinjar looks like an easy target.
From his base in Sharafeddin, a shrine town on the other side of the mountain, Yazidi military leader Qassem Shesho said the town could be retaken in days.
"When we attack Sinjar, we'll only need 300 fighters to take it, but we'll need 5,000 to 6,000 peshmergas to defend the whole town," he said, as it would still be exposed to attacks from nearby Daesh-held territory.
His fighters, who withstood waves of Daesh attacks on Sharafeddin last year, are now aligned with the peshmerga forces loyal to Kurdish regional president Massud Barzani.
"It's not that IS [Daesh] is so strong. When the US, the coalition forces and president Barzani decide to liberate it, it will be easy," he said.
Daesh's August 2014 onslaught against the Yazidis in the Sinjar region has been described by the United Nations as a possible genocide and was one of Washington's main justifications for starting its air campaign last year.
'It's all politics'
The peshmerga had been protecting the area, but were overwhelmed when the jihadists attacked.
The siege on the mountain, where tens of thousands of Yazidi civilians had sought refuge, was eventually broken in an operation led by Syrian Kurdish fighters from the People's Protection Units (YPG) and its sister organisation, Turkey's rebel Kurdistan Workers Party (PKK).
Those groups have maintained a presence on and around the mountain, which runs to the border with Syria, and portraits of jailed PKK supremo Abdullah Ocalan and messages of support outnumber those celebrating Barzani and his peshmerga.
By the peshmerga commanders' own admission, there is little coordination between them and the Kurdish groups loyal to Ocalan.
The YPG/PKK have been widely perceived as the saviours of the Yazidis since last summer and Barzani's forces see the liberation of the town — which had an estimated population of around 120,000 people before the conflict — as a chance to regain lost prestige.
Seetayi argued that retaking Sinjar without similar operations on Mosul and Tal Afar, which seem months away at best, would leave Kurdish forces exposed and require a major deployment.
"It's not just about retaking the town, but also allowing people to return. For that you need to push Daesh about 20 kilometres out, beyond mortar range," he said.
"It's all politics," Seetayi said. "There are some other forces who are ready to sacrifice 50 martyrs just to be able to say they liberated Sinjar."
Related Articles
Dec 18,2014
Kurdish peshmerga fighters have secured a route to Iraq's Sinjar mountain, where hundreds of people had been trapped by the Islamic State (IS) fighters, Masrour Barzani, head of the Iraqi Kurdish region's national security council said on Thursday.
Nov 01,2015
ERBIL, Iraq — Kurdish forces are massing in northwest Iraq for an offensive to retake the town of Sinjar from Daesh militants who overran it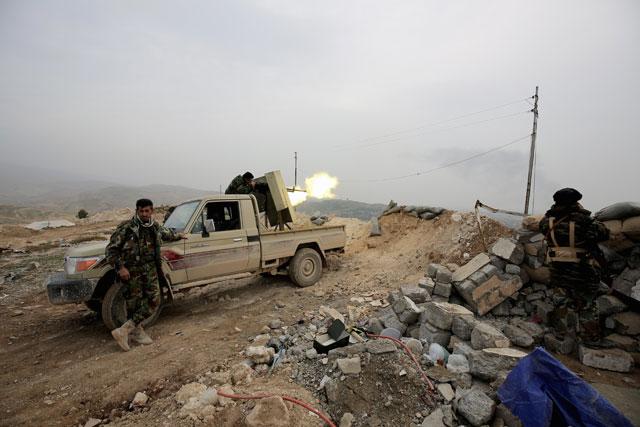 Feb 01,2015
Kurdish forces in recent weeks have retaken parts of the strategic Iraqi town of Sinjar, whose Yazidi population was driven out in a humanitarian disaster last year that triggered US intervention.
Newsletter
Get top stories and blog posts emailed to you each day.