You are here
Yemen's Aden University condemns assassination of dean
Southern city has seen 'string of assassinations' against religious figures
By AFP - May 17,2018 - Last updated at May 17,2018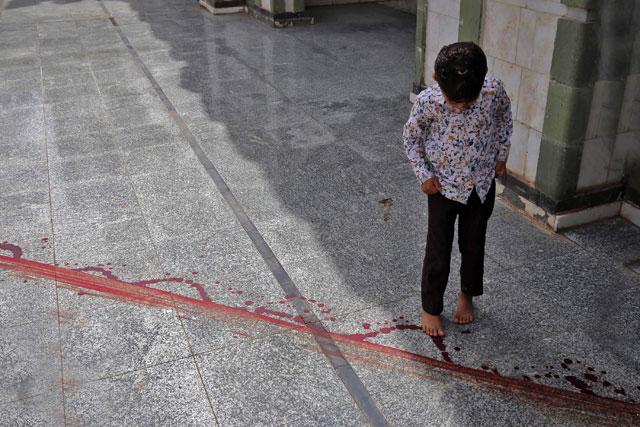 A Yemeni boy steps on a trace of stained-blood on the floor outside a mosque following the assassination of Sheikh Mohammed Al Zabhani, imam and preacher of the largest mosques in the city 'Masjid Al Saeed', in the country's third-city of Taez on Monday (AFP photo)
ADEN, Yemen — The University of Aden has condemned the murder of its dean of sciences and her son and granddaughter, who were killed in her apartment in the de facto government capital of Yemen.
"The academic community, the city of Aden, and all of Yemen were shocked by the assassination of Naja Ali Moqbel, the dean of the Faculty of Sciences, and her son Sameh and granddaughter, after a gunman stormed her home," a statement said Wednesday.
Neighbours of Moqbel in the western Inma residential district managed to catch the gunman and the security services arrived soon after, according to the statement.
It said the university president had convened an emergency meeting in the wake of the killings, appointing a task force mandated to press for a timely and transparent investigation of the case.
Yemen's prime minister, Ahmad bin Dagher, condemned the "despicable" killings of Moqbel, her son Sameh and granddaughter Lian, in a statement carried by the state-run Saba news agency.
He said President Abedrabbo Mansour Hadi had issued directives for security agencies to merge under the umbrella of the interior Ministry to facilitate information sharing.
Abdelaziz bin Habtour, the prime minister of the breakaway Houthi government and the former governor of Aden, also condemned the assassination.
Habtour blamed the coalition for allowing Aden to descend into "chaos".
The southern port city has also seen a string of assassinations against religious figures in recent weeks.
Aden has served as the base of Yemen's internationally recognised government since Houthi rebels overran the capital Sanaa in 2014.
The following year, Saudi Arabia and a coalition of allies intervened on behalf of the Yemeni government against the Iran-backed Houthis.
But Aden has been the scene of division among the anti-Houthi camp.
In January, southern separatists backed by the UAE attacked government loyalist forces in Aden, overrunning the city. The government was forced to hunker down until Saudi and Emirati envoys arrived to quell the infighting.
Related Articles
Feb 16,2015
Forces loyal to Yemen's president said they had seized strategic buildings in the southern city of Aden on Monday after a five-hour battle, escalating a civil conflict threatening to split the country in two.
Oct 05,2015
PERIM ISLAND, YEMEN — Perim Island may be a small lump of windswept volcanic rock at the entrance to the Red Sea but its capture by Gulf Ara
Mar 26,2015
Yemen's President Abed Rabbo Mansour Hadi left his refuge in Aden under Saudi protection on Thursday and arrived in Saudi Arabia as Houthi rebels battled with forces still loyal to him on the outskirts of the southern port city.
Newsletter
Get top stories and blog posts emailed to you each day.