You are here
Yemen cholera cases pass the 100,000 mark — WHO
By Reuters - Jun 08,2017 - Last updated at Jun 08,2017
A Yemeni child suspected of being infected with cholera receives treatment at a makeshift hospital in Sanaa on Monday (AFP photo)
GENEVA — The number of suspected cholera cases in war-torn Yemen has risen to more than 100,000 since an outbreak began on April 27, the World Health Organisation (WHO) said on Thursday.
The rapid spread of the disease through 19 of Yemen's 23 governorates highlighted a humanitarian catastrophe in Yemen after two years of civil war that has disabled most health care facilities, according to the UN humanitarian office.
"To date, 101,820 suspected cholera cases and 789 deaths have been reported in 19 governorates," WHO spokesman Tarik Jasarevic told Reuters.
The WHO has warned that the number of cases could hit 300,000, but the daily number of new ones declined slightly in the week to June 5 to 3,432, compared with 3,651 in the previous seven-day period.
"Yemen is in the grip of a severe cholera epidemic of an unprecedented scale," the UN humanitarian office said in a report published on Wednesday.
"Malnourished children and women, people living with other chronic health conditions and households that do not have enough to eat are now at greater risk of death as they face the 'triple threat' of conflict, famine and cholera," it said.
The war has left 19 million of its 28 million people needing humanitarian aid and many of them on the verge of famine. The cholera outbreak is the second wave of an epidemic that began in October, spread until December and then dwindled but was never brought fully under control.
Aid charity Oxfam called for a "cholera ceasefire" to allow health workers to halt the spread of the disease, adding that the published numbers were probably an underestimate.
"Yemen is on the edge of an abyss. Lives hang in the balance," Oxfam's Yemen Country Director Sajjad Mohammed Sajid said in a statement. "Cholera is simple to treat and prevent but while the fighting continues the task is made doubly difficult."
Cholera is caused by ingesting bacteria from water or food contaminated with faeces. It usually manifests itself with sudden acute diarrhoea and can kill within hours, although three-quarters of infected people show no symptoms.
The short incubation period means outbreaks can spread quickly, especially in places without safe water or sanitation.
"Health and sanitation workers have not been paid for over eight months, only 30 per cent of required medical supplies are being imported into the country, garbage collection in the cities is irregular, and more than eight million people lack access to safe drinking water and proper sanitation," the UN report added.
Related Articles
Oct 28,2015
LONDON — The World Health Organisation (WHO) is launching a campaign to vaccinate 255,000 people against cholera in Iraq over the next month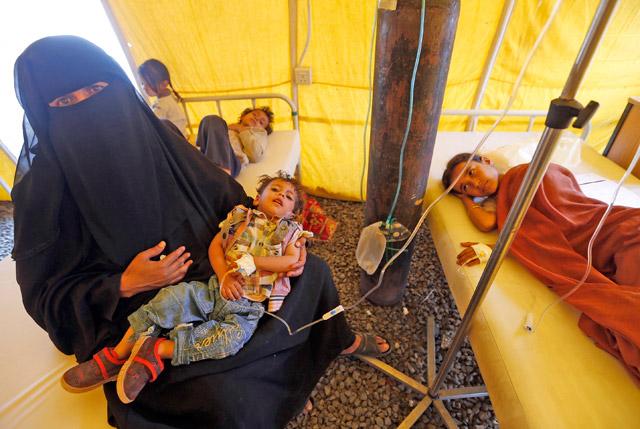 Jun 07,2017
GENEVA/DUBAI — A cholera epidemic in Yemen has killed at least 681 people and the outbreak has yet to peak, according to World Health Organi
May 07,2017
SANAA — At least 570 suspected cases of cholera have surfaced in war-torn Yemen in the past three weeks, sparking fears of a potential epide
Newsletter
Get top stories and blog posts emailed to you each day.