You are here
Yemen gov't threatens to boycott peace talks
By AFP - Jul 14,2016 - Last updated at Jul 14,2016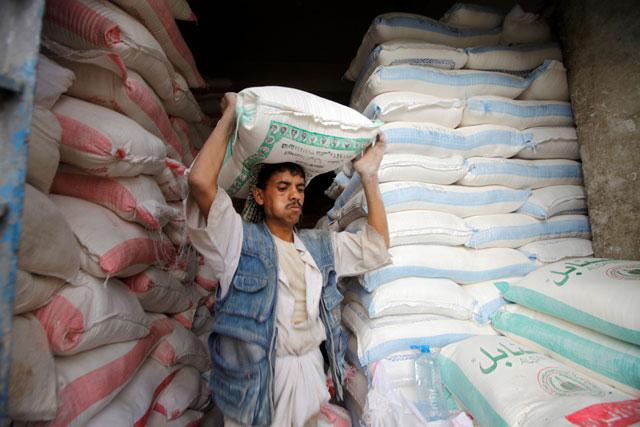 A worker carries a sack of wheat flour at a store in Sanaa, Yemen, on Wednesday (Reuters photo)
RIYADH — Yemen's government threatened Thursday to boycott UN-brokered peace talks, on the eve of their expected resumption in Kuwait, unless Iran-backed rebels commit to the terms of a United Nations resolution.
The UN said however that it still had not been informed of any boycott from any side while affirming that the talks were scheduled to resume on Friday after a two-week break.
More than two months of negotiations between President Abed Rabbo Mansour Hadi's Saudi-backed government and the Houthi rebels and their allies have failed to make any headway.
"Our delegation will not travel to Kuwait until the United Nations fulfils its commitments" to pressure the rebels to "implement [Security Council] Resolution 2216", a presidency official told AFP from Riyadh.
Security arrangements under Resolution 2216 require the rebels and their allies to withdraw from areas they have occupied since 2014, including Sanaa, and hand over heavy weapons.
For the talks to resume, UN envoy Ismail Ould Cheikh Ahmed must obtain "written guarantees from the other party to commit to the references of the talks that have been agreed on", including the resolution, said the source who requested anonymity.
Hadi on Sunday warned his government would boycott the talks if the UN envoy insists on a roadmap stipulating a unity government that includes the insurgents.
But in response to an AFP enquiry, a spokesman for the UN envoy said Ould Cheikh Ahmed "will return to Kuwait tomorrow [Friday] and the talks will resume as planned".
"No delegation has yet announced that it will not participate," the source added.
A government official said, however, that "a decision on the return to the negotiating table will be taken after the Arab summit", scheduled to take place in Nouakchott late this month.
The UN envoy was still in Sanaa where he met with rebel leaders after holding consultations with Hadi in Riyadh on Tuesday.
Hadi's government wants to re-establish its authority across the entire country, much of which is rebel-controlled, and restart a political transition interrupted when the Houthis seized Sanaa in 2014.
The rebels have conditioned their withdrawal on both sides agreeing on a new president to manage the transition.
More than 6,400 people have been killed in Yemen since a Saudi-led coalition intervened in support of Hadi's government in March last year.
Another 2.8 million people have been displaced and more than 80 per cent of the population are in urgent need of humanitarian aid, according to UN figures.
Related Articles
Jul 16,2016
KUWAIT CITY —Yemen's government delegation was due in Kuwait later Saturday for the resumption of UN-brokered peace talks after obtaining gu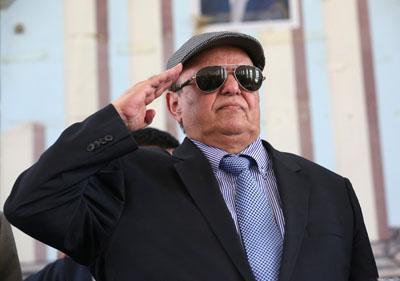 Jul 10,2016
ADEN — Yemeni President Abed Rabbo Mansour Hadi threatened Sunday to boycott peace talks with Iran-backed rebels if the UN envoy insists on
May 18,2016
RIYADH — Yemen's Prime Minister Ahmed Bin Dagher on Wednesday rejected a unity government proposed by Iran-backed rebels whom he accused of
Newsletter
Get top stories and blog posts emailed to you each day.