You are here
Yemen loyalists retake southwestern town from rebels
By AFP - Feb 06,2018 - Last updated at Feb 06,2018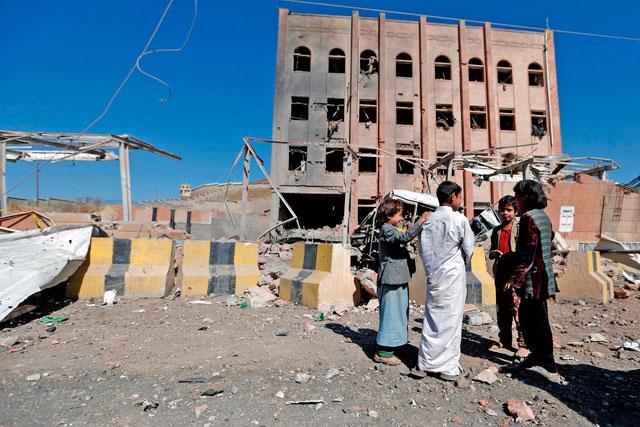 This photo taken on Monday shows children gathering around the Yemeni criminal investigations unit in the capital Sanaa, a day after it was hit in an air raid (AFP photo)
SANAA — Yemeni government forces have retaken a key southwestern crossroads town from Shiite rebels as they press an offensive up the Red Sea coast, military and medical sources said on Tuesday.
The retaking of the town of Hays in heavy fighting that was accompanied by intense Saudi-led air strikes follows on from the recapture in early December of Khokha on the coast to the west.
Medical sources in the rebel-held port of Hodeida some 150 kilometres to the north said that at least 30 rebel fighters were killed in the battle for the town and scores wounded.
A government source said eight soldiers were killed in the fighting on Monday.
Loyalist commander Abdulrahman Hajari said a number of rebels had been captured as his forces entered the town.
The retaking of Hays is a boost for government forces who have been hit by deadly infighting in their own ranks.
Late last month, southern separatist militiamen who are a key component of the forces loyal to President Abed Rabbo Mansour Hadi overran the main southern city of Aden and surrounded government ministers in the presidential palace.
The two main players in the coalition supporting Hadi — Saudi Arabia and the United Arab Emirates — are still trying to broker a new political compromise.
Related Articles
Mar 06,2017
ADEN — At least 22 Shiite Houthi rebels were killed Monday in an air strike by pro-government Arab coalition warplanes as well as clashes in
Jan 22,2017
ADEN — Clashes in Yemen killed at least 66 people in 24 hours, medics and security sources said Sunday, as pro-government forces pushed to o
Jan 26,2017
ADEN — Yemeni rebels are putting up fierce resistance in a key Red Sea port city where they are encircled by pro-government forces, military
Newsletter
Get top stories and blog posts emailed to you each day.