You are here
Yemeni president quits, throwing nation deeper into chaos
By Reuters - Jan 22,2015 - Last updated at Jan 22,2015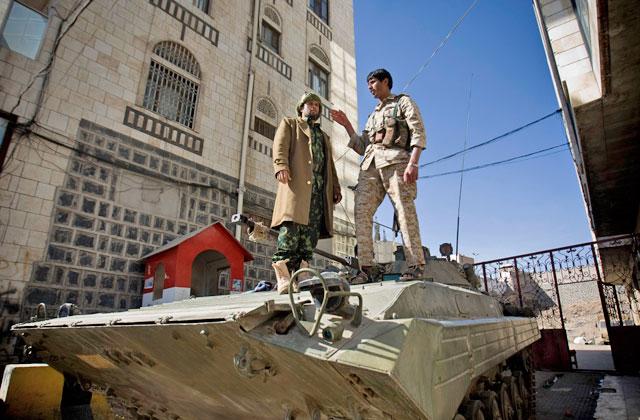 SANAA — Yemeni President Abed-Rabbo Mansour Hadi resigned on Thursday, a government spokesman said, throwing the country deeper into chaos days after Houthi rebels battled their way into his presidential palace.
Hadi, an ally of the United States, stood down abruptly shortly after Prime Minister Khaled Baha had offered his government's resignation, saying it did not want to be dragged into "an unconstructive political maze".
This was an apparent reference to a stand-off between Hadi and the Shiite Muslim Houthi movement which has been holding the president a virtual prisoner in his own official residence.
"We apologise to you personally and to the honourable chamber and to the Yemeni people after we reached a dead end," a government spokesman quoted Hadi's resignation letter as saying.
It was addressed to the speaker of parliament, who becomes interim head of state under the constitution.
Hadi's decision marked an abrupt turnaround from Wednesday, when he said he was ready to accept Houthi demands for a bigger stake in constitutional and political arrangements.
That announcement had appeared to ease worsening differences between him and the Houthis, whose rise to power has placed Yemen within a wider sectarian struggle fought by proxies of Riyadh and Tehran in parts of the Middle East.
The Houthis' defeat of the presidential guards had already added to disarray in a country where the United States is also carrying out drone strikes against one of the most powerful branches of Al Qaeda.
Regional struggle
The rebels' rise has resulted in a shift in Yemen's complex tribal, religious and regional allegiances.
Suspecting Iranian complicity, the Sunni Muslim authorities in Riyadh cut most of their financial aid to Yemen after the Houthis' takeover of the capital.
On Thursday the capital Sanaa remained largely shut down, witnesses said, even though the airport and seaport in the southern city of Aden resumed work on Thursday, having closed for a day in protest at the Houthi offensive against Hadi's administration.
In central Yemen, local tribesmen said they were pushing back Houthi fighters in Marib province, which produces half of Yemen's oil and more than half of its electricity.
The local branch of Al Qaeda has responded to the Houthis' ascent by attacking their forces, as well as state, military and intelligence targets.
As Zaidis, a Shiite Muslim sect, the Houthis oppose the hardline Sunni Islamists of Al Qaeda. However, the Houthis' assaults on the militants risk raising sectarian feelings in predominantly Sunni Yemen.
Before Hadi quit, clusters of Houthi fighters were dotted around the perimeter of the presidential palace on Thursday. At Hadi's residence, sentry points normally used by presidential guards were empty, and a group of Houthis with an army vehicle were parked at a main entrance.
Related Articles
Jan 24,2015
Thousands of Yemenis took to the streets of Sanaa on Saturday in the largest demonstration against Houthis since the Shiite militiamen overran the capital in September.
Jan 19,2015
Shiite militia fought deadly battles with the army in Yemen's capital on Monday before a ceasefire took hold, in the biggest challenge yet to President Abed Rabbo Mansour Hadi's rule.
Mar 28,2015
An aerial campaign on Yemen's capital, launched by a Saudi-led pan-Arab force, has escalated what had in many ways been a proxy war between Iran and Saudi Arabia.
Newsletter
Get top stories and blog posts emailed to you each day.