You are here
2nd annual Tennis Festival under way in Amman
Moroccan ace Karim Alami event's guest of honour
By Aline Bannayan - Sep 18,2016 - Last updated at Sep 18,2016
AMMAN — The 2016 Lexus Tennis Festival started in Amman over the weekend with around 240 players participating in tournaments for all categories and age groups.
The eight-day 2nd annual Tennis Festival is being held from September 16 at The Tennis Academy courts. It will also include a Family Tennis Day hosted by guest of honour, Moroccan tennis ace Karim Alami.
"I am honoured to be part of the second annual Lexus Tennis Festival. I am very excited to meet all the young Jordanian players. I have heard great things about your country and can't wait to spend some time in Jordan," Alami said in a statement made available by the organisers, The Tennis Academy Amman (TTA), Jordan's leading tennis training institute.
In a statement to the press, TTA founder Khalid J. Naffa', Jordan's former top ranked player, noted his enthusiasm at hosting the festival for the second year. "Here at the academy we stand firm by our belief that sports, and tennis in particular, build character, teach perseverance, and help mould a whole new generation of leaders we can be proud of. It is our mission to build champions both on and off the court: That's what the TTA is all about: exposing our young athletes to the best of the best, and instilling in them a belief that they must be the best that they can be."
Naffa'added : "In that spirit, the festival is back for a second year, boasting a very special line-up of tennis stars, ATP players, and an exciting new addition: The first ever Amman Tennis Masters tournament, featuring international players from across the globe that will battle for the championship."
Born in Casablanca, Alami turned pro in 1990 when he was just 17 years old. A year later, he represented his country in the 1991 Davis Cup, which was the beginning of a long and prosperous career that saw him reach a rank of World No. 25. He competed in all four Grand Slam championships, and represented his country at the Sydney Olympics. Perhaps his most famous tennis victory came in 1994 when he beat World No. 1 and Tennis Hall of famer, the legendary Pete Sampras, in the 1st Round of the Doha Open. In 1996, Alami made history by becoming the first Moroccan tennis player to win an ATP title.
Alami retired in 2002 and has gone on to impress in the tennis world as the tournament director for the ExxonMobil Open in Doha, Qatar.
Tennis Festival matches will begin at 9am on the weekends and last until 10pm. During weekdays, including Sunday, Monday, Wednesday and Thursday, the matches will begin at 4pm until 10pm. The family day with Alami will be held on Friday, September 23 at 2:30pm and will be followed by the final match of the Amman Masters Tournament at 4:30pm.
Last year's festival featured an exhibition match between top international players former world #13 Jarkko Nieminen and Tunisian tennis star Malek Jaziri, as well as a Family Tennis Day with legendary and multiple Grand Slam Champion Mary Pierce. The French champion, is a winner of four Grand Slam titles, including the 1995 Singles Australian Open, the 2000 Singles French Open, the 2000 doubles French Open, and the 2005 mixed doubles Wimbledon title.
Related Articles
Sep 11,2015
AMMAN — The 2015 Lexus Tennis Festival concludes Friday but not before tennis enthusiasts get a chance to saviour professional calibre tenni
Sep 07,2015
AMMAN — While it's been an action packed week for tennis players of all ages in Amman, fans have a date with top players who will compete fo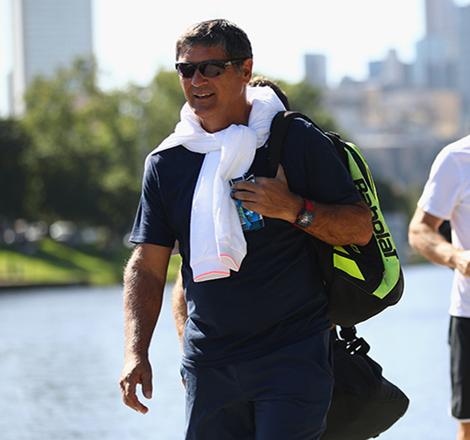 Sep 16,2017
AMMAN — Tennis enthusiasts once again have a week of action packed activity with the Tennis Academy Amman hosting its third annual Lexus Ten
Newsletter
Get top stories and blog posts emailed to you each day.