You are here
Brazil has 100 days to get ready for World Cup
Mar 03,2014 - Last updated at Mar 03,2014
SAO PAULO — Brazil is running out of time.
World Cup organisers will mark 100 days to go on Tuesday with a lot of work still to be done on stadiums and infrastructure in the 12 host cities.
As national teams enter their final phase of preparations — a series of warm-up matches are scheduled for this week — the Brazilian government is trying to ensure the country will be ready to host the tournament in June.
Although Brazil had nearly seven years to prepare after winning the bid to host the tournament in 2007, there are four stadiums still under construction and work outside many of the venues is far from completed.
Doubts also remain about whether the cities will be able to host the fanfests required by FIFA. Airports likely won't have all the work completed either, and many of the urban projects initially expected to be ready for the World Cup won't be finalised until after the event.
There will be a few events marking the 100-day point across Brazil on Tuesday, with some of the host cities lighting up traditional buildings in the colours of the Brazilian flag to commemorate the date.
But work will continue as officials admit there is no time to waste.
Brazil promised all 12 stadiums would be ready by the end of last year, but only six were completed by that deadline.
Two may be ready less than a month before the World Cup begins, including the one hosting the opener between Brazil and Croatia in Sao Paulo.
FIFA expected the Itaquerao to be ready in mid-April, but FIFA Secretary General Jerome Valcke said last week the venue would not be ready "before May 15".
The other venue with a tight schedule is in the southern city of Curitiba, which until a few weeks ago was in danger of being dropped from the tournament. Local organisers said they believe the stadium will be ready by the end of April, but FIFA expects it to be finalised only in mid-May.
There is also concern with the wetlands city of Cuiaba, where the stadium is not ready and work outside the venue seems far from complete.
Infrastructure work in the surroundings of nearly all the stadiums is also a reason for concern. Even where the stadium has already been finalised, it is common to find construction sites filled with workers rushing to finish sidewalks, pave access roads and install lighting posts.
"We have to work in conditions where the cement is not even dry [and] we already put things in place," Valcke said. "There is no criticism, there is just a challenge. For sure the stadiums are beautiful. It will work and you will have what you expected."
Equipping a stadium to World Cup working standards requires 90 days, so FIFA and local organisers will have to start installing temporary structures needed for media and sponsors while construction work continues outside the venues.
Another FIFA concern is with the fanfests, which allows fans without tickets to watch matches on large screens in public areas.
The events are required by FIFA, but some host cities have yet to confirm whether they will organise the street parties. FIFA marketing director Thierry Weil said this month that football's governing body could sue the venues that breach contract.
The northeastern city of Recife announced recently that it will not spend public money on the event and is currently scrambling to find private partners. Rio de Janeiro officials also say they need to find sponsors to make sure they can organise the event.
A recent poll has shown there has never been less support than now among Brazilians for hosting this year's World Cup. Many are frustrated with the billions spent to host the tournament, money they would rather see spent to improve hospitals, schools and infrastructure.
Related Articles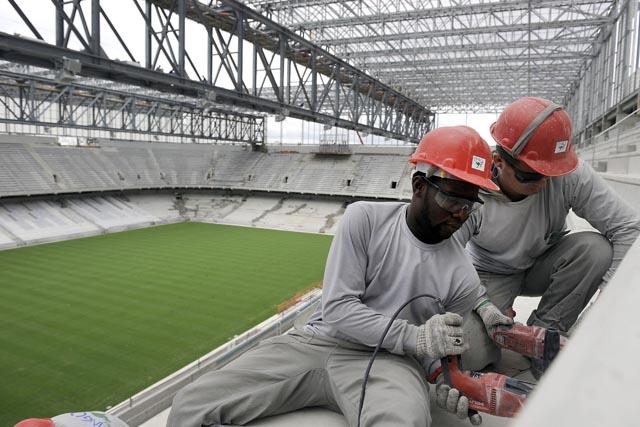 Feb 19,2014
FIFA says it will not pay some of Brazil's World Cup bills even though it admits the local organisers' failure to fulfill their commitments may jeopardise the tournament's success.
Mar 01,2014
FIFA has been left with a huge challenge following Brazilian delays in building stadiums for the 2014 World Cup, Secretary General Jerome Valcke said Saturday.
Feb 06,2014
The southern city of Curitiba is expected to remain in the World Cup despite construction delays on its stadium, Brazilian Sports Minister Aldo Rebelo said Wednesday.
Newsletter
Get top stories and blog posts emailed to you each day.