You are here
Bulls spoil Lue's coaching debut, beat Cavaliers
By AP - Jan 24,2016 - Last updated at Jan 25,2016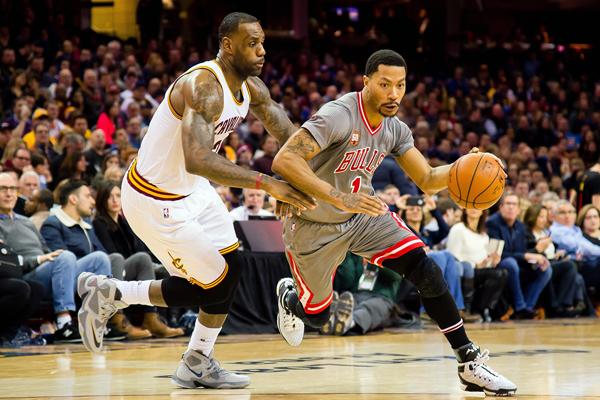 Derrick Rose of the Chicago Bulls drives around LeBron James of the Cleveland Cavaliers during their NBA basketball game in Cleveland, on Saturday (AFP photo by Jason Miller)
CLEVELAND — Tyronn Lue didn't make much of a difference in his coaching debut for Cleveland as Pau Gasol scored 25 points, leading the Chicago Bulls to a 96-83 win over the Cavaliers on Saturday night.
Lue was promoted on Friday, when the Cavaliers fired David Blatt despite him taking the team to the NBA finals last season and currently leading the Eastern Conference. The coaching swap didn't have any immediate impact on the Bulls, who outhustled the Cavs to loose balls and won for just the third time in nine games.
Jimmy Butler scored 20 points, Nikola Mirotic added 17 and Taj Gibson 15 for Chicago, which opened a 17-point lead in the third quarter and never let the Cavs get closer than eight in the fourth.
LeBron James just missed his first triple-double this season, finishing with 26 points, 13 rebounds and nine assists. J.R. Smith added 18 points.
Suns 98, Hawks 95
Archie Goodwin hit a three-pointer from atop the arc with 0.1 seconds left and Phoenix beat Atlanta to end a six-game losing streak.
Goodwin led the Suns with 24 points and Phoenix won for the second time in 17 games.
Tyson Chandler tied a Suns record with 27 rebounds, including 17 in the first half, and also had 13 points and a season-high five assists.
Kent Bazemore led the Hawks with 21 points. Bazemore hit a tying three-pointer with 47.4 seconds left, but Chandler's tip-in with 24.6 seconds remaining gave the Suns a 95-93 lead. Bazemore tied it again 5 seconds later, setting up Goodwin's three.
Alex Len had 16 points and 12 rebounds for Phoenix, while P.J. Tucker scored 16 points and Devin Booker had 15.
Timberwolves 106, Grizzlies 101
Shabazz Muhammad scored 25 points and Minnesota snapped Memphis' four-game winning streak.
Ricky Rubio had 15 points, 12 assists and six rebounds and Andrew Wiggins scored 19 points for the Timberwolves, who beat a team with a winning record for the first time since November 25. Minnesota improved to just 7-17 at home this season.
Mario Chalmers scored 19 points for the banged-up Grizzlies. Marc Gasol played through pain and finished with 17 points in 32 minutes. The Grizzlies had the ball down one with 35 seconds to play but were whistled for a five-second call on the inbound.
Nuggets 104, Pistons 101
Danilo Gallinari scored 30 points, including the go-ahead jumper with 23.8 seconds remaining, and Denver rallied to beat Detroit.
Emmanuel Mudiay added 18 points and Nikola Jokic 17 for the Nuggets, who won their sixth in a row against the Pistons in Denver.
Marcus Morris had 20 points to lead the Pistons, who have lost five of their last seven games. Kentavious Caldwell-Pope added 16 points and Aron Baynes had 13 points and 10 rebounds.
Kings 108, Pacers 97
DeMarcus Cousins had a career-high 48 points along with 13 rebounds to help Sacramento beat Indiana for their season-high fifth straight win.
Rajon Rondo had 11 points, 10 rebounds and 10 assists for his second straight triple-double and sixth of the season for Sacramento. Darren Collison had 11 points and rookie Willie Cauley-Stein had 12 rebounds.
The Kings, winners of eight of 11 in January, used a strong third quarter to build an 11-point lead and never relinquished it in the fourth. Sacramento have beaten Indiana four straight times, sweeping the season series the last two years.
Paul George had 24 of his 34 points in the second half for the Pacers, who have lost two straight and five of six. Jordan Hill had 17 points and 13 rebounds, Monta Ellis scored 16 and rookie Myles Turner added 11 points and five blocks.
Trail Blazers 121, Lakers 103
Damian Lillard had 36 points and the Trail Blazers beat Los Angeles for Kobe Bryant's last game in Portland.
CJ McCollum added 28 points and the Blazers led by as many as 27 points in the first half on the way to their eighth straight victory over the Lakers.
D'Angelo Russell came off the bench with 21 points for the Lakers, who dropped their sixth straight game. But all eyes were on Bryant, a Portland nemesis dating back to the 2000 Western Conference finals, who finished with 10 points.
It was the second of a back-to-back for the Lakers, who fell 108-95 to the San Antonio Spurs on Friday night. The game fell on the 10th anniversary of Bryant's 81-point game against Toronto, which remains the second-highest scoring game in NBA history.
Hornets 97, Knicks 84
Jeremy Lin and Kemba Walker scored 26 points each and Charlotte beat New York for their third win in the last four games.
Lin and Walker were a combined 19 of 19 from the free-throw line. Charlotte only shot 34 per cent from the field, but made 32 of 37 free throws as a team.
P.J. Hairston chipped in with a season-high 20 points and 10 rebounds for the Hornets, who beat the Knicks for the fifth straight time at home despite being without five players, including three starters.
Derrick Williams led the Knicks with 19 points and 14 rebounds, and Kristaps Porzingis had 13 points.
Pelicans 116, Bucks 99
Ryan Anderson scored 23 points and tied a season-high with six three-pointers, leading hot-shooting New Orleans to a win over Milwaukee.
New Orleans trailed 71-69 after Milwaukee's Khris Middleton scored 14 points in the first 9 minutes of the third quarter, but the Pelicans responded with a 31-14 run. Jrue Holiday, Toney Douglas, Tyreke Evans and Anderson all hit three-pointers during that stretch, and Anderson's sixth three giving the Pelicans a 100-83 lead with 6:30 left.
Anthony Davis had 22 points, seven rebounds and five assists for New Orleans, who hit a season-best 17 of 31 threes. Holiday added 13 points and nine assists off the bench.
Milwaukee had all five starters in double figures but got only 16 points from their reserves.
Related Articles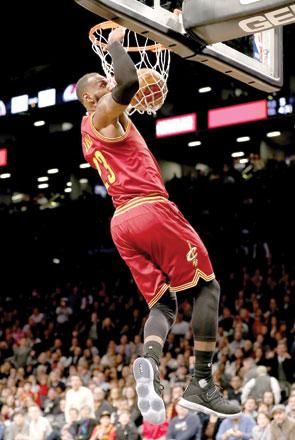 Jan 07,2017
NEW YORK — LeBron James scored 36 points, carrying Cleveland while Kyrie Irving and Kevin Love had slow starts in their return to the line-u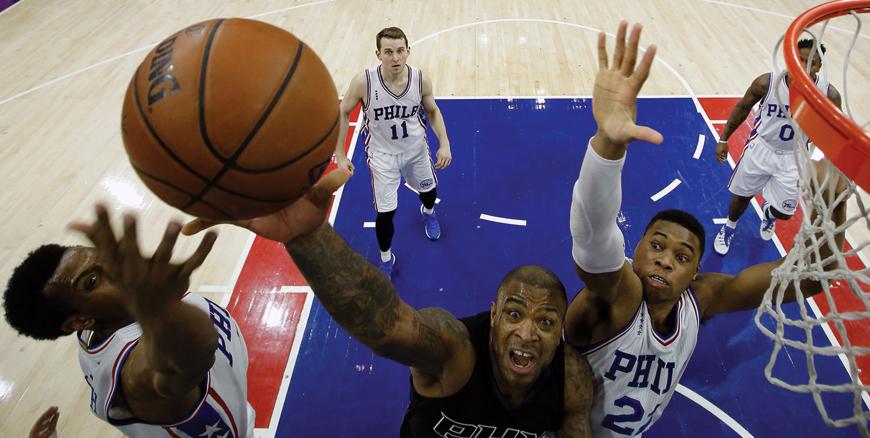 Jan 27,2016
PHILADELPHIA — Ish Smith had 20 points and nine assists and Robert Covington scored 19 points to lead the Philadelphia 76ers to a 113-103 wi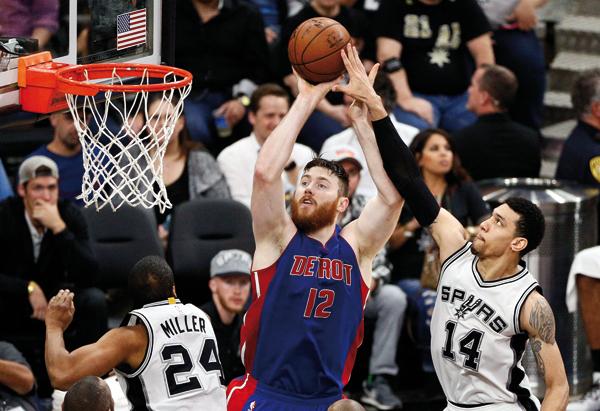 Mar 03,2016
SAN ANTONIO, Texas — Kawhi Leonard scored 27 points and LaMarcus Aldridge added 23 as the San Antonio Spurs beat the Detroit Pistons 97-81 o
Newsletter
Get top stories and blog posts emailed to you each day.