You are here
Cavaliers end Wizards' winning streak as Lakers end their string of losses
By Reuters - Feb 07,2017 - Last updated at Feb 07,2017
Los Angeles Lakers' power forward Julius Randle (30) drives against New York Knicks' centre Kyle O'Quinn (9) and New York Knicks' small forward Carmelo Anthony (7) during the second quarter at Madison Square Garden, in New York, on Monday (Reuters photo/Brad Penner/USA TODAY Sports)
Kevin Love scored 39 points as the Cleveland Cavaliers stopped the Washington Wizards' 17-game home winning streak, with a thrilling 140-135 overtime win on Monday night, despite LeBron James fouling out for the first time in more than three years.
Kyrie Irving had 11 of his 23 points in overtime. Seven of those came in the final 62 seconds for the Cavaliers, who forced overtime on a miraculous three-pointer off the backboard by James with 0.3 of a second left in regulation.
James finished with 32 points and career-high 17 assists before picking up his sixth foul with 4:13 remaining in overtime.
Meanwhile, Goran Dragic scored 33 points, including a career-high seven three-pointers, and Hassan Whiteside had 19 points and 13 rebounds as Miami Heat extended their winning streak to 11 games by overtaking the Minnesota Timberwolves 115-113.
Dragic made his first seven three-point attempts and was 13 of 17 from the field for the game. He added nine assists for Miami, which have the current longest winning streak in the NBA and are one behind the season-best, 12-game streak by Golden State.
Rodney McGruder had 15 points for Miami, which held on despite Minnesota closing within a basket several times in the fourth quarter. Karl-Anthony Towns had 35 points for the Timberwolves, who have lost four games in a row.
Pacers 93, Thunder 90
Paul George had 21 points, including a clutch basket with 1:20 remaining, and Indiana extended their season-best winning streak to seven.
Thunder guard Russell Westbrook, who finished with 27 points, 18 rebounds and nine assists, missed two potential game-tying 3-pointers in the final 7.8 seconds, including one at the buzzer.
Jeff Teague added 17 points for Indiana, who won despite shooting only 37.9 per cent from the field.
Lakers 121, Knicks 107
Los Angeles won in Madison Square Garden to snap a 13-game road losing streak.
The Lakers had not won on the road since beating the Philadelphia 76ers 100-89 on December 16. Los Angeles posted their first win at the Garden since February 11, 2011. Lou Williams scored 22 points to lead seven Lakers in double figures.
The Knicks, who lost for the ninth time in 13 games, were led by Carmelo Anthony with 26 points.
Pistons 113, 76ers 96
Marcus Morris led seven Detroit players in double figures with 19 points against Philadelphia at The Palace.
Andre Drummond collected his 33rd double-double with 16 points and 17 rebounds. Reggie Jackson had 14 points and six assists, and Kentavious Caldwell-Pope, Aron Baynes and Jon Leuer added 12 points apiece for Detroit.
Jahlil Okafor's 16 points led Philadelphia.
Bulls 112, Kings 107
Dwyane Wade scored 31 points, and his baseline jumper with a defender draped on him with 13 seconds lifted Chicago over Sacramento.
Wade scored Chicago's final five points to help the Bulls hold off a furious Kings rally from a 27-point, second-half deficit. Michael Carter-Williams finished with 21 points, and Robin Lopez added 17 for Chicago.
Sacramento's DeMarcus Cousins finished with 18 points, 14 rebounds and five assists, but he was ejected after his second technical foul in the final seconds. He earned a one-game suspension for the Kings' Wednesday contest against the Boston Celtics, an automatic punishment for reaching 16 T's on the season.
Grizzlies 89, Spurs 74
Marc Gasol scored 15 points and grabbed eight rebounds as Memphis defeated San Antonio.
The Grizzlies won for the fifth time in six games, taking advantage of 17 Spurs turnovers that translated into 19 points.
Mike Conley finished with 12 points and a game-high nine assists. Zach Randolph had 15 points and six rebounds off the bench, and Vince Carter finished with seven points, six rebounds and his first four-block game since April 2009.
The Spurs played without forward Kawhi Leonard, sidelined due to a right quad contusion. David Lee led San Antonio with 14 points off the bench. Forward LaMarcus Aldridge finished with 13 points and 10 rebounds.
In other games, Jazz beat the Hawks 120-95, the Pelicans outshone the Suns 111-106, the Raptors overtook the Clippers 118-109 and the Nuggets beat the Mavericks 110-87.
Related Articles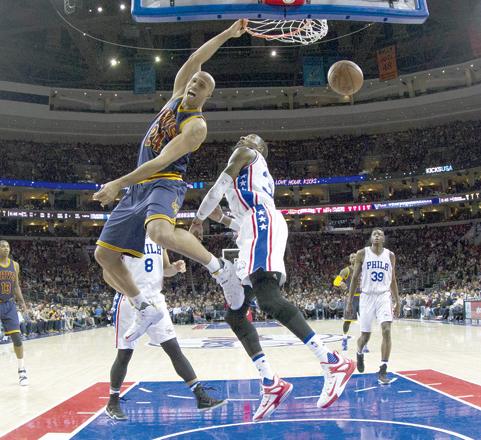 Jan 12,2016
Forward LeBron James scored 12 of his 37 points in a decisive 14-0 fourth-quarter run, as the Cleveland Cavaliers beat the Philadelphia 76er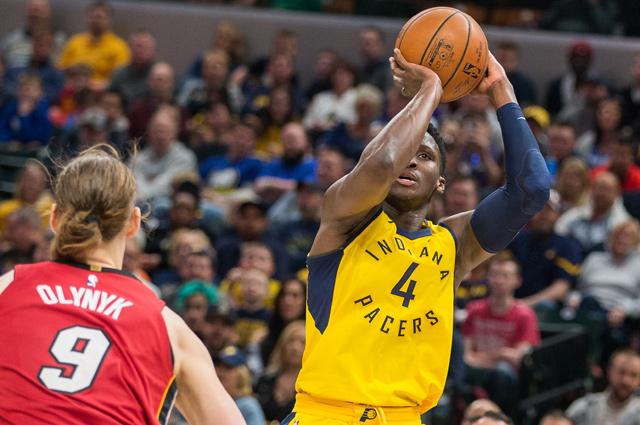 Mar 26,2018
Victor Oladipo scored 23 points, including a key overtime 3-pointer, to lead the Indiana Pacers to a 113-107 victory over the Miami Heat on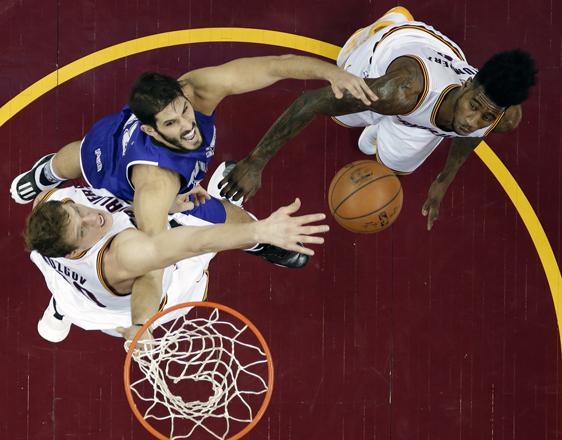 Feb 09,2016
CLEVELAND — LeBron James had 21 points, 10 rebounds and 10 assists for his 40th career triple-double, leading the Cleveland Cavaliers to a 1
Newsletter
Get top stories and blog posts emailed to you each day.