You are here
Celtics beat Spurs for their 5th straight win
By Reuters - Oct 31,2017 - Last updated at Oct 31,2017
Al Horford of the Boston Celtics shoots the ball against the San Antonio Spurs in Boston, Massachusetts, on Monday (AFP photo by Brian Babineau)
Kyrie Irving played his best game with his new team, finishing with 24 points and six assists to lead the Boston Celtics to their fifth straight win, a 108-94 victory over the San Antonio Spurs on Monday night.
The win ended an 11-game Spurs winning streak against the Celtics, including the last six at TD Garden since Boston's last victory in 2011. It was also the Spurs' third straight loss on a 1-3 road trip.
Jaylen Brown scored 18 points, and Terry Rozier had eight of his 12 points in 52 seconds to put the game away in the fourth quarter.
The Spurs, still without injured Kawhi Leonard and Tony Parker and with Manu Ginobili resting, got a career-high 18 points and five rebounds from Brandon Paul.
Knicks 116, Nuggets 110
Kristaps Porzingis scored a career-high 38 points as New York blew a 23-point lead but made enough plays in the fourth quarter to hold off Denver.
Porzingis produced his fifth 30-point game of the season and eighth of his career. He made 14 of 26 shots, including four 3-pointers, and surpassed his previous career best set November 16 against Detroit.
Kyle O'Quinn helped Porzingis by finishing with 15 points and 12 rebounds for his first double-double of the season. Nikola Jokic led the Nuggets with 28 points.
Warriors 141,
Clippers 113
Stephen Curry scored 31 points and Kevin Durant added 19 as Golden State cruised past Los Angeles a day after falling at home to the Detroit Pistons.
It was the Warriors' 11th consecutive victory over their Western Conference rival, with the Clippers last beating Golden State in December 2014.
Danilo Gallinari scored 19 points for the Clippers, while Lou Williams added 17 and Blake Griffin had 16. The Clippers took second consecutive defeat after opening the season 4-0. They lost to the Pistons a day before the Warriors did.
Timberwolves 125,
Heat 122 (OT)
Jeff Teague scored 23 points to lead Minnesota to an overtime victory over Miami.
Teague's two free throws with 4.4 seconds remaining gave the Timberwolves their final margin. Dion Waiters' game-tying 3-point attempt at the buzzer bounced off the rim. Waiters finished with a game-high 33 points.
Andrew Wiggins finished with 22 points and Karl-Anthony Towns scored 20 points and had 12 rebounds for the Timberwolves. Jimmy Butler also finished in double figures with 16 points.
76ers 115, Rockets 107
Ben Simmons scored 24 points and teamed with Joel Embiid down the stretch to help Philadelphia fend off Houston.
Simmons finished with seven rebounds and nine assists. Embiid chipped in 22 points, nine boards and five assists.
James Harden paced the Rockets with 29 points and seven assists. Eric Gordon scored 25 points, and Clint Capela added 12 points and 15 rebounds.
Hornets 104, Grizzlies 99
Kemba Walker scored 27 points and Jeremy Lamb added 17 to lead Charlotte to a come-from-behind victory over Memphis.
Walker scored nine of his game-high point total in the final 6:16 as the Hornets took advantage of a cold-shooting Memphis squad.
The Grizzlies, who shot 34.4 per cent, were led by reserve Tyreke Evans' 19 points and 10 rebounds. Mike Conley (16 points) and Marc Gasol (10 points) combined to shoot 8 of 33.
Raptors 99, Trail
Blazers 85
DeMar DeRozan scored 21 of his 25 points in the first half, and Toronto rode a big opening-half lead to a victory over Portland at Moda Centre.
Kyle Lowry contributed 19 points, 10 rebounds and six assists, and Lucas Nogueira chipped in 17 points and nine rebounds for the Raptors.
Damian Lillard scored 25 of his season-high 36 points in the second half for the Trail Blazers. CJ McCollum added 16 points, but made just 5 of 16 shots.
Jazz 104, Mavericks 89
Rudy Gobert totaled 17 points, 12 rebounds, six blocks and a career-high six assists to lead Utah over Dallas.
Rodney Hood had a season-high 25 points, and Ricky Rubio added 20 points as the Jazz improved to 4-0 at home.
Dirk Nowitzki scored 18 points, J.J. Barea added 17 points and Devin Harris had 15 for Dallas, which could not overcome 24 turnovers that led to 33 points for Utah.
Magic 115, Pelicans 99
Marreese Speights exploded for four wide-open 3-pointers in the fourth quarter and finished with 18 points, and Nikola Vucevic, Jonathon Simmons and Evan Fournier scored 20 points each to lift Orlando over New Orleans.
The Magic led 88-83 after three quarters, then held the Pelicans to 15 fourth-quarter points. Orlando outscored the Pelicans 55-35 in the second half.
New Orleans got 26 points from Anthony Davis in the first half, but he scored only two points in the third quarter and finished with 39 points and 10 rebounds. DeMarcus Cousins scored 12 points on 5-of-14 shooting and grabbed 12 rebounds.
Related Articles
Dec 05,2017
James Harden scored 36 points and handed out nine assists, and the Houston Rockets won their sixth consecutive road game with a 118-95 victo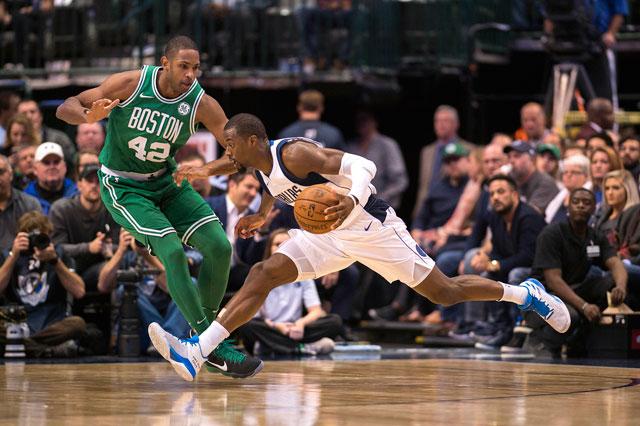 Nov 21,2017
Kyrie Irving scored a season-high 47 points as the Boston Celtics ran their winning streak to 16 games with a 110-102 overtime win over the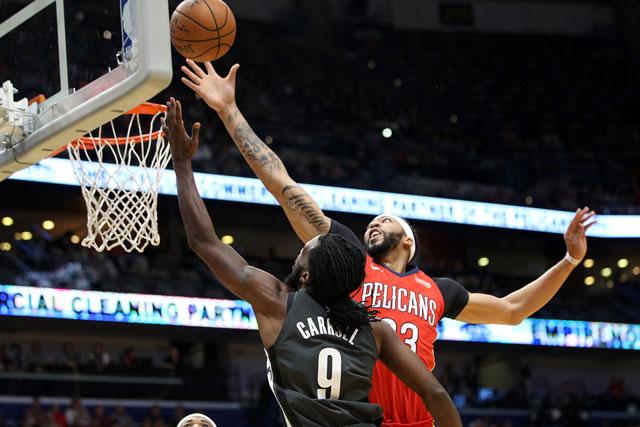 Dec 28,2017
Anthony Davis scored a team-high 33 points, DeMarcus Cousins had 27 points and 14 rebounds, and Rajon Rondo dished out a career-high 25 assi
Newsletter
Get top stories and blog posts emailed to you each day.