You are here
Clippers win again over Nets
By AP - Nov 15,2016 - Last updated at Nov 15,2016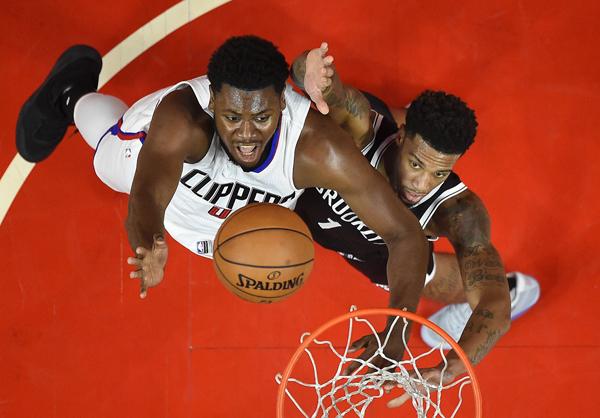 Los Angeles Clippers' Diamond Stone (left) shoots and scores his first NBA basket as Brooklyn Nets' Chris McCullough defends during their NBA game in Los Angeles on Monday (AP photo by Mark J. Terrill)
LOS ANGELES — Chris Paul had 21 points and nine assists while Blake Griffin added 20 points as the Los Angeles Clippers blitzed the Brooklyn Nets 127-95 on Monday night to improve an NBA-best 10-1 with a seventh straight victory.
Los Angeles came in having outscored opponents by an average of 15.1 points, largest in the league. Brooklyn quickly found itself relegated to the Clippers' quickly growing scrap heap.
Bojan Bogdanovic led the Nets with 18 points and Sean Kilpatrick added 14. Brooklyn's season-high 22 turnovers led to 35 points by the Clippers.
J. J. Redick added 18 points, Luc Mbah a Moute scored 11 points and DeAndre Jordan had 14 rebounds for the Clippers, who shot 53 per cent from the floor while extending the best start in franchise history. Their 127 points were a season high.
Spurs 94, Heat 90
Kawhi Leonard had 24 points and 12 rebounds and LaMarcus Aldridge added 18 points, leading San Antonio to the victory.
San Antonio's projected starting five of Leonard, Aldridge, Pau Gasol, Tony Parker and Danny Green made its home debut after injuries to the starting backcourt led to five different starting line-ups in the team's first nine games.
Gasol had 12 points, Parker added 11 points and six assists and Green was limited to three points in 15 minutes.
The Heat lost their fifth straight game. Dion Waiters, who hurt San Antonio in the play-offs last season while with Oklahoma City, had 27 points for Miami. Hassan Whiteside had 23 points and 17 rebounds.
Pelicans 106, Celtics 105
Anthony Davis had 25 points, 16 rebounds, four steals and two blocks as the New Orleans Pelicans won for only the second time in their first 11 games, 106-105 over the Boston Celtics in the National Basketball League on Monday night.
Langston Galloway scored a season-high 21 points, while Terrence Jones added 15 points and a season-high 10 rebounds for New Orleans, which has won two of three after an 0-8 start.
Isaiah Thomas scored 37 for Boston, including a driving scoop that tied the game with 7 seconds left. But Boston's Kelly Olynyk fouled New Orleans guard Tim Frazier with 2.5 seconds left, and Frazier sank one free throw for the margin of victory.
Avery Bradley had 19 points and 10 rebounds, and Marcus Smart scored 15 points for Boston.
Pacers 88, Magic 69
C. J. Miles made four 3-pointers and scored 16 points as the Pacers spoiled Frank Vogel's return to Indiana.
Vogel coached the Pacers for more than five seasons before he was let go in May. He was quickly scooped up by Orlando.
The crowd cheered when Vogel was introduced before the game.
Paul George had 13 points, six rebounds and five assists for the Pacers, who pulled away in the second half. Monta Ellis also scored 13 points, and Jeff Teague finished
with 11.
Orlando shot 32 per cent from the field. Evan Fournier led the Magic with 14 points on 4-of-15 shooting, and Aaron Gordon had 11.
Rockets 115, 76ers 88
James Harden scored 23 of his 33 points in the first quarter, helping Houston to the easy win. Harden, who posted a triple-double in his previous two games, added nine assists and seven rebounds.
The Rockets had a three-point lead with five minutes left in the first quarter when Harden took over, scoring all of Houston's points in a 17-9 run to make it 35-24.
The Sixers were led by Joel Embiid and Ersan Ilyasova, who had 13 points apiece.
Knicks 93, Mavericks 77
Carmelo Anthony and Kristaps Porzingis each scored 24 points as the Knicks rolled after a halftime line-up change.
The Knicks benched Joakim Noah, their $72 million free-agent signing, starting guard Justin Holiday and moved Porzingis to centre in a small line-up. They responded by scoring 31 points in the third quarter after managing just 36 in an ugly first half.
Anthony scored 17 in the third quarter and 20 in the second half after shooting 1 for 6 in the first half. Porzingis finished with 11 rebounds.
Harrison Barnes scored 20 points and J. J. Barea had 17 for the Mavericks, who are still without Dirk Nowitzki and Deron Williams.
Pistons 104, Thunder 88
Tobias Harris scored 22 points and Aron Baynes added 20 points and eight rebounds to help the short-handed Pistons beat the Thunder.
The Pistons (6-5) improved to 5-0 at home despite being without their two best players. Reggie Jackson has not played this season due to knee tendinitis, and Andre Drummond was sidelined with a sprained ankle.
Russell Westbrook had 33 points, 15 rebounds and eight assists for Oklahoma City (6-5), which has dropped four in a row. Victor Oladipo finished with nine points, but he was the only other starter to score more than four.
Kentavious Caldwell-Pope added 17 points for Detroit.
Grizzlies 102, Jazz 96
Marc Gasol scored a season-high 22 points, powering Memphis to the road win.
The Grizzlies used a 9-2 run sparked by Mike Conley's 3-pointer and a 3-point play by Gasol to take a 94-88 lead with 1:25 remaining. Memphis led by as many as 13, but the Jazz kept answering with big plays from Joe Ingles and Trey Lyles.
Conley had 18 points and seven assists for Memphis, and Zach Randolph added 18 points and 10 rebounds.
Ingles scored a career-high 20 points and Lyles finished with 18.
Related Articles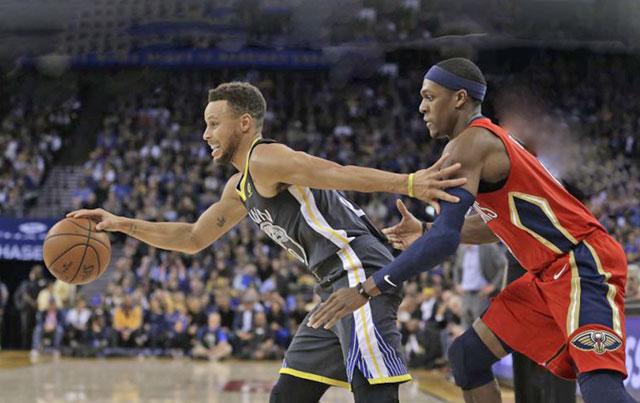 Nov 28,2017
Bogdan Bogdanovic hit a driving banker over Draymond Green with 12.6 seconds remaining Monday night to break a tie and lift the Sacramento K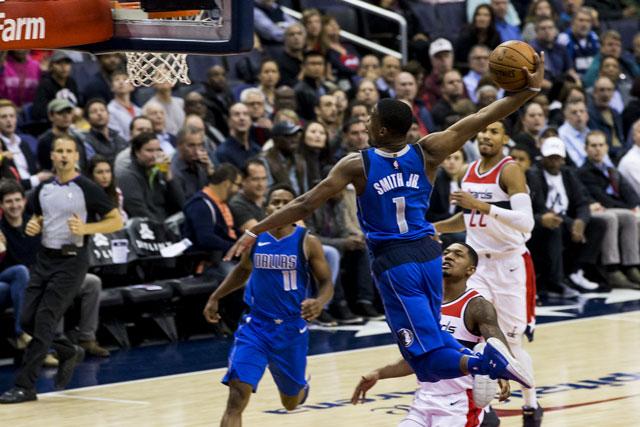 Nov 08,2017
Harrison Barnes scored 31 points as the Dallas Mavericks, owners of the NBA's worst record, upset the Washington Wizards 113-99 on Tuesday n
Oct 31,2017
Kyrie Irving played his best game with his new team, finishing with 24 points and six assists to lead the Boston Celtics to their fifth stra
Newsletter
Get top stories and blog posts emailed to you each day.