You are here
Eagles soar past Patriots for first Super Bowl crown
By Reuters - Feb 05,2018 - Last updated at Feb 05,2018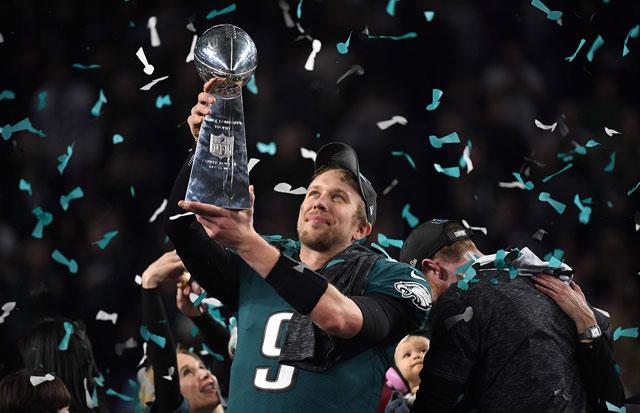 Philadephia Eagles quarterback Nick Foles celebrates after winning Super Bowl LII against the New England Patriots in Minneapolis, Minnesota, on Sunday (AFP photo by Timothy A. Clary)
MINNEAPOLIS — For the first time, the Philadelphia Eagles are Super Bowl champions.
Not since 1960, when the Eagles defeated Vince Lombardi's Green Bay Packers, had Philadelphia taken the NFL championship.
"We knew we had something special," Eagles running back LeGarrette Blount said after Philadelphia beat the New England Patriots 41-33 on Sunday in Super Bowl LII at US Bank Stadium.
The teams combined for an NFL-play-off-record 1,151 yards from scrimmage in a shootout that came down to the final play.
A Hail Mary pass by Patriots quarterback Tom Brady fell incomplete in the end zone to the seal the Eagles' victory.
"Obviously, I didn't do a good enough job," Patriots coach Bill Belichick said after falling to 5-3 in the Super Bowl.
Jake Elliott nailed at 48-yard field goal with 1:05 remaining to give the Eagles an eight-point edge.
The field goal followed the only sack of the game, a play on which Eagles defensive end Brandon Graham punched the ball out of Brady's clutches with 2:09 left. Philadelphia defensive end Derek Barnett recovered the fumble.
Graham told NBC of the strip-sack, "Just kept going, you know? We said we needed a play. If we got one more opportunity, we were going to give everything we got — and I just so happened to get there.
"I'm just thankful because we've got a team that's resilient. You know, we're gonna stick around for a long time — cause we world champs, baby, and it feels so good."
The Eagles moved in front 38-33 when tight end Zach Ertz lunged over the goal line for a touchdown with 2:21 remaining.
Replay review confirmed the 11-yard score on a pass from Nick Foles. Philadelphia went for a two-point conversion, but the attempt — a swing pass to rookie running back Corey Clement — failed.
Foles finished 28 of 43 for 337 yards with three touchdown passes and one interception. The backup quarterback before Carson Wentz got hurt on December 10, Foles also caught a touchdown pass on Sunday en route to winning Super Bowl MVP honours.
Brady threw for 503 yards and three touchdowns, completing 28 of his 48 pass attempts.
"It's 15 minutes after the game ended," Brady said. "I'd like to process this a little bit, but I wouldn't see why I wouldn't be back."
New England surged ahead 33-32 when Gronkowski caught Brady's third touchdown pass of the game, a 4-yard toss with 9:22 left. Stephen Gostkowski's extra point put New England on top for the first time in the game.
The Eagles took a 32-26 lead 51 seconds into the fourth quarter on a Elliott field goal, creating a bit of breathing space after Brady threw two third-quarter TD passes.
Brady's 5-yard scoring toss to Gronkowski and 26-yard TD pass to Chris Hogan sandwiched the Eagles' lone third-quarter score, a 22-yard catch by Clement of a Foles throw.
"I can only imagine what's going on right now [at home]," Clement said. "I told you Philly, we're bringing it back."
Clement's catch was reviewed because he appeared to slightly bobble the ball near the back of the end zone, but the officials ruled that he had both feet inbounds with possession.
Through three quarters, the teams already had set a Super Bowl record for total yards.
The Patriots wound up with 613 total yards, the Eagles with 538.
Related Articles
Aug 02,2015
FOXBOROUGH, Massachusetts — Two things were certain when the New England Patriots put on pads for the first time at training camp on Saturda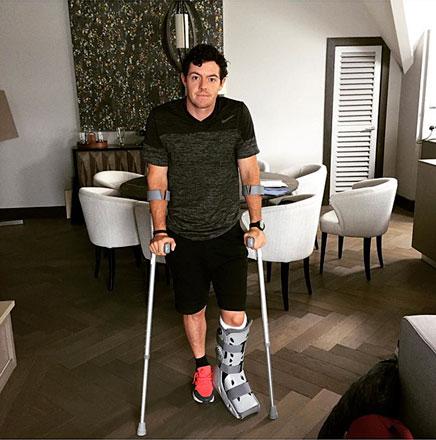 Jul 07,2015
World No 1 Rory McIlroy is facing a real struggle to be fit for next week's British Open at St Andrews after rupturing ligaments in his left
Apr 27,2016
WASHINGTON — Billionaire Donald Trump swept all five presidential primaries held Tuesday, strengthening his grip on the Republican race, whi
Newsletter
Get top stories and blog posts emailed to you each day.