You are here
Hawks beat Celtics, Spurs crush Grizzlies
By AP - Apr 20,2016 - Last updated at Apr 20,2016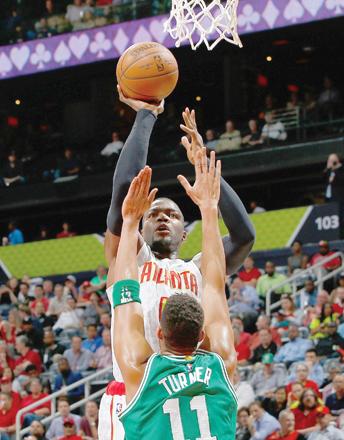 Paul Millsap of the Atlanta Hawks shoots against Evan Turner of the Boston Celtics in game two of the Eastern Conference quarter finals during the 2016 NBA play-offs in Atlanta, Georgia, on Tuesday (AFP photo by Kevin C. Cox)
Atlanta and San Antonio took imposing 2-0 leads in their opening-round play-off series with emphatic victories over Boston and Memphis on Tuesday.
The Hawks held the Celtics to the lowest-scoring first quarter in the play-offs since the NBA went to the shot clock, building a 21-point lead and holding on despite an ugly shooting performance of their own for an 89-72 victory and a strong hold on their Eastern Conference series.
Al Horford and Kyle Korver led Atlanta with 17 points apiece, but this game was essentially decided in the first 12 minutes.
The Hawks started 9 of 13 from the field, knocking down six from beyond the 3-point arc. Korver made four from long range, a big turnaround from a 1-of-10 performance in Game 1 that didn't include any 3s. Atlanta led 24-3 just 6 1-2 minutes into the game.
Even after failing to score the rest of the period, the Hawks still led 24-7 heading to the second.
Shaking off a dismal performance in the play-off opener, Korver swished four 3-pointers in the opening minutes to propel Atlanta to a stunning 21-point lead before many fans had settled into their seats Tuesday night. There wasn't much doubt after that.
"We all have pride, right?" said Korver, who went 1 of 10 on Saturday and missed all seven of his 3-point attempts. "I wanted to come out and play better the second game."
As good as Korver and the Hawks were in the early going, this one will be remembered more for the Celtics' grisly start.
"I don't know what it is," said Boston's Jae Crowder, looking a bit shell-shocked after scoring just two points on 1-of-9 shooting, "but we've got to change something".
Crowder had plenty of company in his shooting misery.
Boston star Isaiah Thomas was held to 16 points on 4-of-15 shooting, going 1 of 6 beyond the arc. Marcus Smart stepped in for the injured Avery Bradley and went 1 of 11, also making just 1 of 6 from 3-point range. The Celtics finished at 32 per cent overall (28 of 88), 5 of 28 from long range.
Game 3 is Friday night in Boston.
San Antonio were even more impressive than the Hawks in beating the Grizzlies 94-68. Patty Mills had 16 points, Kawhi Leonard added 13 and San Antonio never trailed in sweeping the first two games.
LaMarcus Aldridge had 10 points and eight rebounds in 26 minutes. Aldridge sat out the entire fourth quarter along with Leonard and Tony Parker while Tim Duncan and Danny Green made brief appearances.
If history and Memphis' current state are any indication, the Grizzlies' prospects don't look good heading into a home game Friday night.
San Antonio's suffocating defence held Memphis to franchise lows in total points and points in a quarter.
Tony Allen led Memphis with 12 points and Zach Randolph had 11 points and 12 rebounds.
Related Articles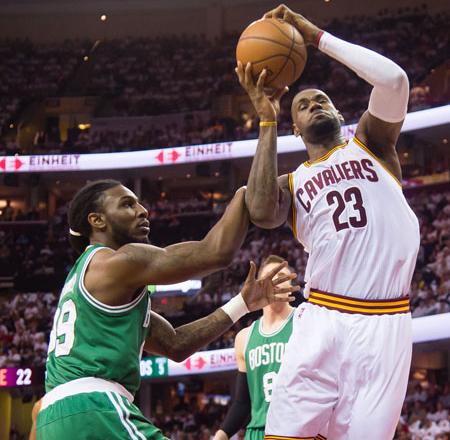 Apr 20,2015
Kyrie Irving scored 30 points in his play-off debut and LeBron James added 20 in his first postseason game with Cleveland in five years as Cavaliers opened a run toward an NBA title with a 113-100 victory over Boston Celtics on Sunday.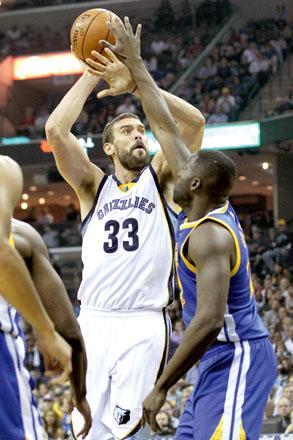 Nov 12,2015
MEMPHIS, Tennessee — Stephen Curry scored 28 points and Andre Iguodala added 20 as Golden State Warriors matched a club record for most wins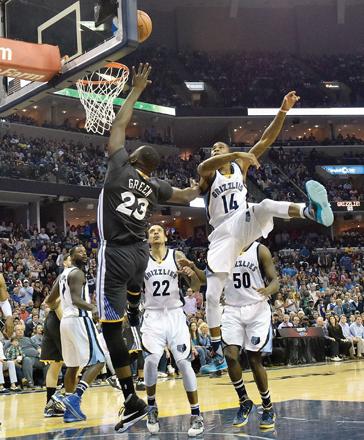 Apr 10,2016
MEMPHIS, Tennessee — Draymond Green scored on a tip-in with 1 minute left, and the Warriors rallied from 10 points down early in the fourth
Newsletter
Get top stories and blog posts emailed to you each day.