You are here
James, retooled Cavaliers roll in Boston
Hill, Hood, Clarkson and Nance Jr. all make their debuts for Cleveland
By Reuters - Feb 12,2018 - Last updated at Feb 12,2018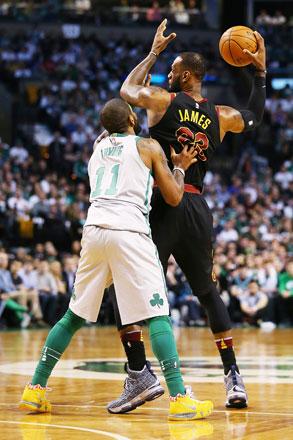 Lebron James of the Cleveland Cavaliers guarded by Kyrie Irving of the Boston Celtics during their NBA game in Boston, Massachusetts, on Sunday (AFP photo by Adam Glanzman)
On the day the Celtics retired Paul Pierce's number, LeBron James stole the spotlight, leading the new-look Cleveland Cavaliers to a 121-99 victory against former teammate Kyrie Irving and host Boston on Sunday.
James had 24 points, 10 assists and eight rebounds. Cleveland were playing their first game with a full squad after making a series of deadline-day trades to retool their roster, with George Hill, Rodney Hood, Jordan Clarkson and Larry Nance Jr. all making their Cavs debuts.
Clarkson finished with 17 points while Hood and J.R. Smith each added 15. Hill had 12 and Nance chipped in five to help the Cavs to a second straight win.
Irving led the Celtics with 18 points and five assists. Marcus Morris was the only other player in double figures with 17 for Boston, who dropped their second straight.
Rockets 104, Mavericks 97
Chris Paul guided host Houston to a victory over undermanned Dallas.
Paul finished with 25 points, eight rebounds, nine assists and three steals, providing the spark down the stretch of the third quarter that enabled the Rockets to extend their winning streak to eight games.
James Harden added 27 points, six rebounds and five assists, and Clint Capela posted a double-double (16 points, 11 boards) for Houston. The Mavericks left Dirk Nowitzki, Wesley Matthews and J.J. Barea back in Dallas following their home triumph over the Los Angeles Lakers on Saturday night. They received 20 points from Yogi Ferrell and a 18 points and 12 rebounds from Dwight Powell.
Thunder 110, Grizzlies 92
Paul George amassed 33 points, eight assists and three steals as short-handed Oklahoma City routed visiting Memphis.
George helped the Thunder win without Russell Westbrook (sprained left ankle) and forward Carmelo Anthony (sprained right ankle), who missed each missed a second consecutive game.
Marc Gasol led the Grizzlies with 18 points, but Memphis dropped their sixth straight.
Raptors 123, Hornets 103
DeMar DeRozan scored 25 points and visiting Toronto wore out travel-weary Charlotte.
CJ Miles posted 24 points off the bench and Jonas Valanciunas supplied 21 points for Toronto, who shot 56.3 per cent from the field. The Raptors won their fifth game in a row, though the other four came at home.
The Hornets had returned home Saturday morning after finishing a four-game West Coast trip with Friday night's loss at Utah. A night earlier, they lost in overtime at Portland. Charlotte lost their fourth game in a row Sunday despite 23 points from Kemba Walker and 17 points and 13 rebounds from Dwight Howard.
Timberwolves 111, Kings 106
Karl-Anthony Towns' 22-footer broke a late tie, and Minnesota went onto beat Sacramento in Minneapolis for their 13th consecutive home win.
Towns led all scorers with 29 points for the Timberwolves, who snapped a two-game losing streak.Rookie De'Aaron Fox had 23 points for the Kings, who lost for the fourth time in five games.
Hawks 118, Pistons 115
Dewayne Dedmon converted a three-point play that gave Atlanta a late lead and then knocked down a clutch 3-pointer to help the Hawks beat visiting Detroit.
Atlanta were down 107-104 with 2:24 play but mounted an 8-0 run, fuelled by Dedmon, to take the lead. Dedmon grabbed an offensive rebound, hit a layup and made the ensuing free throw that put the Hawks in front. He followed with a 3-pointer from the right wing, as the shot clock was winding down on Atlanta's next possession that put the Hawks up 112-107.
Dennis Schroder scored 23 points and went 6-for-6 from the foul line in the final seconds to seal the win, for Atlanta. Dedmon finished with 20 points and 13 rebounds. Andre Drummond scored 25 points and grabbed 15 rebounds, and Reggie Bullock added 20 points for the Pistons, who have dropped two straight.
Pacers 121, Knicks 113
Victor Oladipo scored 30 points to lead Indiana past New York in Indianapolis.
Oladipo added nine assists and eight rebounds to go along with six steals. Bojan Bogdanovic had 20 points, and Thaddeus Young delivered a double-double with 18 points and 11 rebounds for the Pacers.
Enes Kanter and Tim Hardaway Jr. shared top-scoring honours for the Knicks with 17 points. Kanter, who had 11 rebounds, was able to return after missing the previous game following oral surgery.
Jazz 115, Trail Blazers 96
Donovan Mitchell scored 27 points and Joe Ingles 24 to lead visiting Utah past Portland.
Rudy Gobert contributed 12 points and 11 rebounds as the Jazz won their ninth consecutive game and ended Portland's nine-game home winning streak. Jae Crowder — donning a Utah uniform for the first time after a three-team trade — chipped in 15 points and five rebounds off the bench.
Damian Lillard, coming off a 50-point game Friday at Sacramento, led the Trail Blazers with 39 points. Portland's CJ McCollum added 22.
Related Articles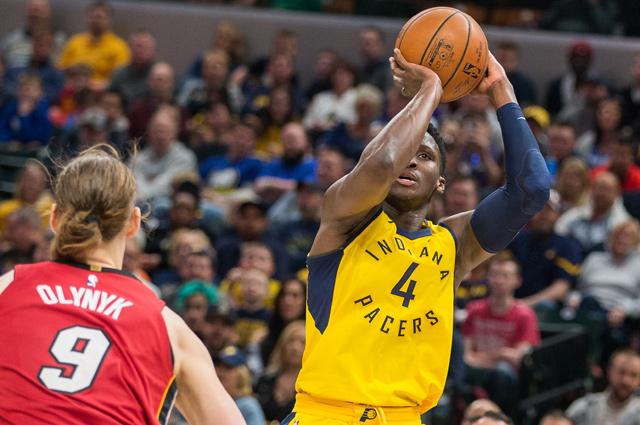 Mar 26,2018
Victor Oladipo scored 23 points, including a key overtime 3-pointer, to lead the Indiana Pacers to a 113-107 victory over the Miami Heat on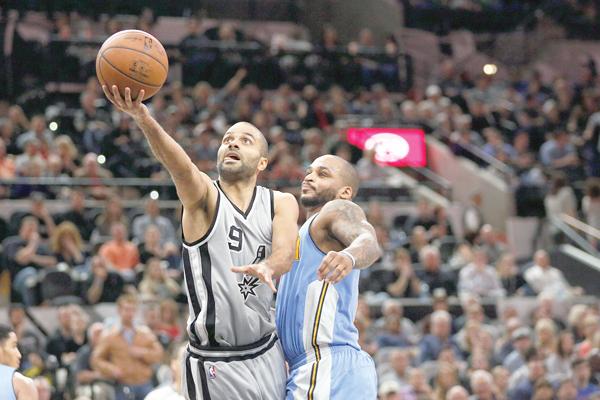 Dec 28,2015
SAN ANTONIO — San Antonio immediately bounced back from a rare loss and beat Denver 101-86 on Saturday to extend their franchise record for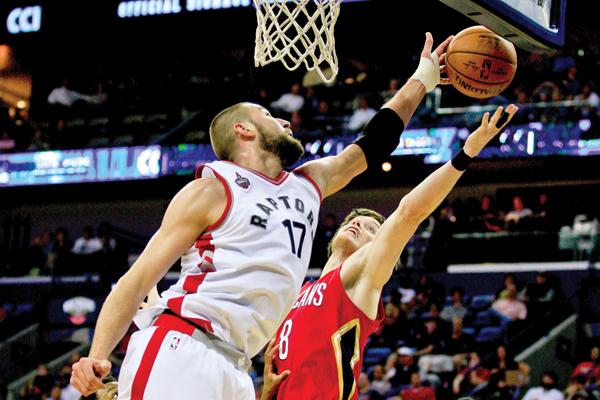 Mar 27,2016
NEW ORLEANS — DeMar DeRozan scored 23 points and Patrick Patterson had 16 as the Toronto Raptors ended a two-game losing streak, beating the
Newsletter
Get top stories and blog posts emailed to you each day.