You are here
Jazira play Wihdat in highlight of Week 8
By Aline Bannayan - Oct 31,2018 - Last updated at Oct 31,2018
AMMAN — It was an interesting week in the Jordan Professional Football League as standings shifted with Jazira maintaining the lead ahead of Week 8 kicking off on Thursday.
The leaders had their lead slashed to three points following their first draw with Salt (0-0), while Wihdat scored an important 1-0 win over Baqaa to move up to fifth and Faisali suffered their first defeat and slid to 6th.
Shabab Urdun stayed second after beating Faisali 4-1 as the latter let go of their coach amid alarming results. Hussein scored their fourth consecutive win and moved up to third after a 2-1 win over That Ras, while Aqaba also moved up to 7th after an important 2-1 win over Ramtha, who are having a bad season and are now 10th.
Ahli lost 1-0 to Sarih and dropped to 11th while That Ras stayed last.
The upcoming week's highlight will see Jazira come head to head with Wihdat on Friday. Faisali will play Hussein as both teams strive for an advanced position while Shabab Urdun play Ahli who must try to make up for lost points after impressive seasons in the past two league competitions.
In other matches, Baqaa will play Sarih while Aqaba play Salt and That Ras meet Ramtha.
So far on the regional scene, Jazira were eliminated from Asian Football Confederation (AFC) Cup West Asia zone final losing to the Iraqi Air Force team and failing to reach the continent's final. Faisali had bowed out in the event's semifinals. Likewise, Ramtha bowed out to Tunisia's Etoile Sportive Du Sahel in the preliminary round of the Arab Club Champions Cup. League titleholders Wihdat will represent Jordan in the 2018/19 AFC Champions League. Jordanian teams have never before made it past the ACL preliminary round. In the 2017/18 edition, Faisali were eliminated, while Wihdat were knocked out in 2017, 2016 and 2015, and Shabab Urdun were eliminated in 2014.
The 2018/19 football season agenda kicked off with league champs Wihdat beating Jordan Cup champs Jazira in the 36th Jordan Super Cup — the first major competition on the annual football calendar.
Last season, Wihdat won the league for a record 16th time. Jazira lost two competition finals conceding the 35th Jordan Super Cup to Faisali and the Jordan Football Association Shield final to Wihdat. Jazira also finished runner-up in the league won the Jordan Cup.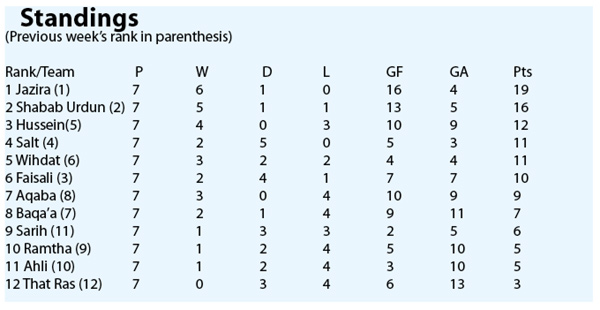 Newsletter
Get top stories and blog posts emailed to you each day.