You are here
Jordan aims for basketball quarter-finals; taekwondo secures 3 medals
By Aline Bannayan - Sep 29,2023 - Last updated at Sep 29,2023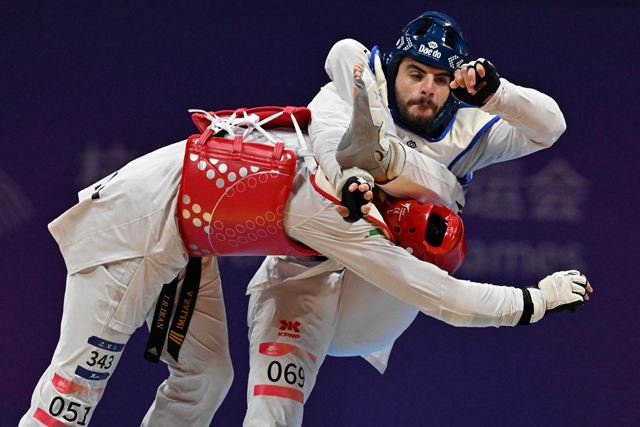 Jordans Anas Sadek (right) and Irans Arian Salimi compete in the mens +80kg quarter-finals event during the Hangzhou 2022 Asian Games in Hangzhou, in Chinas eastern Zhejiang province, on Thursday (AFP photo)
AMMAN — Jordan has so far secured three medals — all in taekwondo — as the 19th Asian Games currently under way in Hangzhou, Chinauntil October 8.
Saleh Sharabati (U80kg) and Zaid Mustafa (U68kg) secured silver, while Zaid Halawai (U63kg) won bronze earlier.
Sharabati, the Tokyo Olympics silver medalist, now ranked 3rd in the world is eyeing the Paris Olympics 2024.
Athletes who were expected to play for medals were eliminated including Jordan's 2018 Asian Games gold medalist taekwondo's Juliana Al Sadiq, who won silver at the 2023 World Championship, and boxing's Mohammad Abu Jajeh who won bronze at the 2023 IBA World Boxing Championships as well as Pan-Arab Games champ Ziyad Esheish , who was eliminated on Thursday.
Jordan's Hanan Nassar won her first bout and became the first Jordanian woman to participate in boxing at the Asian Games which have brought together 12,000 athletes from 45 countries. The Kingdom's delegation includes 79 athletes competing in 15 sports: archery, athletics, badminton, basketball, boxing, fencing, golf, gymnastics, ju-jitsu, karate, shooting, taekwondo, weightlifting, triathlon and e-games.
Another athlete eliminated early was gymnastics star Ahmad Abu Saoud on the pommel horse. Back from injury, he made a name for himself and country when he won silver at the 2022 World Artistic Gymnastics Championship in Liverpool, becoming the first Arab to win a medal in the event. He won the gold at the Asian Championship in 2019 and 2022 and silver in 2023.
On the other hand, the men's basketball team scored their second win beating Bahrain 84-60 after and earlier win over Thailand 97-63 in Group C. They will next play the Philippines on September 30 for a spot in the quarterfinals.
Jordan's best finish at the Asian Games was 4th in 1986 and 2006.
In the continental championship - the FIBA Asia Cup (previously FIBA Asia Championship) – Jordan has qualified16 times, with the best showing runner-up in 2011, third in 2009 and fourth in 2022 after they reached the semis for the second time.
The squad just played their third World Cup after previously reaching the world's premier event in 2010, 2019 with basketballbeing the only Jordanian team to reach a World Cup in a team sport alongside the junior men's team in 1995.
Since first competing in 1986, it is Jordan's 9th time at the Asian Games where out of 45 medals won by Jordan (5 gold, 16 silver and 24 bronze), 38 have been secured through martial arts (24 in taekwondo, 9 in karate, 5 in ju-jitsu( in addition to 4 in boxing.
Jordan won its first gold at the 2006 Doha Games by taekwondo fighter Mohammed Al Bakhit andin 1998, Alaa Kotkot became the first Jordanian woman to win a medal- a silver in taekwondo.
So far, Arab countries on the medals table are led by the UAE (6), Qatar (4), Kuwait and Jordan(3), Oman, Iraq and Lebanon (1).
Related Articles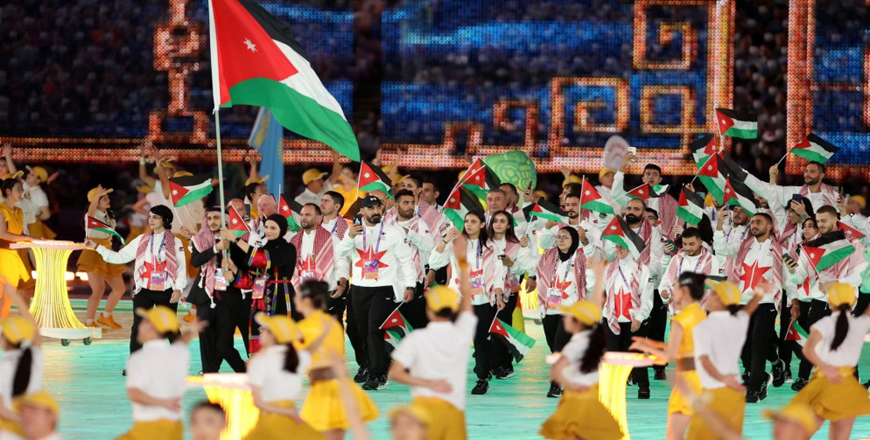 Sep 23,2023
AMMAN — Jordan joins 12,000 athletes from 45 countries at the 19th Asian Games which opened in Hangzhou, China, on Saturday and runs until O
Oct 02,2023
AMMAN — Jordan plays Saudi Arabia on Tuesday in the basketball quarterfinals at the 19th Asian Games currently under way in Hangzhou, China,
Sep 25,2023
AMMAN — The national basketball team plays Thailand on Tuesday at the 19thAsian Games, which opened September 23 and will run until October