You are here
Key duo combine to help Thunder soar over Rockets
By Reuters - Jan 30,2016 - Last updated at Jan 30,2016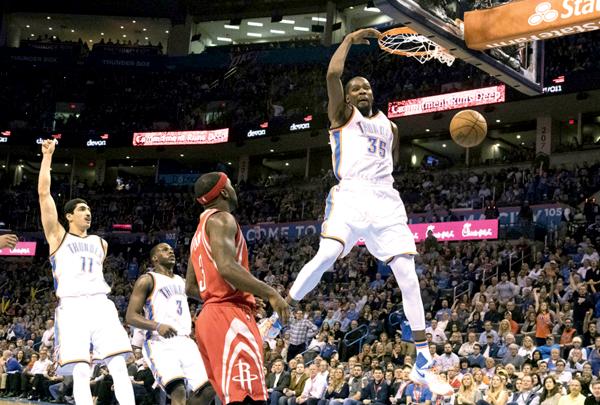 Kevin Durant of the Oklahoma City Thunder runs past Ty Lawson of the Houston Rockets to dunk during their third NBA game in Oklahoma City, on Friday (AFP photo by J Pat Carter)
Kevin Durant and Russell Westbrook combined for 59 points to lead the Oklahoma City Thunder to a 116-108 victory over the Houston Rockets at Chesapeake Energy Arena on Friday.
Durant scored 33 points on 11-of-18 shooting from the field and had 12 rebounds and three assists. Westbrook picked up his sixth triple-double of the season with 26 points, 10 rebounds and 14 assists.
Centre Enes Kanter came off the bench to contribute 22 points and 10 rebounds as Oklahoma City improved to 36-13.
Guard James Harden led the Rockets with 33 points, seven rebounds and seven assists. Forward Corey Brewer added 17 points as Houston dropped to 25-24.
With 6:17 left in the fourth quarter, Thunder forward Kyle Singler completed a three-point play to give Oklahoma City a nine-point advantage. Harden answered with his own three-point play to close gap to 101-95.
Kanter began to take over for the Thunder in the paint. He scored four quick points as Oklahoma City went up by 11. Durant then drained a three-pointer from the top of the key to stretch the lead to 112-98 with 3:25 left.
However, Rockets guard Patrick Beverly knocked down a three-pointer to slash deficit to 11. Centre Clint Capela hit one of two from the line and Brewer came up with a fast-break dunk as Houston closed to eight with 1:36 left.
Westbrook was fouled and missed both free throws. Harden made the Thunder pay by hitting two of his own as the Rockets trailed 112-106 with 1:20 left.
Thunder guard Dion Waiters scored, but Durant fouled Harden on a three-point attempt at the other end. Harden made two of the three foul shots and lead was back to six.
A layup by Kanter pushed the advantage to eight. Harden tried to answer but dribbled away precious seconds before missing a jumper to close out the game.
Surging Celtics
The surging Boston Celtics used balanced scoring to cruise to their fifth straight win with a 113-94 victory over the sagging Orlando Magic on Friday.
The Celtics (27-21) had seven players score in double figures while sending the Magic to their eighth straight loss and 12th in their last 13 games in the opener of a home-and-home series that shifts to Orlando on Sunday.
Boston blew open a fairly close game by going on a 22-4 tear that ended with a 15-0 run in the first five and a half minutes of the fourth quarter.
Guard Marcus Smart and forward Kelly Olynyk, both coming off the bench, led the scoring with 16 points apiece.
Forward Jae Crowder scored 15 points, newly named All-Star guard Isaiah Thomas had 14 points and 11 assists, and guard Evan Turner added 15 points and eight assists.
Reserve forward Jonas Jerebko had a season-high 13 points and 10 rebounds and forward Jared Sullinger contributed 11 points and 11 rebounds, as the Celtics reached the 100-point mark for an 11th straight game.
Big man Nikola Vucevich led six Magic players in double figures with 14 points. He also grabbed eight rebounds as his streak of double-doubles ended at six games.
Forward Aaron Gordon had 12 points and nine rebounds for the Magic (20-25).
The Celtics showed a video tribute during a first-quarter timeout saluting Thomas making the All-Star team.
Thomas, who had just scored his first basket of the game, then had a hand in 10 straight points, scoring four and contributing three assists.
Boston used the Thomas-led 8-0 run to take a five-point lead that grew to eight in the quarter and the advantage reached double figures in the first three minutes of the second.
The Celtics took a 13-point lead with 3:56 left in the half but led by eight at the break. Thomas ended the half with an end-to-end dash and layup with 1.1 seconds left.
Jerebko, averaging 3.6 points per game coming in, scored eight straight Boston points in the second quarter.
Turner ended the third quarter with a buzzer-beating floater that made it 86-77.
Olynyk then scored nine points in the first 3:19 of the fourth quarter and the lead was 16. It quickly grew to 27.
Related Articles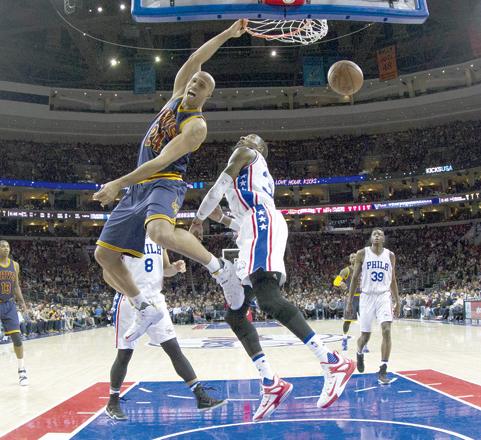 Jan 12,2016
Forward LeBron James scored 12 of his 37 points in a decisive 14-0 fourth-quarter run, as the Cleveland Cavaliers beat the Philadelphia 76er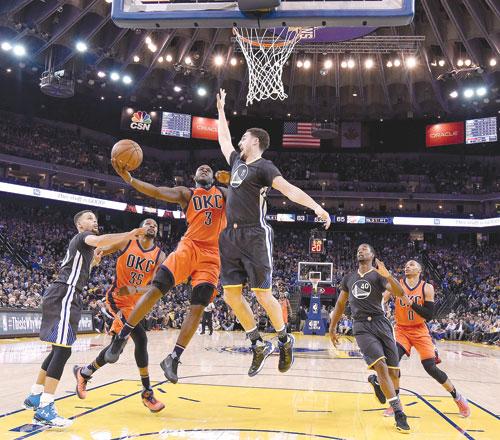 Feb 07,2016
The Golden State Warriors showed why they are considered the best team in the NBA. Then it all fell apart and it nearly cost them a monster home winning streak.
Dec 15,2016
LOS ANGELES — James Harden matched the franchise record for career triple-doubles to lead the Houston Rockets to a dominating 132-98 victory
Newsletter
Get top stories and blog posts emailed to you each day.