You are here
NBA's 1st Chinese owner excited to start with the Minnesota Timberwolves
By AP - Jul 14,2016 - Last updated at Jul 14,2016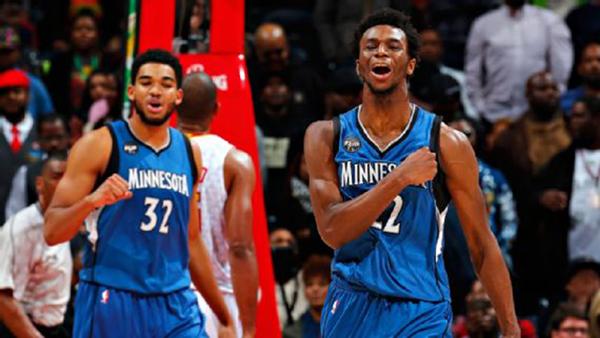 Karl-Anthony Towns and Andrew Wiggins, in undated picture, look to be marketable franchise cornerstones for the Timberwolves as the team looks to become a global brand with the help of new minority owner Lizhang Jiang (AFP photo by Kevin C. Cox)
LAS VEGAS — The NBA's first Chinese owner said Wednesday that he hopes to use his ties in China to help the Minnesota Timberwolves become a global brand along the lines of the Los Angeles Lakers or New York Knicks.
"Since I've been a fan of the NBA for so long, I wondered if I could be part of the sport so that I can establish connections between the NBA and the Chinese market, to do my contribution for the development of both," Lizhang Jiang said through an interpreter. "I not only know the Chinese market, but also know very well about the international sports market."
"I am confident I can transfer my experience and resources in those aspects into the basketball business to help the Timberwolves grow both in the Chinese market and global market."
Jiang, who attended Minnesota's summer league play-off game Wednesday against the San Antonio Spurs, bought a 5 per cent stake in the Timberwolves and is also part owner of the WNBA's Minnesota Lynx, whose star Maya Moore plays for the Shanxi Flame in China during the winter.
Timberwolves majority owner Glen Taylor also sold 9.5 per cent of his team to Manhattan real estate mogul Meyer Orbach, chairman of the Orbach Group in New York City.
Orbach said his immediate involvement will be with the renovation of Target Centre. Given his background in construction and real estate, he said he will consult during the two-year process, giving input on the construction while assisting with design and layout.
"I'm just going to learn from Glen and everyone over at the organisation and see where I can add value and jump in," Orbach said.
Taylor said he is excited about Orbach's enthusiasm, while he is confident Jiang's influence will enhance the team's image in China, and broaden scouting opportunities for Chinese players while expanding the team's fan base. He believes that could translate into sponsorship and advertising dollars for an organisation that now has several of the most talented and recognisable young players in the league.
With Karl Anthony-Towns, Andrew Wiggins, Zach LaVine and Kris Dunn as the new faces of the organisation, and Tom Thibodeau in place as head coach, Taylor said the possibility of a title is becoming more of a reality.
Taylor also said he wouldn't be surprised if other teams find partnerships from China.
"I think it will encourage them. I think there's more and more business being done between the United States and Chinese companies, so there's always the possibility of sponsors who want to sell here in the United States," Taylor said. "I think we've got to open a bunch of doors. And I think maybe by my bringing in a partner this will open a number of other doors."
Jiang, who said he became a fan of the NBA during Michael Jordan's glory years, also recently purchased 98 per cent of Granada CF, a Spanish football team.
Jiang said he hasn't thought about becoming a majority owner of an NBA team. He is focused on helping build the Timberwolves.
"My job is to transfer my expertise and experience in sports business into helping the team gain greater development," Jiang said. "That is the only important thing for me. You can only talk about more when you've done a great job on what you're focusing on now. The rest will come along naturally."
Jiang sat courtside Wednesday with Taylor, plus LaVine and teammates Gorgui Dieng and Nemanja Bjelica. He said he'll make plenty of time to visit Minnesota so he can watch his newest investment in person during the regular season.
NBA Commissioner Adam Silver said the league was "thrilled" to get a Chinese owner aboard.
"Mr. Jiang's business acumen, knowledge of the global sports landscape and strong personal relationships will be tremendous assets to the Timberwolves and Lynx, and he will be an important part of our ongoing efforts to grow the game in China," Silver said.
Related Articles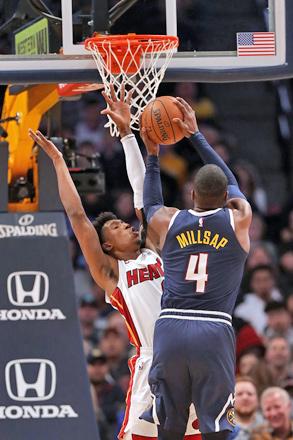 Feb 12,2019
Paul George had a 47-point triple-double, and Russell Westbrook set an NBA record for consecutive triple-doubles as the Oklahoma City Thunde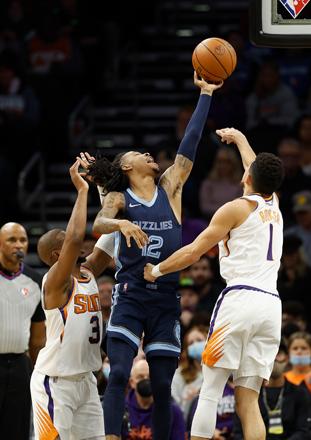 Dec 28,2021
WASHINGTON — Memphis guard Ja Morant scored the last of his 33 points on a driving layup with a half-second remaining to lift the Grizzlies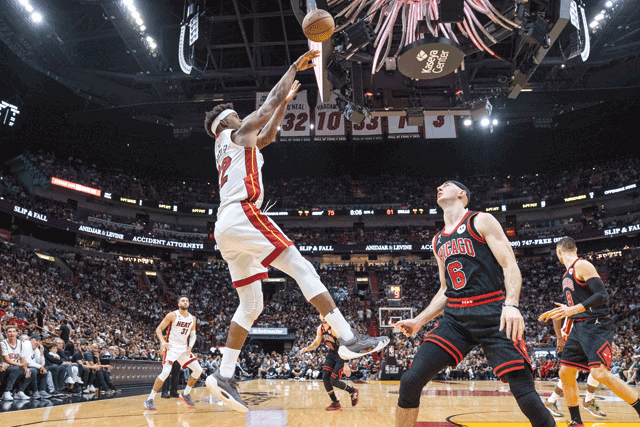 Apr 15,2023
MIAMI — Jimmy Butler and the Miami Heat caught fire down the stretch to beat the Chicago Bulls 102-91 and reach the NBA play-offs on Friday,