You are here
Nowitzki scores 40 to lead Mavericks over Blazers
By AP - Mar 21,2016 - Last updated at Mar 21,2016
Dallas Mavericks forward Dirk Nowitzki attempts a lay-up during an NBA game against the Portland Trail Blazers in Dallas on Sunday (AP photo by Brandon Wade)
DALLAS — Dirk Nowitzki scored 40 points and Deron Williams had 31 points and 16 assists, leading the Dallas Mavericks to a 132-120 overtime win over the Portland Trail Blazers on Sunday.
Nowitzki and Williams capped season-high scoring efforts with the first 11 points in overtime. Williams made a tiebreaking 3-pointer before Nowitzki scored eight straight points.
The Mavericks' victory moved them within a half-game of the Trail Blazers for the sixth playoff position in the Western Conference. Dallas has 12 games to play and Portland 11.
The Mavericks (35-35) also gained a tiebreaker by winning the first two of three games in the season series against the Trail Blazers (36-35). The teams play again in Portland on Wednesday.
Damian Lillard led the Trail Blazers with 26 points. Allen Crabbe scored 24 points, and C.J. McCollum had 22. Miles Plumlee had 14 points and 19 rebounds.
Raptors 105, Magic 100
DeMar DeRozan scored 25 points, leading Toronto to the win.
Luis Scola had 20 points as the Raptors moved within one game of idle Cleveland for the top spot in the Eastern Conference.
Evan Fournier and Victor Oladipo each had 21 points for Orlando, which lost their seventh straight game in Toronto and have now lost 13 of the last 14 meetings with the Raptors.
A 3-pointer from Fournier with 1:11 remaining trimmed Toronto's lead to 97-96, but DeRozan responded with a floating jumper with 53.9 seconds left and added the free throw after being fouled by Ersan Ilyasova.
Pelicans 109, Clippers 105
Jrue Holiday scored 22 points, helping the injury-riddled Pelicans to the victory.
Omer Asik scored a season-high 15 points and tied his season best with 14 rebounds for New Orleans, while Dante Cunningham scored a season-high 19 points. Reserve guard Tim Frazier added a season-high 17 points.
Chris Paul and J.J. Redick each scored 24 points, and Paul also had 13 assists for the Clippers, who lost in Memphis on Saturday night and were playing their second game in less than 24 hours. Los Angeles missed 19 3-point attempts and 13 free throws.
The Pelicans tipped off shortly after announcing All-Star forward Anthony Davis, who hurt his left knee on Friday night, would miss the rest of the season to treat that injury as well as a torn labrum in his left shoulder that he played with for much of the season.
Kings 88, Knicks 80
DeMarcus Cousins had 24 points and 20 rebounds, and Sacramento had their best defensive performance of the season.
The Kings, who came in allowing a league-worst 109.6 points per game, easily surpassed their previous best of 88 points allowed, shutting down a Knicks team that played without leading scorer Carmelo Anthony.
Cousins emerged the winner in a good big-man duel with Robin Lopez, who finished with 23 points and 20 rebounds for the Knicks, playing through his usual frustrations with the officiating and even a security guard in this one.
New York fell to 0-8 this season without Anthony, who was still bothered by symptoms of a migraine that he began suffering from Saturday night in a loss at Washington.
Celtics 120, 76ers 105
Isaiah Thomas led six Celtics players in double figures with 26 points as Boston ended a four-game skid.
Jared Sullinger added 17 points and 13 rebounds for Boston, which swept the four-game season series against the 76ers to make their eight consecutive wins against Philadelphia. The Celtics avoided matching their longest losing streak of the season with the victory.
Carl Landry scored 26 points for the 76ers, who have lost five in a row and 18 of the last 19 to fall to 9-61.
Jazz 94, Bucks 85
Gordon Hayward scored 18 points, including 13 during a decisive third quarter, as the Jazz won for the fifth time in six games.
Utah remained one game behind Dallas for the eighth and final playoff spot in the Western Conference.
Trey Lyles added 14 points for the Jazz, and Shelvin Mack had 13 points and 12 assists. Rudy Gobert finished with 12 points and 14 rebounds.
Milwaukee is 4-18 in their last 22 games against Utah. Jabari Parker had 19 points and eight rebounds for the Bucks.
Related Articles
Jan 08,2016
Raymond Felton scored a team-high 22 points, and Chandler Parsons scored 19 of his 21 points in the first half, to lift the shorthanded Dall
Oct 31,2017
Kyrie Irving played his best game with his new team, finishing with 24 points and six assists to lead the Boston Celtics to their fifth stra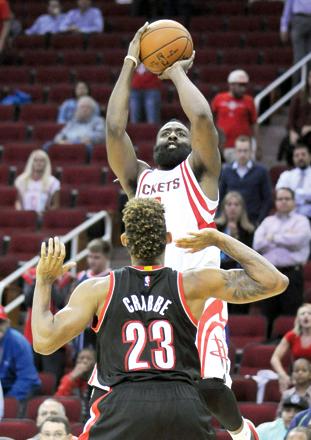 Nov 20,2015
HOUSTON — James Harden scored 45 points, including all nine for Houston in overtime, as the Rockets beat the Portland Trail Blazers 108-103
Newsletter
Get top stories and blog posts emailed to you each day.