You are here
One streak over, Rosberg aims for another
By Reuters - May 26,2016 - Last updated at May 26,2016
MONACO — One winning streak ended with a bang for Nico Rosberg in Spain but Monaco's tight, metal-fenced streets could see the continuation of another remarkable run for the Formula One championship leader on Sunday.
Only one man — triple world champion Ayrton Senna — has won more than three times in a row in the Mediterranean principality's showcase race but Rosberg is on the cusp of stepping up alongside the late Brazilian.
The Mercedes driver, whose hopes of an eighth successive win ended at the previous race in Barcelona when he and triple world champion team mate Lewis Hamilton collided on the opening lap while fighting for the lead, completed his hat-trick last year.
Four wins would still be one behind the Brazilian, who won five in a row and six in total, but still a sequence that multiple champions like Graham Hill, Alain Prost and Michael Schumacher never managed.
Monaco is a home race for most of the drivers but even more so for Rosberg, the German-born son of Finland's 1982 world champion Keke, who grew up and went to school there and this time returns in the form of his life.
"I have memories from every corner going right back to my school days and I always have great support there from my family, my friends and the fans, which gives you that extra boost through the weekend," he said.
"It's been amazing to win there for the past three years — but I know it will be tough to repeat that with Lewis, the Ferraris and the Red Bulls all so strong now."
Hamilton has not won since he took his third world championship in Texas last October, and the collision at the Circuit de Catalunya left him 43 points behind the German with 16 races remaining, but he is still the bookmakers' favourite.
Monaco — the glamour highlight of the season — is also special for him, a race the boyhood Senna fan has always loved, and he needs to start reeling in Rosberg as soon as possible.
"Barcelona was the worst feeling but, like I always say, the true test is how you get back up when you've been knocked down," said the Briton, who won in Monaco with McLaren in 2008.
"It was a tough moment for all of us after the race but it's now chapter closed and looking ahead to Monaco. It's an incredible feeling making a car dance through those streets, one of the purest thrills you can have in a racing car.
"I'm approaching this weekend with only one result in mind."
Ferrari and resurgent Red Bull can hope to be contenders as well at a track where outright engine power matters less than driveability. The new ultrasoft Pirelli tyres, making their debut, could also help.
Both the current Ferrari drivers Sebastian Vettel and Kimi Raikkonen — second in the standings and 39 points off the pace — have won in Monaco before, but not for the Italian team, whose last victory there was with Schumacher in 2001.
Red Bull, whose Australian driver Daniel Ricciardo set the race lap record last year, had already targeted Monaco as their best chance of a victory before 18-year-old Dutch driver Max Verstappen won in Spain on his debut with the team.
"The trend now is we're coming stronger and stronger," said Ricciardo. "Monaco is for me the best circuit to drive one... there's no circuit on the calendar that gives me that same feeling, that same adrenaline and that feeling of wanting more."
Meanwhile, the family of the late French Formula One driver Jules Bianchi are planning legal action against the sport's governing body, his former Marussia team and Bernie Ecclestone's Formula One Group, they said in a statement on Thursday.
"We seek justice for Jules, and want to establish the truth about the decisions that led to our son's crash at the Japanese Grand Prix in 2014," his father Philippe said in the statement issued by British firm Stewarts Law.
"As a family, we have so many unanswered questions and feel that Jules' accident and death could have been avoided if a series of mistakes had not been made."
Bianchi, 25, died in a hospital in his home town of Nice last July after suffering serious head injuries when he crashed into a recovery crane at Suzuka during the October 2014 race.
He was the first Formula One driver to die of injuries sustained during a race since Brazilian triple world champion Ayrton Senna in 1994.
Stewarts Law, representing the family in the English legal system, said formal pre-action letters of claim had been sent this week ahead of the Monaco Grand Prix.
The recipients were the governing International Automobile Federation (FIA), the defunct Marussia team who are racing under new ownership as Manor, and the Formula One Group.
Stewarts said errors were made in the planning, timing, organisation and conduct of the race and the family felt the actions of one or more of the named parties may have contributed to the fatal accident.
"The Bianchi family are determined that this legal process should require those involved to provide answers and to take responsibility for any failings," said Stewarts partner Julian Chamberlayne.
"This is important if current and future drivers are to have confidence that safety in the sport will be put first. If this had been the case in Suzuka, Jules Bianchi would most likely still be alive and competing in the sport he loved today."
There was no immediate response from the FIA, whose report into the accident said that the Frenchman had not slowed sufficiently under warning flags before crashing.
The report found Bianchi's car hit the tractor at 126 kph and said medical services were not at fault in their handling of the aftermath.
Chamberlayne said it had been "surprising and distressing to the Bianchi family that the FIA panel in its conclusions, whilst noting a number of contributing factors, blamed Jules".
Related Articles
Jul 20,2015
NICE — Tributes poured in for French driver Jules Bianchi, who died from injuries sustained in a head-on crash during the Japanese Grand Pri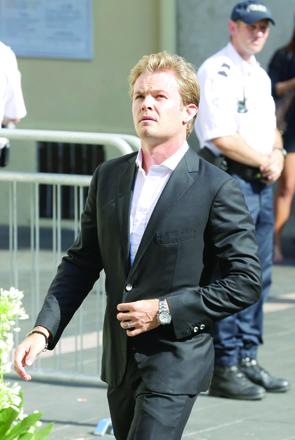 Jul 22,2015
The championship tussle between Lewis Hamilton and Nico Rosberg will take a back seat at the Hungarian Grand Prix this weekend, with Formula
Oct 12,2014
Lewis Hamilton cruised to victory in the inaugural Russian Grand Prix on Sunday, leading a 1-2 finish for Mercedes that clinched its first Formula One constructors' title and stretched his lead in the championship.
Newsletter
Get top stories and blog posts emailed to you each day.