You are here
Popular Pellegrini begins long farewell at Manchester City
By AP - Feb 03,2016 - Last updated at Feb 03,2016
This file photo taken on January 23, 2016, shows Manchester City's Chilean manager Manuel Pellegrini watching during the English Premier League football match between West Ham United and Manchester City at The Boleyn Ground in Upton Park, in east London (AFP photo by Ben Stansall)
MANCHESTER, England — Manuel Pellegrini has cause to feel resentment at being handed his notice by Manchester City, even though the mild-mannered Chilean isn't showing it.
When he is replaced as coach by Pep Guardiola at the end of the season, Pellegrini might just have become the most successful manager in the club's 136-year history.
City's travelling support showed its love for Pellegrini during the 1-0 win over Sunderland on Tuesday, serenading him with a full repertoire of songs throughout the first half. Sergio Aguero might have scored the only goal of the game during that time, but it was Pellegrini's name being sung loud and proud.
"The fans think the world of him, the players think the world of him," City goalkeeper Joe Hart said.
The game at Stadium of Light was the start of a long farewell for Pellegrini after Monday's announcement that Guardiola will be joining on a three-year deal starting in July.
The 62-year-old Pellegrini knew the end was coming — the club had kept him informed of their behind-the-scenes push for Guardiola's signature — but he has stayed dignified throughout the process, in the face of constant questions about his future at news conferences.
Pellegrini hasn't had the best of luck over the last few years. He was fired by Real Madrid in 2010 despite leading the Spanish club to its largest-ever points tally in the league, and replaced by Jose Mourinho — at the time arguably the biggest draw in world football.
He has been big-footed again at City, midway through his third season in charge as the team chases trophies on four fronts. He won the Premier League-League Cup double in his first season. Again, though, football's current most-coveted coach has taken his job.
"We are all thinking about this season. We will see after that what happens next season for the players and me," Pellegrini said after the Sunderland game. "I always feel the commitment of all the players to our project.
"We are living a very good season. We hope we can finish in the same way."
Pellegrini likely will be best remembered at City for the way he stabilised the club after the turbulent ending to the tenure of his predecessor, Roberto Mancini. With the bickering Mancini and Mario Balotelli no longer around, the negative headlines and off-field drama at City largely disappeared. Pellegrini's news conferences tend to be more tedious and humdrum.
His team hasn't been boring, though. In winning the double in the 2013-14 season, City scored 156 goals in all competitions as Pellegrini preached an attacking, entertaining approach in keeping with the vision of director of football Txiki Begiristain and at odds with Mancini's often unadventurous style. Pellegrini regularly said it was his duty to send out his team to entertain.
His second season was a major disappointment, though, exposing his flaws as a tactician. Pellegrini's preference for a 4-4-2 formation was his undoing in big Champions League games, leaving City outnumbered in midfield and eventually getting outplayed by Bayern Munich and Barcelona. Only this season has Pellegrini started to regularly play one up front.
Not winning a trophy in the 2014-15 season was a failure for a club of City's ambition. And in two seasons, Pellegrini has yet to get City past the last 16 of the Champions League, although this year could be different against Dynamo Kiev.
The positives will likely outweigh the negatives when Pellegrini's reign is analysed. And the players will miss a coach labelled "This Charming Man" by fans.
"We really enjoy playing under Manuel," Hart said. "He has been a top manager for us. His man-management has been something that I personally have really enjoyed.
"So we are going to look to give him the best send-off, what he deserves."
Related Articles
Apr 26,2017
MANCHESTER, England — If the first Manchester derby of the season was excessively dominated by the focus on a fascinating coaching rivalry,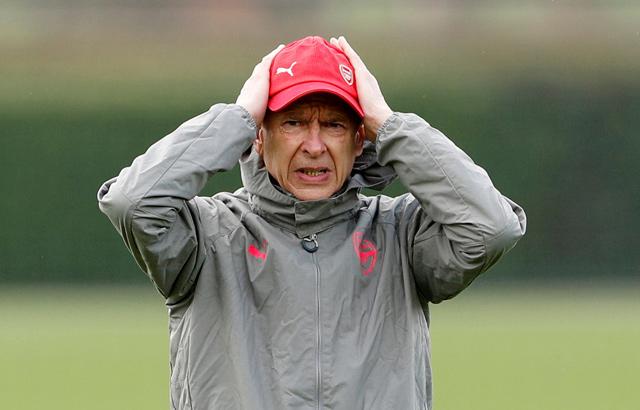 Apr 21,2018
LONDON — When Arsene Wenger walked into Arsenal in 1996 he not only unlocked the door to the club's trophy cabinet he also kicked down a bar
Mar 02,2014
Two moments of magic inside two second-half minutes helped Manchester City avoid a second successive Wembley meltdown on Sunday as they landed the season's first silverware with a 3-1 victory over Sunderland in the English League Cup final.
Newsletter
Get top stories and blog posts emailed to you each day.