You are here
Quarter-finals of U-17 Women's World Cup kick off
By Aline Bannayan - Oct 11,2016 - Last updated at Oct 11,2016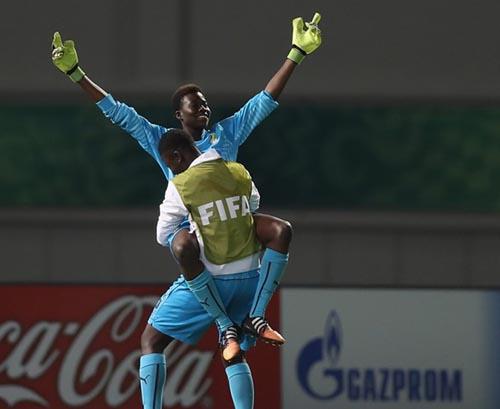 Ghana's Kayza Massey celebrates beating Paraguay during their FIFA U-17 Women's World Cup Jordan 2016 Group D match at Al Hassan International Stadium in Irbid on Saturday (AFP photo by Christopher Lee)
AMMAN — The FIFA U-17 Women's World Cup gets into high gear on Wednesday when the quarter-finals kick off in Amman and Irbid, with eight teams left in the competition.
The highlight will European champ Germany playing runner-up Spain at 7:00pm on Wednesday preceded by the Mexico versus Venezuela match at the Amman International Stadium at 4:00pm.
On Thursday, 2008 U-17 World Cup champ North Korea face Ghana at 4:00pm followed by the England versus titleholder Japan match at the Prince Hassan Stadium in Irbid at 7:00pm.
Playing in a World Cup is a dream come true for any athlete. Players from remote areas with interesting backgrounds are representing their countries. Ghana's 15-year old keeper Kayza Massey, grew up as an orphan before being adopted and growing up in Canada. She joined her national team for this tournament and was on the lineup when lead goalie was injured.
In an interview with FIFA.com the young player said: "Playing in a World Cup, has just been an exceptional experience and I'm really enjoying myself. I just hope we can stay until the final now. It won't be easy, especially against North Korea in the next round. We saw how good Japan are and fully expect the Koreans to be just as tough. But we've learned during this tournament how to adjust our game to these different styles of play and I'm sure we'll come up with a plan that will allow us to compete better this time."
England forward Georgia Stanway told FIFA.com: "We played Japan back in February so we already know the kind of thing we can expect and how to best go about playing them. They're a very technical team, they never stop moving, so we've got to make sure we're ready for that. We definitely won't underestimate them — we know they're a quality team — but the main focus for us will be on our game plan."
Jordan was eliminated from the first round losing 5-0 to New Zealand, 4-1 to Mexico and 6-0 to Spain. Sarah Abu Sabbah made history by scoring Jordan's only goal in the Kingdom's inaugural appearance in the U-17 World Cup. Regardless of match results, most observers concur hosting the event is a major milestone. The tournament has undoubtedly provided much needed competitive experience for Jordan's squad and provided a big boost to women's sports in general.
Jordan joined New Zealand, Brazil, the United States, Paraguay, Nigeria, Cameroon, Canada exiting the first round.
The biggest sporting event to be hosted in the Kingdom marked was also the first time that a women's tournament of this scale has been hosted in the Middle East region. It was Jordan's first appearance at the U-17 Women's World Cup, and also Jordan's first appearance at any level at a FIFA World Cup.
In the first round, the 16 teams played in four groups with the top two teams from each group moving on to Round 2. The semis are on October 17 and the final on October 21. The 32 matches over the course of 22 days were hosted at four stadia: Amman International Stadium, King Abdullah II Stadium in Quweismeh, Al Hassan Stadium in Irbid and Prince Mohammad Stadium in Zarqa.
Jordan is the only Arab team at the U-17 World Cup after Egypt and Morocco were eliminated from the qualifiers. Cameroon is the other country to never have previously participated in the U-17 World Cup.
Coinciding with the FIFA U-17 Women's World Cup Jordan 2016. FIFA organised a regional workshop for women's football coaches in Amman in an effort to develop the game in the region.
The 10-day workshop was attended by 16 women's football coaches from Syria, Iran, Bahrain, the UAE, Palestine, Oman and Jordan.
"The fact that we're organising a workshop with a large majority of female coaches shows that times are changing," said Mayi Cruz Blanco, FIFA's head of women's football development. "We're going to do all we can to support these women, and we hope they'll be role models in their countries."
"The importance of Jordan 2016 goes way beyond football. It's proof of the progress women are making in sport and society. FIFA is proud of this event and hopes it will have an impact on the life of girls and women in the years to come," she was quoted by FIFA.com.
Related Articles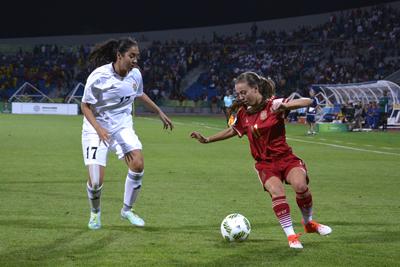 Oct 01,2016
AMMAN — The biggest sports event to be hosted in Jordan — the FIFA U-17 Women's World Cup — kicked off on Friday in Amman with a series of f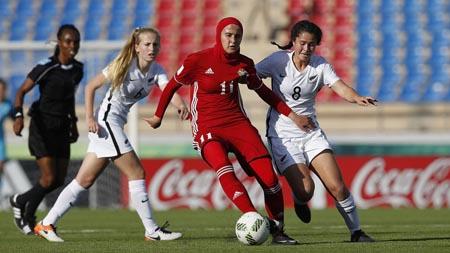 Oct 08,2016
AMMAN — Jordan ended its matches at the FIFA U-17 Women's World Cup currently under way in Amman going down to New Zealand 5-0 while Mexico
Sep 29,2016
AMMAN — Jordanians are eagerly anticipating Friday's kick-off of the FIFA U-17 Women's World Cup 2016 in their capital regardless of how tou
Newsletter
Get top stories and blog posts emailed to you each day.