You are here
Ramtha close in on title, Wihdat drop to 2nd
By Aline Bannayan - Oct 19,2021 - Last updated at Oct 19,2021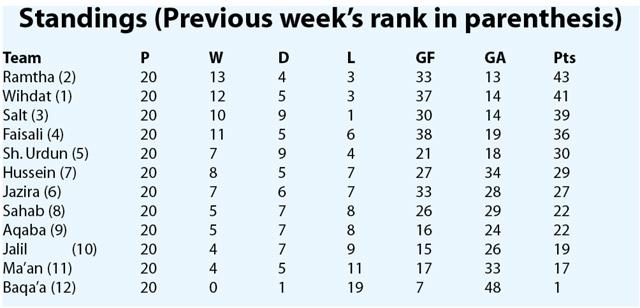 AMMAN — Ramtha are two matches away from their first Jordan Professional Football League title in 39 years as teams head into the final weeks of the competition.
Ramtha took a two-point lead as they beat Ma'an 4-0 and made gains when closest rival Wihdat were held 1-1 with Jazira. Ramtha will next play Shabab Urdun on Thursday and a win in both remaining matches will hand them the title they last celebrated in 1982.
Wihdat fans and ex-coaches are speechless after the team had two draws and a loss during the final stretch. They have an easier encounter with Sahab this week and need to win while hoping Ramtha lose to have a shot at the title.
Salt remained third after a 1-0 win over Baqa'a and next play Faisali who are fourth a after a 3-0 win over Jalil. Shabab Urdun are 5th after a 2-0 win over Aqaba, while Hussein are 6th after a 3-1 win over Sahab and next play last placed Baqa'a.
During the past few weeks, Shabab Urdun's 3-2 win over Wihdat gave Ramtha the chance to fight for the lead. And the team from the northern end of the country could have secured the title sooner had they not stumbled in their 2-0 loss to former champs Faisali when Wihdat drew 0-0 draw with Hussein.
On Thursday, Jazira play Aqaba in the battle for halfway positions, while at the other end of the standings, Ma'an and Jalil face off as either team is now likely to be the one of the teams to be relegated together with Baqa'a.
Faisali and Ramtha led the standings in most of Leg 1. Jazira, who led throughout the league in the past two years, seem to have abandoned the fight for title and find themselves midway through the standings.
This year, team performance has been inconsistent as the national team was eliminated from 2022 World Cup qualifiers, and now having to go through another stage of qualifying to get to the 2023 Asian Cup. The squad is now preparing for the FIFA Arab Cup.
As the agenda winds down, two competitions remain undecided. The league's final week has been set for November 2-4. In the Jordan Cup, Wihdat, Hussein, Faisali have reached the semis. Salt, who were busy with Asian Football Confederation Cup matches, were the last to reach the semis after they overcame Ma'an.
Earlier, Wihdat won their 14th title when they beat one-time winners Jazira in 38th Jordan Super Cup. Jalil overcame Wihdat to win the 34th Jordan Football Association Shield title.
Newsletter
Get top stories and blog posts emailed to you each day.