You are here
Redknapp happy with national football team's training
By Muath Freij - Mar 22,2016 - Last updated at Mar 22,2016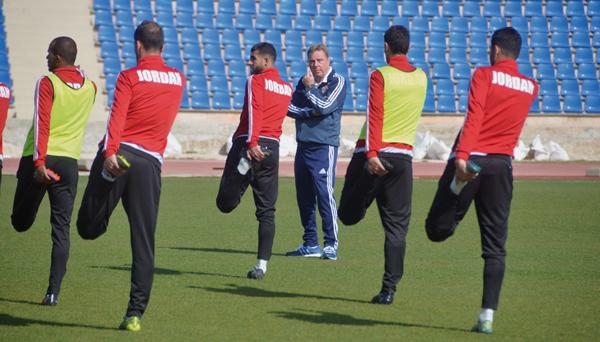 National team head coach Harry Redknapp takes charge of a training session at Amman International Stadium in Amman, on Tuesday (Photo by Muath Freij)
AMMAN – The national football team's head coach, Harry Redknapp, said players have to work hard in order to win the next two matches and do their best in order to achieve good results, adding that he does not have a "magic wand" for victories.
"I cannot walk in suddenly… go come on… you know we are going to play like Brazil. If I can help just get another 5 per cent you know from the players that would make a difference. I would be delighted but it's down to the players," he said, addressing reporters at a press conference at the premises of Jordan Football Association (JFA) in Amman on Tuesday.
HRH Prince Ali, president of the JFA, thanked Redknapp and said: "He is passionate to work with Nashama [the nickname given to the national team] and this is a source of pride for me because he is one of the most successful coaches in England and in the world. I wish the team well."
He expressed hope that the fans would flock to the stadium in Amman on Thursday to support the national team during their World Cup qualifier against Bangladesh, and for the team to win in order to boost their morale against Australia the following week.
Redknapp, who expressed delight to be in Jordan, said he was very pleased with the skills of the players during a training session on Monday. He did not comment on his future with the team, adding that at the moment he is working for two matches.
"I have been in football long enough, in football if I come and we can win the games and everybody is happy with me I would love to come back. At the moment it is just two games and I think if we don't beat Bangladesh maybe the prince puts me on the plane tomorrow, but we have to make sure that we will win," he said with a smile.
Following the press conference, both Prince Ali and Redknapp attended a training session for the team. The Kingdom will face Bangladesh at home on March 24 and Australia in an away match on March 29.
The national team is second in Group B behind Australia after losing 1-0 to Kyrgyzstan, beating Australia 2-0 and Tajikistan 3-0. In the first leg,
Jordan was held to a disappointing 0-0 draw with Kyrgyzstan, beat Tajikistan 3-1 and Bangladesh 4-0.
Related Articles
Mar 21,2016
AMMAN – The new head coach of the national football team Harry Redknapp led his first training session at the Amman International Stadium on
Sep 07,2015
AMMAN — Jordan plays Bangladesh on Tuesday in their third Group B qualifier of the 2018 World Cup in Russia doubling as part of the qu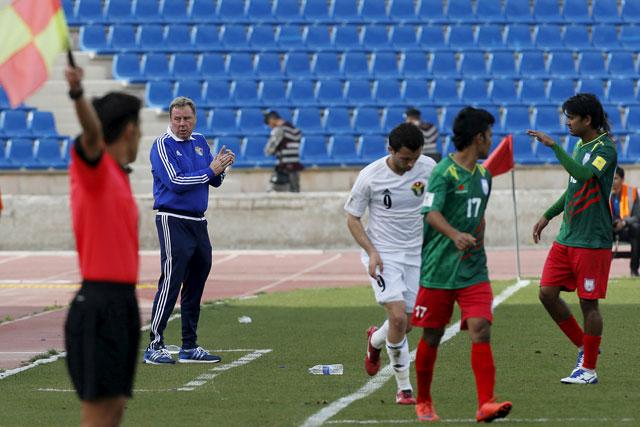 Mar 26,2016
SYDNEY — Former Tottenham manager Harry Redknapp remains uncertain about his future with Jordan beyond the team's World Cup qualifying match
Newsletter
Get top stories and blog posts emailed to you each day.