You are here
Spurs make it 8 straight with victory at Boston
By AP - Nov 26,2016 - Last updated at Nov 26,2016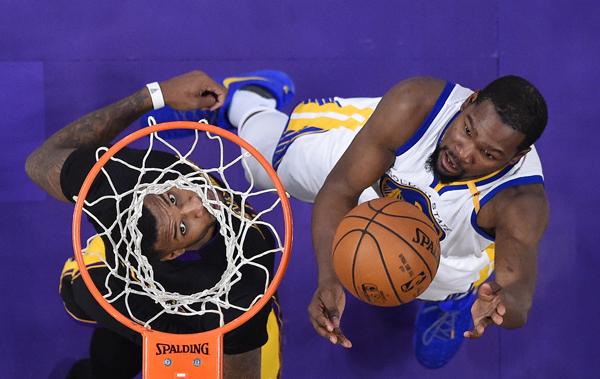 Golden State Warriors' forward Kevin Durant (right) shoots as Los Angeles Lakers' forward Thomas Robinson defends during their NBA basketball game on Friday in Los Angeles (AP photo by Mark J. Terrill)
BOSTON — San Antonio made it eight straight wins with a 109-103 victory at Boston on Saturday, led by 25 points and 10 rebounds from Kawhi Leonard.
The Spurs stayed three games clear atop the Southwest Division and a game behind the overall Western Conference leader Golden State, which moved clear with a comfortable win at an injury-depleted Los Angeles Lakers.
The Warriors leapfrogged the Los Angeles Clippers, who lost at Detroit, while Utah cruised past Atlanta, holding the Hawks to just 68 points.
San Antonio's Patty Mills scored 19, including a 3-pointer with 45 seconds left after the Celtics made it a one-possession game.
The Spurs improved to 9-0 on the road this season and beat Boston for the 10th straight time.
Isaiah Thomas scored 24 points for the Celtics, who had won their previous three.
Golden State's Kevin Durant had 29 points as the Warriors won 109-85 at the Lakers, beating them for the second time in three days.
Stephen Curry scored 24 points in the Warriors' 10th consecutive victory.
Jordan Clarkson scored 20 points for the Lakers, who played without injured starters Julius Randle, Nick Young and D'Angelo Russell.
Detroit continued its sharp home form by beating the Clippers 108-97.
Kentavious Caldwell-Pope had 16 points and a career-high 10 assists for the Pistons, who are 7-2 at home as opposed to 1-7 on the road.
Marcus Morris scored 17 points as the Pistons had six players finish in double figures for points.
J.J. Redick and Blake Griffith each had 24 points for the Clippers, who had won all their previous seven home games.
Utah's Gordon Hayward scored 24 points in a 95-68 win for the Jazz against Atlanta.
Hayward was unstoppable early and started the game making his first six shots. Utah used a 23-2 run early in the fourth quarter to put the game away as George Hill (23 points) hit a pair 3-pointers and Rudy Gobert converted a three-point play.
Dennis Schroder scored a team-high 16 for the Hawks, who shot just 31.3 per cent from the field.
Houston set an NBA record with 50 3-point attempts in a 117-104 win at Sacramento.
The Rockets sank eight 3s in the first quarter and went 21 of 50 from beyond the arc, coming close to the NBA game record of 23.
James Harden had 23 points, 10 rebounds and 10 assists in his fourth triple-double of the season, while Trevor Ariza added 18 points for the Rockets, who have won eight of their past nine against the Kings.
DeMarcus Cousins had 32 points for Sacramento despite being hindered by foul trouble much of the second half.
New York's Carmelo Anthony scored a season-high 35 points, including the tiebreaking jumper with 3.1 seconds left in overtime, giving the Knicks a 113-11 victory over Charlotte.
Derrick Rose added 16 points and blocked a 3-point attempt that would have won it just before the buzzer, helping New York extend its home winning streak to six games.
Marco Belinelli scored 19 points for the Hornets, who have lost four straight.
Toronto's DeMar DeRozan scored 26 points as the Raptors beat Milwaukee 105-99.
DeRozan again tormented the Bucks, Kyle Lowry had 19 points and Toronto hit 14 3-pointers to continue its dominance against Milwaukee. The Raptors have won 11 of the last 12 meetings.
With the game on the line, Lowry hit a 3-pointer and DeRozan knocked down a contested jumper with 16 seconds left to seal the victory.
Giannis Antetokounmpo scored 29 points and added 11 assists for the Bucks.
Oklahoma City's Russell Westbrook had 36 points, 18 assists and 12 rebounds for his sixth triple-double as the Thunder won 132-129 in overtime at Denver.
Westbrook scored 24 points in the fourth quarter and overtime to help the Thunder rally from 13 down. His 18 assists were a season high.
Victor Oladipo had 26 points for the Thunder.
Wilson Chandler finished with a season-high 30 points and 11 rebounds for the Nuggets.
Portland's Damian Lillard scored 27 points as the Trail Blazers won 119-104 to end New Orleans' four-game winning streak.
Miami's Tyler Johnson matched his season high with 22 points as the Heat beat Memphis 90-81.
Cleveland led by as much as 45 points in a 128-90 rout of hapless Dallas, led by Kevin Love's 27 points.
Chicago's Jimmy Butler and Dwyane Wade had 26 points apiece to lead the Bulls over Philadelphia 105-89.
Indiana's Glenn Robinson III scored 20 points as the Pacers beat Brooklyn 118-97.
Washington's John Wall had 26 points and 10 assists in a 94-91 victory over Orlando.
Minnesota rallied from a 10-point fourth-quarter deficit to win 98-85 win at Phoenix.
Related Articles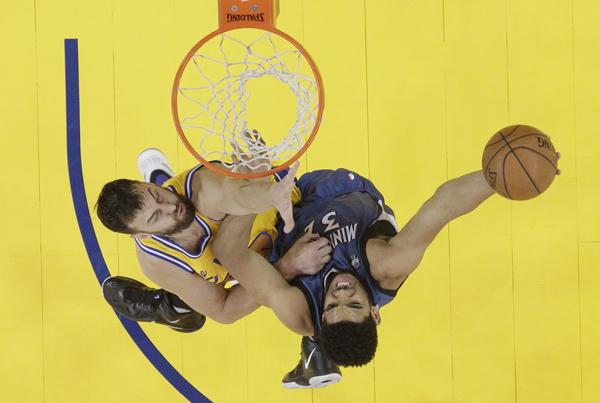 Apr 06,2016
OAKLAND, California — The Golden State Warriors hit an unexpected obstacle on their quest for a record 73 wins, blowing a 17-point lead and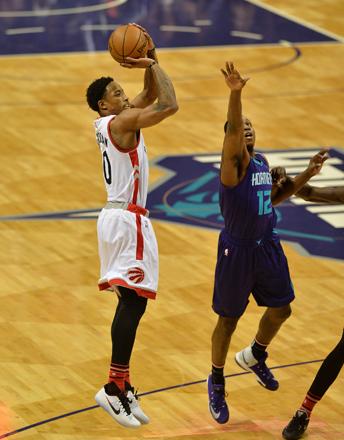 Nov 12,2016
WASHINGTON — Adding a win to their White House visit, LeBron James and the Cleveland Cavaliers capped a perfect trip to the nation's capital
Jan 01,2016
DALLAS — The Golden State Warriors flopped without Stephen Curry, getting blown out for just their second loss of the season behind 23 point
Newsletter
Get top stories and blog posts emailed to you each day.