You are here
Timberwolves shock Warriors with OT win
By AP - Apr 06,2016 - Last updated at Apr 06,2016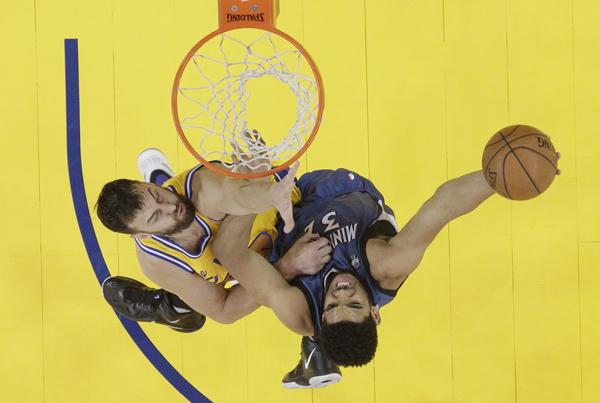 Minnesota Timberwolves' Karl-Anthony Towns (right) shoots over Golden State Warriors' Andrew Bogut during their NBA game in Oakland, California, on Tuesday (AP photo by Marcio Jose Sanchez)
OAKLAND, California — The Golden State Warriors hit an unexpected obstacle on their quest for a record 73 wins, blowing a 17-point lead and losing 124-117 in overtime to the last-place Minnesota Timberwolves on Tuesday.
Shabazz Muhammad scored a career-high 35 points and Andrew Wiggins had 32 as Minnesota prevented Golden State (69-9) from becoming the second team to win 70 games in a season. The Warriors now must win their final four games to break the single-season wins record of 72 set by Chicago in 1995-96.
Stephen Curry had a rare off-shooting night as Golden State took their third loss against a team currently in last place in its division.
The Warriors had won a record 54 straight regular-season games at home before losing to Boston last Friday.
At Salt Lake City, Kawhi Leonard made the go-ahead jumper with 4.9 seconds left and scored 18 points as the Spurs beat the Utah Jazz 88-86, giving Tim Duncan a 1,000th victory in the regular season.
Duncan became the third player to reach the milestone, following Kareem Abdul-Jabbar and Robert Parish.
LaMarcus Aldridge and Manu Ginobili each added 14 points in the Spurs' franchise-record 65th victory, and Rodney Hood missed the potential winning 3-pointer at the buzzer as Utah fell a half-game behind Dallas for seventh place in the Western Conference.
At Denver, Russell Westbrook turned his first-half frustration into a milestone night with 13 points, 14 rebounds and 12 assists to become the first player with 17 triple-doubles in a season in 27 years as the the Oklahoma City Thunder routed the Nuggets 124-102.
Westbrook has the highest total since Magic Johnson had 17 for the Los Angeles Lakers in 1988-89. Westbrook, who had seven in March while winning Western Conference player of the month honours, has 35 in his career, which is second behind LeBron James for most among active players.
"It's a great honour," Westbrook said. "Whenever you're mentioned in the same sentence as Magic, it's always great."
Kevin Durant had 26 points and eight assists for Oklahoma City, which is locked into the No. 3 seed in the West with four games left.
The Hornets lost back-to-back games for the first time in more than two months, upended 96-90 in Toronto.
DeMar DeRozan scored 26 points and Kyle Lowry had 12 of his 21 in the fourth quarter for the Raptors.
Charlotte, which lost at Cleveland on Sunday, had not lost consecutive games since defeats at Utah and Portland on January 27 and 29.
Memphis ended a six-game losing streak with a 108-92 win over the Chicago Bulls, while CJ McCollum made five 3-pointers and scored 30 points to lead Portland 115-107 over Sacramento, the Trail Blazers fifth win in six games.
At Milwaukee, J.R. Smith scored 21 points to lead hot-shooting Cleveland to a 109-80 win over the Bucks.
Kevin Love added 17 points and shot 3 of 6 from behind the arc for the Cavaliers, who maintained a 3 ½-game lead over Toronto for the best record in the Eastern Conference.
LeBron James finished with 17 points and shot 7 of 9 from the field to go with nine assists.
The Heat had a 107-89 home win over the Pistons and the Hawks beat the Suns 103-90, rallying from 13 down in the third quarter to keep things tight in the Eastern Conference play-off race.
At Los Angeles, Chris Paul scored 25 points and the Clippers beat their Staples Centre co-tenants 103-81 in Kobe Bryant's last game as a visitor in his home arena.
Jeff Green added 21 points off the bench for the Clippers, whose franchise-record 10 victory streak over the Lakers is their second-longest active run against any opponent.
Bryant scored six points on 2-of-12 shooting. The Clippers paid tribute to the superstar guard, who retires next Wednesday, with a video shown just before he was introduced.
The 76ers ended a 12-game losing streak and ensured they won't equal their own league record for fewest victories in an 82-game season by beating the Pelicans 107-93 to improve to 10-68. — one win clear of the 1972-73 76ers who set an NBA mark for futility with a 9-73 mark.
Related Articles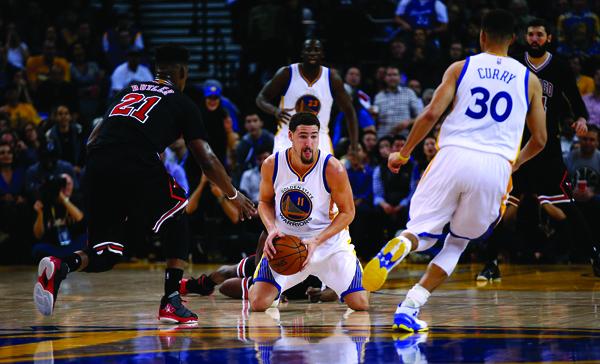 Nov 21,2015
OAKLAND, California — The Golden State Warriors moved within one victory of matching the best start in NBA history by beating Chicago 106-94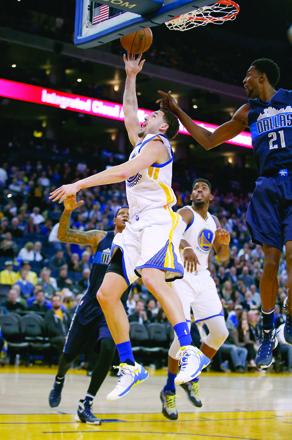 Jan 28,2016
OAKLAND, California — Golden State's Klay Thompson scored a season-high 45 points as the Warriors avenged one of their rare losses this seas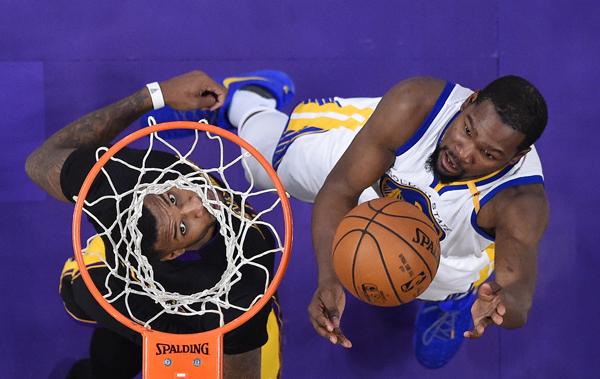 Nov 26,2016
BOSTON — San Antonio made it eight straight wins with a 109-103 victory at Boston on Saturday, led by 25 points and 10 rebounds from Kawhi L
Newsletter
Get top stories and blog posts emailed to you each day.