You are here
Wihdat lead as relegation battle heats up
By Aline Bannayan - Mar 14,2018 - Last updated at Mar 14,2018
AMMAN — While the battle for the title is nearly clear, the struggle at the other end of standings is closely contested as Week 19 of the Jordan Professional Football League kicks off on Thursday.
Wihdat were held 0-0 by Ahli, but still lead ahead of their match against Manshieh as they seem poised for their 16th league title, as titleholders and rivals Faisali beat Ramtha 2-1 but remained fourth ahead of their match against Baqa'a.
Jazira beat Manshieh and jumped to second place and next play Aqaba who beat Yarmouk 5-1 to move up to 9th.
Ramtha dropped to third after losing to Faisali and next play Hussein who were held 0-0 with that Ras and are now 10th. Shabab Urdun were held 1-1 with Baqa'a who are 8th ahead of their match against the titleholders.
This week, Jazira repeated their win over Oman's Suweiq 4-0 after earlier winning 3-2, while Faisali lost 1-0 to Oman's Dhofar having beaten them 2-0 in Leg 1 in the 15th Asian Football Confederation Cup. Both teams still lead groups A and C in the second-tier Asian club competition. Earlier, Jazira held Iraqi Air Force Club 2-2 and beat Bahrain's Malikieh 1-0, while Faisali held Syria's Wihdeh 2-2 and upset Lebanon's Ansar 3-1.
So far this season, reigning League and Jordan Cup champs Faisali beat Jazira to win the 35th Jordan Super Cup. Wihdat beat Jazira to win the Jordan Football Association Shield. In the Jordan Cup, Jazira ousted Faisali while Shabab Urdun eliminated Wihdat to reach the final.
Last year, Faisali won their 33rd league title after a four-year break and combined it with the Jordan Cup. Ahli beat reigning league champs Wihdat to win the Super Cup, Shabab Urdun beat Faisali to win their second Shield title after they first won in 2007. Sarih and Sahab were relegated and replaced by Aqaba and Yarmouk from the First Division.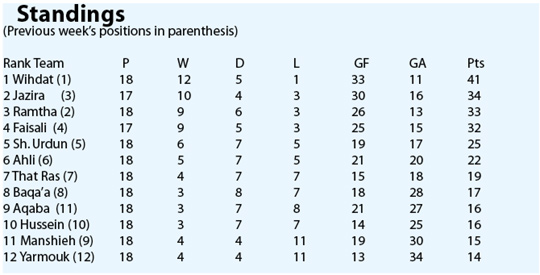 Related Articles
Mar 08,2018
AMMAN — Wihdat face Ahli and seem poised to retain the lead with the aim of retaking the title as Week 18 of the Jordan Professional Footbal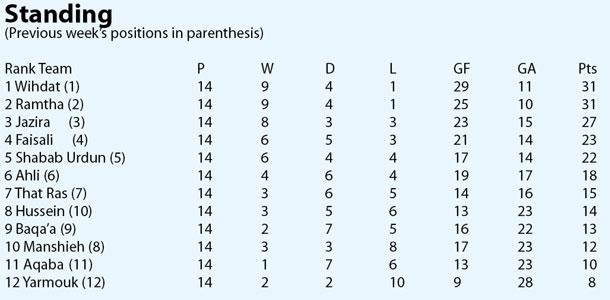 Feb 14,2018
AMMAN — Leading teams need to start securing their top spots while others needs to score some wins to move away from relegation zone,
May 17,2018
AMMAN — Shabab Urdun play Jazira on Friday in the 38th Jordan Cup final, the last of the season's competitions with both teams looking
Newsletter
Get top stories and blog posts emailed to you each day.