You are here
Wihdat lead as Week 9 starts
By Aline Bannayan - Sep 27,2020 - Last updated at Sep 27,2020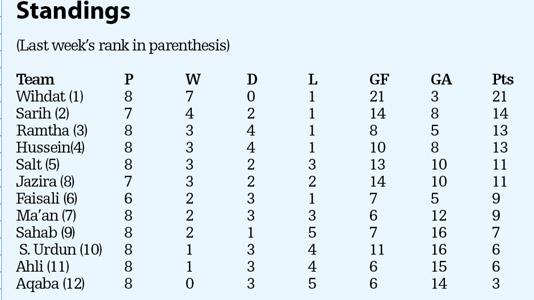 AMMAN — Wihdat remained in the lead ahead of week 9 of the 68th Jordan Professional Football League which kicks off on Monday.
With many matches ending in draws, Week 8 was a chance for Wihdat to boost their lead. They beat Sahab 1-0 and next play Jazira, who are now 6th after they beat newcomers Maan 3-0. Meanwhile, Sarih remained seven points behind with a postponed match and were held 2-2 by Salt ahead of their match with Ma'an.
Ramtha, who were held 1-1 by Hussein, next play Sahab while Hussein meet Shabab Urdun who are now 10th after they were held 2-2 by Aqaba. Salt next play Faisali, who have two postponed matches and are now 7th after they lost 1-0 to Ahli.
The competition's kickoff earlier this year was delayed for nearly six months for 2022 World Cup and 2023 Asian Cup national team qualifiers. Clubs had already been reeling from the lack of sponsors, injuries and lack of momentum after a long break with reigning champs Faisali the first to start the season on a weak footing after they lost in the Asian Football Confederation (AFC) Cup.
This season, the Jordan Football Association's (JFA) main sponsor, the Manaseer Group, ended its 10-year sponsorship, leading to noticeably downsized prize money for the league champ from JD120,000 to JD60,000, and from JD80,000 to JD30,000 for the runner-up. Similarly, the Jordan Cup champs JD30,000 down from JD57,000 and Super Cup and Shield prize was also slashed to JD25,000.
The league has halted twice this year. In March, and after teams played one round, 11 clubs announced they were suspending participation as the JFA downsized prize money compounded by noticeable officiating mistakes. The competition then resumed only to stop again in August when seven Faisali team members tested positive for COVID-19 while Ramtha players were quarantined in Amman after increasing cases in Ramtha led to heightened alert and more testing countrywide.
The season kicked off with Wihdat beating Ramtha to win the 33rd Jordan Football Association Shield. It was Wihdat's record 10th Shield title. Faisali beat Jazira to win the 37th Jordan Super Cup — the second major competition on the annual football calendar. The Super Cup has now been won by Faisali a record 17 times out of 25 final appearances, Wihdat have won 13 times, Ramtha and Shabab Urdun twice each while Jazira, Hussein and Ahli won once each.
Last season, Faisali were crowned league champs and combined it with their 20th Jordan Cup title. Wihdat beat Jazira to win the 36th Jordan Super Cup.
Newsletter
Get top stories and blog posts emailed to you each day.