You are here
Globalising entrepreneurship requires respect, inclusiveness — panelists
By Dana Al Emam - May 21,2017 - Last updated at May 22,2017
This year's World Economic Forum saw the participation of 100 Arab start-ups, including 21 from Jordan (Photo courtesy of WEF website)
DEAD SEA — As young entrepreneurs are crossing geographic borders, the promotion of values of inclusiveness and respect for the "other" have become of utmost importance, entrepreneurs and social leaders agreed on Sunday.
Speakers at two panel discussions on the last day of the World Economic Forum (WEF) on the Middle East and North Africa agreed on the need for governments, the private sector, civil society organisations and religious leaders to embark on a mission to deepen values of respect, in order to build a more hopeful future.
Deputy Prime Minister and Health Minister of Lebanon Ghassan Hasbani said taking practical actions to implement what has been discussed in the WEF meetings is essential for achieving further inclusion and giving hope to the region's youth.
Citing his country's experience, he highlighted that the lack of inclusion has led to social and economic conflicts and has allowed certain groups to strive for supremacy, noting that the time has come for reconciliation and inclusion in the region.
One way of doing that is through supporting entrepreneurs in all sectors, not only those who have created startups, Hasbani added.
Director of the Najaf-based Hikmeh Centre for Dialogue and Cooperation, Sayed Salih Al Hakim, said each generation has to do everything possible to enable more progress and improvements for the next generation.
He emphasised that dialogue with the "other" is the best way to find the truth, underlining the need for religious leaders to play a larger role in promoting values that help both individuals and states to grow.
Al Hakim added that religious differences must not be reflected in politics, as a civil state respects all religions and does not force its religious ideology on citizens.
Although women comprise nearly half of the region's population, they do not witness adequate inclusion in the job market in particular, and in public life in general, according to Khadija Idrissi Janati, CEO of KMK Group.
To address this issue, Noor Al Hassan, CEO of Tarjama, a Dubai-based translation company, said the company employs women from 8 countries and allows them to work from home, adding that there are currently 60 fulltime employees and 350 freelancers working for Tarjama.
As a representative of the 100 regional startups selected to participate in the forum, Abdulla Elyas, co-founder of Careem ride-hailing application, said the majority of the startups participating in the WEF 2017 were founded by people from the region who studied or lived abroad and then decided to come back to build something meaningful in the region.
He said Careem is one of two tech-unicorns, a term that refers to start-up companies valued at over $1 billion, emphasising that tech-unicorns are not exclusive to the Silicon Valley.
"Other myths will be proven wrong along the way," he said.
Related Articles
May 17,2017
AMMAN — Twenty Jordanian startups in the fields of e-commerce, content, weather, gaming and other areas, will be featured during the W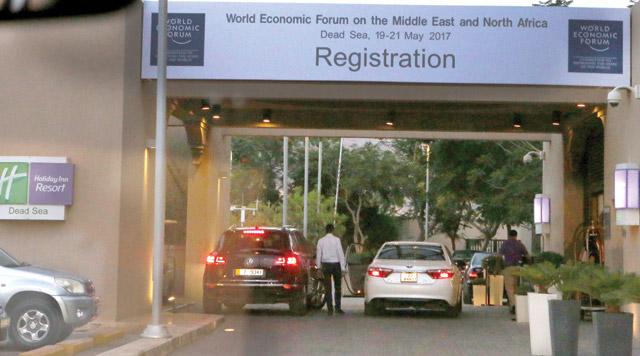 May 19,2017
AMMAN — His Majesty King Abdullah will on Saturday open the World Economic Forum (WEF) on the Middle East and North Africa at the Dead
May 13,2017
AMMAN — The World Economic Forum (WEF) and the International Finance Corporation (IFC), the private sector arm of the World Bank Group, have
Newsletter
Get top stories and blog posts emailed to you each day.