You are here
14 dead, 190 injured as South Africa train ploughs into truck
By AFP - Jan 04,2018 - Last updated at Jan 04,2018
A wreckage is seen after a train crash near Hennenman in the Free State province, South Africa, on Thursday (Reuters photo)
KROONSTAD, South Africa — A passenger train smashed into a truck at a level crossing in South Africa on Thursday, killing at least 14 people, injuring 190 and throwing several carriages off the rails.
Flames ripped through the twisted wreckage and choking black smoke rose into the air as desperate passengers clambered out of the train to escape the inferno.
Tiaan Esterhuizen, who was travelling on the train as he returned from holiday, attempted to rescue three women who were trapped in a burning passenger wagon.
"I saw around 12 cars on their side and one was already burning. We heard some women screaming when we came closer so a few of us climbed over the cars," he told the Times LIVE news site.
"Two of the women were sort of on top of each other. Another was further back. Her legs were trapped. One of the women was shouting that there was a baby inside also.
"We searched but could not find the child... I am quite sure those women burned to death."
Truck driver blamed
Rescuers rushed to the scene to search for survivors and treat the injured. Officials warned the toll could rise as operations continued to clear the crash site.
"Police are investigating. The truck driver was taking chances... that cost lots of lives," Transport Minister Joe Maswanganyi told reporters at the scene.
"The truck driver has been taken to hospital where we are going to do a blood test to verify if he was sober or not, or what was the problem."
The Shosholoza Meyl rail company, which operates long-distance trains in South Africa, said the train travelling from Port Elizabeth to Johannesburg collided with the truck at about 09:00am (07:00 GMT).
It said the truck had made an "untimely" crossing of the tracks when it was hit by a train at high speed, between the towns of Hennenman and Kroonstad, 200 kilometres southwest of Johannesburg.
One of the derailed carriages was the power generator behind the locomotive car. It caught fire and the flames spread rapidly.
Shosholoza Meyl said there were 429 passengers on board, though Maswanganyi put the number at 730.
"The death toll has increased to 14," provincial government health spokesman Mondli Mvambi told AFP, adding that at least 190 people had been injured — two of them critically.
"It is feared that they could find more bodies as the search, recovery and rescue work is ongoing," he said.
Holiday travellers
The number of injury reports also varied widely in the immediate aftermath of the crash.
"We still have to lift the carriages to see whether there are any other people that are still trapped there or not. We still don't know what is underneath," said one railway official at the accident site, promising a full investigation.
Some victims were treated on a strip of grass beside the railway line while others were taken to hospital. Uninjured passengers waited on a nearby road, some of them carrying their luggage.
The New Year is a busy period for transport in South Africa, with railways and roads carrying passengers returning to work after the holidays.
In 2015, 15 people were killed in eastern South Africa when a mini-bus taxi fell from a bridge onto railway tracks and was hit by a train.
Related Articles
Jun 16,2015
TABIKA, Tunisia — At least 18 people were killed and 98 injured Tuesday when a train hit a lorry and derailed at a level crossing in one of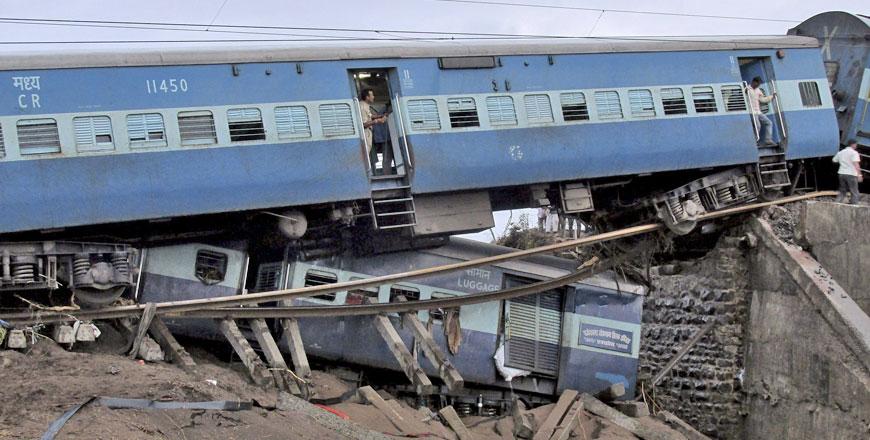 Aug 05,2015
NEW DELHI —Two passenger trains derailed after flash floods struck a bridge they were crossing in central India, killing up to 27 people in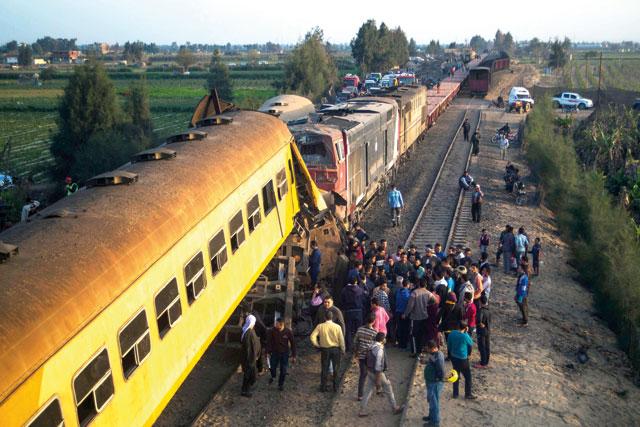 Feb 28,2018
CAIRO, Egypt — Two trains collided on Wednesday in northern Egypt killing at least 12 people and injuring dozens of others, the Health Minis
Newsletter
Get top stories and blog posts emailed to you each day.