You are here
2 dead in shooting attack at Canada's Parliament
By AP - Oct 22,2014 - Last updated at Oct 22,2014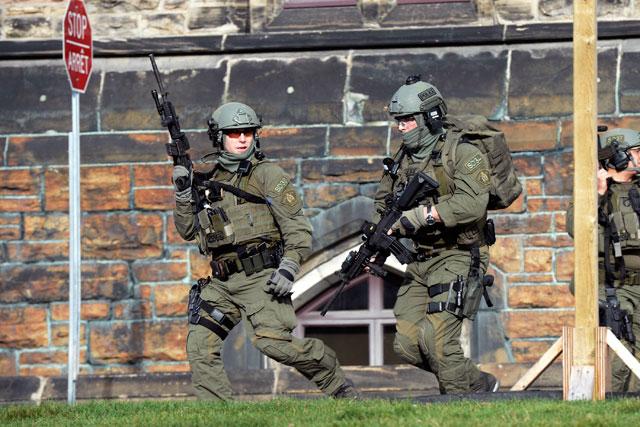 OTTAWA, Ontario — A Canadian soldier standing guard at a war memorial in the country's capital was shot to death Wednesday, and gunfire then erupted inside parliament, authorities said. One gunman was killed, and police said they were hunting for as many as two others.
The bloodshed immediately raised the specter of a coordinated terrorist attack, with Canada already on alert because of a deadly hit-and-run earlier in the week against two Canadian soldiers by a man who police say was fired up with radical Muslim fervor.
Witnesses said the soldier was gunned down at point-blank range by a man carrying a rifle and dressed all in black, with a scarf over his face. They said the gunman then ran off and entered parliament, a few hundred yards away, where dozens of shots soon rang out.
People fled the complex by scrambling down scaffolding erected for renovations, while others took cover inside as police with rifles and body armor took up positions outside and cordoned off the normally bustling streets around parliament.
Police gave no details on how the gunman died. But on Twitter, Member of Parliament Craig Scott credited parliament sergeant-at-arms Kevin Vickers with shooting the attacker just outside the MPs' caucus rooms.
Ottawa police spokesman Chuck Benoit said two or three gunmen were believed to be involved in the attacks. Gilles Michaud, assistant commissioner of the Royal Canadian Mounted Police, called it a "dynamic, unfolding situation".
Ottawa Hospital said it received two patients, both listed in stable condition, in addition to the soldier.
Tony Zobl, 35, said he witnessed the soldier being gunned down from his fourth-floor window directly above the National War Memorial, a 70-foot, arched granite cenotaph, or tomb, with bronze sculptures commemorating
World War I.
"I looked out the window and saw a shooter, a man dressed all in black with a kerchief over his nose and mouth and something over his head as well, holding a rifle and shooting an honor guard in front of the cenotaph point-blank, twice," Zobl told the Canadian Press news agency.
"The honor guard dropped to the ground, and the shooter kind of raised his arms in triumph holding the rifle."
Zobl said the gunman then ran up the street toward Parliament Hill.
Cabinet Minister Tony Clement tweeted that at least 30 shots were heard inside parliament, where Conservative and Liberal MPs were holding their weekly caucus meetings.
"I'm safe locked in a office awaiting security," Kyle Seeback, another member of Parliament, tweeted.
The top spokesman for Prime Minister Stephen Harper said Harper was safe and had left Parliament Hill. The US Embassy in Ottawa was locked down as a precaution.
Officials also cancelled two events in Toronto honoring Pakistani teenager and Nobel laureate Malala Yousafzai, including one in which she was supposed to receive honorary Canadian citizenship. The teenager was shot in the head by a Taliban gunman in 2012 for calling for schooling for girls.
President Barack Obama condemned the attacks as "outrageous" and spoke by telephone with the prime minister, offering to help and reassuring him of the American people's solidarity with Canada.
The attack came two days after a recent convert to Islam killed one Canadian soldier and injured another with his car before being shot to death by police. The killer had been on the radar of federal investigators, who feared he had jihadist ambitions and seized his passport when he tried to travel to Turkey.
Canada had raised its domestic terror threat level from low to medium Tuesday because of "an increase in general chatter from radical Islamist organisations," said Jean-Christophe de Le Rue, a spokesman for the public safety minister.
In the hours after Wednesday's attack, police warned people in downtown Ottawa to stay away from windows and rooftops.
Scott Walsh, 21, a construction worker working in a manhole right in front of Parliament Hill, said he heard the shots at the war memorial.
"We're in construction and we're used to loud bangs. When people started screaming and running, that's when I clued, and I saw this guy running" with a gun, he said. "It was intense. I didn't think it was real. "
He said the gunman had long black hair with a scarf covering the lower half of his face.
Related Articles
Jan 15,2015
Five Canadians have died fighting alongside Islamic State (IS) militants in Syria, including a man who called for lone wolf attacks in Canada, local media reported Wednesday.
Oct 21,2014
The fatal attack on a Canadian soldier by a suspected Islamic militant in Quebec was "clearly linked to terrorist ideology", Canada's public safety minister said on Tuesday.
Mar 24,2015
Canadian air strikes against Daesh terror group in Iraq will be extended one year to March 2016 and may see sorties into Syria, the government said Tuesday.
Newsletter
Get top stories and blog posts emailed to you each day.